Did you know that 60-80 percent of our waking hours are spent at work? Yet the majority of Americans are dissatisfied with their jobs. Research tells us that most of us see our work as just a paycheck. We "live and work for the weekend."
Sound familiar?
But, what if, instead of dreading Monday, most of us looked forward to the start of each week? What if we regularly thought to ourselves, "I can't believe I get to do this?" And "I was made to do this!"
Then what if we could also help the people we care about the most – our children or grandchildren, our friends, the people in our small groups – to learn how to live above the daily grind and discover what God made them to do?
Whether we work from home or outside of the home, God intended for our work to flow from His unique design and purpose for our lives. He designed our work to be more than just a job, but a calling.
For we are God's handiwork, created in Christ Jesus to do good works, which God prepared in advance for us to do. (Ephesians 2:10)
There's a "good work" that each one of us is uniquely wired to do. Our personality, spiritual gifts, and even the baggage, hurts and pains that we've had to overcome make each of us the perfect fit us for a particular type of work. God's plan is to work all the things together in our life to fulfill this "good work" he has prepared for us.
The Apostle Paul understood this. He knew that all of his theological training, emotional baggage, and even his blindness God lovingly redeemed and worked together to uniquely fulfill Paul's purpose – to preach and teach God's word and share the Gospel to both Jews and Gentiles.
Paul testified about his ultimate purpose: "…my life is worth nothing to me unless I use it for finishing the work assigned me by the Lord Jesus — the work of telling others the Good News about the wonderful grace of God." (Acts 20:24, NLT)
This purpose is also true for all of us – whether we're called to be plumbers, stay-at-home moms, software engineers, professional athletes, businessmen or businesswomen. We are all called to tell others about the love of God by how we do our work and what we say.
Besides ministry, Paul's calling also included making tents in order to make a living. But he didn't see this part of his work less fulfilling. He saw it as another way to share the Good News of Jesus Christ and show God's kindness.
So maybe you're one of the many people who haven't yet discovered their calling. Perhaps you're working in a job that isn't the right fit. I want to encourage you to begin to discover how you're wired – what are your spiritual gifts, your heart and passions? What are you good at? Get honest, wise feedback from people you trust.
Meanwhile, honor God with your work, as an act of worship to Him.
Whatever you do, do everything to the glory of God. (1 Corinthians 10:31)
This means we do our best work, giving our best attitude and best effort not to please our bosses or anyone else, but to honor God. It also means that whatever we do – whether it's working or playing or even going to church – we should do it with all our heart. Whatever you do, work at it with all your heart, as working for the Lord, not for human masters. (Colossians 3:23)
If you're someone who is already "working for the Lord" regardless of how you're making a living, or you've found a vocation that is uniquely suited to carry out God's purpose for your life, then I'd like to encourage you to help others to fulfill what God made them to do. One of the greatest gifts we can give to those we love is to help them discover God's unique design and purpose for their life.
This week, we're beginning the series Download: Passing on What Matters Most. In it, we'll learn how to leave a legacy that stands the test of time — teaching others to suffer well, to discover God's calling for our lives, manage wealth wisely, live grace filled lives, and make wise choices. As we discover how to live out our faith in these key areas, I'm excited to see as how God will change our lives and the lives of generations to come.
Keep Pressin' Ahead,
Chip Ingram, Teaching Pastor
Living on the Edge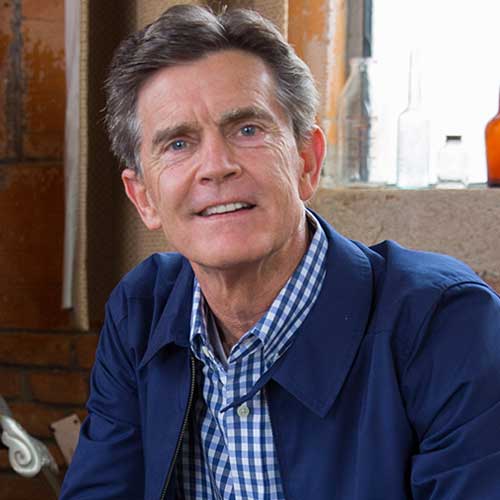 Written By
Chip Ingram
Founder & Teaching Pastor, Living on the Edge
Chip Ingram is the CEO and teaching pastor of Living on the Edge, an international teaching and discipleship ministry. A pastor for over thirty years, Chip has a unique ability to communicate truth and challenge people to live out their faith. He is the author of many books, including The Real God, Culture Shock and The Real Heaven. Chip and his wife, Theresa, have four grown children and twelve grandchildren and live in California.
More Articles by Chip