Do you ever find yourself stuck in sin, even though you're a born-again believer in Jesus Christ? If you can relate, you're not alone. Many Christians –even those of us who have walked with Jesus for a long time — are still battling the same sin year after year.
In frustration we ask ourselves, "Where is the victory? Why can't I change? Where is the freedom?" And, "Where is the power to change?"
The truth is, we are all weak and prone to sin. Even the Apostle Paul could relate. In his letter to the Roman church, he identifies with us all when headmits to his own struggle:
For I know that good itself does not dwell in me, that is, in my sinful nature. For I have the desire to do what is good, but I cannotcarry it out. For I do not do the good I want to do, but the evil I do not want to do—this I keep on doing.(Romans 7:18-19)
Whether it's some part of ourselves we're trying to change like a critical attitude, or an addiction we want mastery over, we all struggle at some point.But does this mean there's no hope of ever truly changing?
The good news is God has given us all of the power we need to change and overcome our struggle with sin!
His divine power has given us everything we need for a godly life through our knowledge of him who called us by his own glory and goodness. (2Peter 1:3)
Through the power of the Holy Spirit, God has already given us everything we need to live a godly life.
But, how do we actually access this power?
First, life change always begins with knowing the truth.
And the truth is this: Christ is a conquering victor over sin, death and Satan. The power to live a new life was made possible by Hisdeath and resurrection.
I think that most of us are convinced that life change is about our experience, or about trying harder — but it's not! It's also not about followingformulas or doing certain activities.
The kind of real life change that happens from the inside out always begins with the truth.
The objective truth, as a result of Christ's death on the cross, is this:
We are free. Sin's power has been broken.
We are forgiven. Sin's penalty has been paid for. When Christ hung on the cross – the sins of all people for all time were forgiven.
We are secure. Death doesn't have dominance over us anymore. Satan does not have power over us any more. We can give into sin and give into temptation and we can even be fearful of demonic spirits, but sin doesn't have power over us.
Second, we must act on the truth for life change to occur.
Acting on truth is called faith. Faith isn't some ooey-gooey feeling. Faith is to believe what God has said to the point ofacting on it, whether we feel like it or not.
The moment we receive Christ as our personal Savior by faith, we become "co-partakers" of Christ's victory over sin, death and Satan.
We are those who have died to sin; how can we live in it any longer?Or don't you know that all of us who were baptized into Christ Jesus were baptized into his death? We were therefore buried with him throughbaptism into death in order that, just as Christ was raised from the dead through the glory of the Father, we too may live a new life. (Romans6:2-4)
Whatever is true of Jesus is also true of us. But it's only when we truly grasp this truth and begin to live this out, that we experience truelife-change.
When God sees us – He sees us as righteous and forgiven.
We'll never be more loved than we are today. We're His children! This fact alone should change the way we live our lives.
How about you? Are you struggling with making real, lasting changes in your life? Do you need help identifying the barriers that have held you back fromreceiving God's best?
For additional information on how to experience lasting transformation in your life, visit our Small Group resources or listen our Weekday Radio Archive where you can access all of our previously aired radio broadcasts.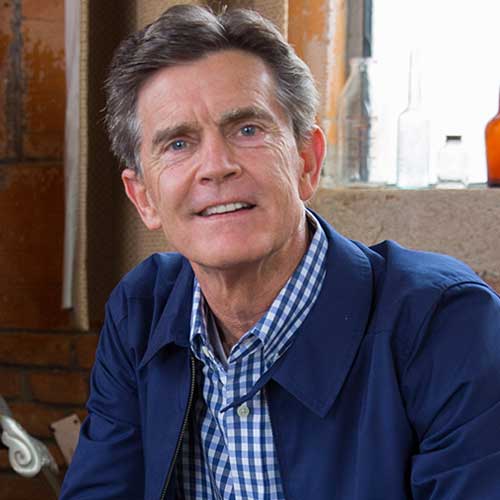 Written By
Chip Ingram
Founder & Teaching Pastor, Living on the Edge
Chip Ingram is the CEO and teaching pastor of Living on the Edge, an international teaching and discipleship ministry. A pastor for over thirty years, Chip has a unique ability to communicate truth and challenge people to live out their faith. He is the author of many books, including The Real God, Culture Shock and The Real Heaven. Chip and his wife, Theresa, have four grown children and twelve grandchildren and live in California.
More Articles by Chip