During the first ten years that I was a Christian, I received a lot of training in the "how-tos" of the Christian life. I learned to pray, get into God's Word, share my testimony, share the Gospel and serve others. But I was still missing something…
I didn't have an accurate view of myself – from God's perspective.I had no understanding of how God viewed me or how to live out that truth.
As a result, I spent the first decade of my Christian life trying to please God through my performance. I read, studied, served, and never felt like I measured up to God's standard. I'd go from feeling condemned and discouraged to prideful and self-righteous depending on my performance.
It wasn't until I discovered that I was already pleasing to God and didn't need to perform for Him that I began to develop a healthy and accurate self-assessment.
The Apostle Paul, under the inspiration of the Holy Spirit, actually commands us to have an accurate self assessment, or "sober judgment," which means to not think too highly or too lowly of ourselves.
For by the grace given me I say to every one of you: Do not think of yourself more highly than you ought, but rather think of yourself with sober judgment, in accordance with the faith God has distributed to each of you. (Romans 12:3)
Someone once said, "True humility is not thinking too highly of yourself or too low of yourself; humility is not thinking of yourself at all."
Often, we think humble people are those who put themselves down. But people who have a low view of themselves get the same result as those with too high of a view. At the end of the day, whether it's high or low, an inaccurate view of self results in pride.
In my case, my insecurities led me to project and think too highly of myself, while my wife Theresa erred on the opposite side of the equation. My inflated view of myself produced dysfunctions in our relationship, as did her lack of self-worth and self-esteem.
It wasn't until Theresa and I received marriage counseling that we really began to learn "who we really were" in the eyes of God. Our counselor taught us how to have a sober self-assessment – not only of ourselves – but also of each other.
Daily, we began reviewing the Bible verses that speak to who we are in Christ. And little by little, our perspective began to change. As Theresa and I learned together, our marriage grew in ways that we never imagined.
When we learn to get God's view of us – who we really are — everything begins to change!
The truth is, we talk to ourselves multiple times a day – telling ourselves messages that influence how we think, how we relate and what we do. If deep in our hearts we believe we're unworthy, unloved, inadequate, or more important than anyone else, it will dictate what we do and how we relate toothers.
Most of these false beliefs are such deeply buried, lifelong patterns of thinking. Yet, they aren't permanent.
Perhaps you've struggled with seeing yourself accurately your whole life and you're wondering… "Is change really possible for me?"
Changing how we think about ourselves is possible! We just need to get God's truth in our mind so that it can sink down deep into our heart. It might take a rigorous plan and ongoing accountability, but the rewards are well worth it.
Thirty years ago, Theresa was a woman who was beautiful, but thought she was ugly; who was gracious and kind, but thought she didn't measure up; who was the most wonderful person I'd ever met, but felt inferior.
Then I watched her work on reviewing God's truth every day. Soon, she began to believe what God said about her rather than the messages she'd absorbed from the people of her past and the traumatic experiences she had lived through.
Today, I live with a woman who is beautiful on the inside and the outside and has a clear sense of confidence and positive self-worth that comes from thinking accurately about herself.
Over the years, I've also come to the point where I could stop comparing and striving. I've finally learned to rest and enjoy the person God made me, just the way I am. My hope and prayer is that you'll discover this truth and freedom too, as you see yourself through the lens of Scripture.
For more encouragement and hope, listen to my wife Theresa's story in her series"Precious in His Sight."  This teaching grew out of her own journey toward sober self-assessment.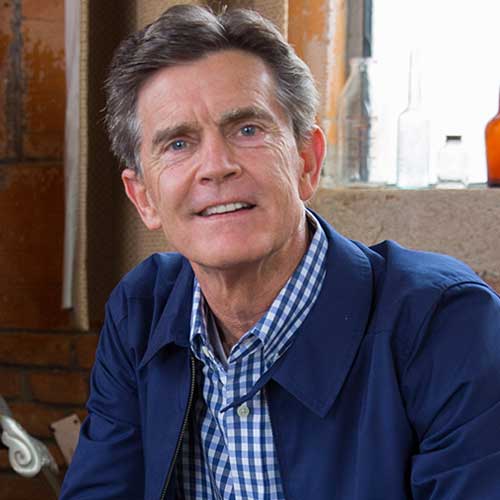 Written By
Chip Ingram
Founder & Teaching Pastor, Living on the Edge
Chip Ingram is the CEO and teaching pastor of Living on the Edge, an international teaching and discipleship ministry. A pastor for over thirty years, Chip has a unique ability to communicate truth and challenge people to live out their faith. He is the author of many books, including The Real God, Culture Shock and The Real Heaven. Chip and his wife, Theresa, have four grown children and twelve grandchildren and live in California.
More Articles by Chip