Do you struggle with knowing what and how to pray – especially when you're going through a tough time?
What if you could pray in such a way that it would allow God's power and peace to invade your soul in the midst of the challenges you're facing?
The Apostle Paul, inspired by the Holy Spirit, gives us a prayer model to help us:
Be anxious for nothing, but in everything by prayer and supplication with thanksgiving let your requests be made known to God. And the peace of God, which surpasses all comprehension, will guard your hearts and your minds in Christ Jesus. (Philippians 4:6-7)
This passage has provided us with a framework for a prayer called "ACTS." This is an acronym that stands for adoration, confession, thanksgiving and supplication.
When we take the time to pray through these four steps, God promises to bring about a peace that is supernatural and beyond our understanding.
Interestingly, it's the first step – adoration – that especially helps to get our focus off ourselves, our problems, and our anxieties. Yet, for most of us –including myself – adoring and praising God doesn't come naturally.
So how are we to adore God in prayer?
My go-to passage in Psalm 103 explains how:
Bless the LORD, O my soul, And all that is within me, bless His holy name. Bless the LORD, O my soul, And forget none of His benefits; Who pardons all your iniquities, Who heals all your diseases; Who redeems your life from the pit. (Psalm 103:1-4, NASB)
This Psalm shows us what adoration looks like.  We're to "praise" or "bless" his name, and we're to remember all of His benefits and blessings. These two things go together for a reason.
For example, if I want to adore the Lord, I begin to remember all the things that God has done for me. I remember the day He chose me. I remember the day I prayed to receive Christ. I remember the day He brought my wife into my life. I remember the day when one of my sons was in ICU and we thought he was going to die. In the process of reflecting on His goodness and faithfulness, I naturally begin to thank Him and praise Him for who He is.
When we adore God, it requires that we look up to Him and acknowledge Him for who He is – the Creator of two hundred billion stars in the Milky Way but also our perfect and loving Father.
I've found that if our view of God is that He is one who is big and powerful, then our problems will seem small. Conversely, if our view of God is small, our problems will be big.
So the next time you're praying and you're struggling with what and how to pray, begin with a simple adoration. Bless His name and remember His benefits. We can trust that when we get our focus upward on Him instead of inward on our problems, things will begin to change for the better.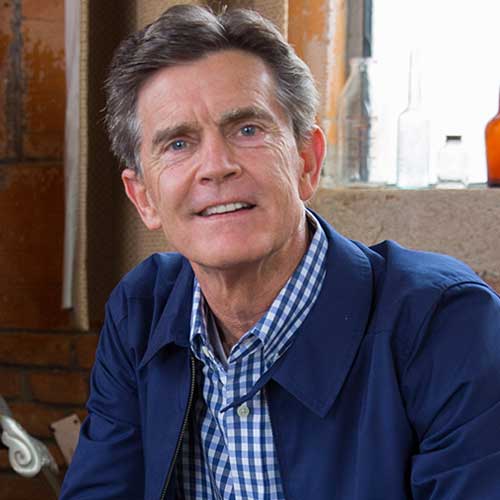 Written By
Chip Ingram
Founder & Teaching Pastor, Living on the Edge
Chip Ingram is the CEO and teaching pastor of Living on the Edge, an international teaching and discipleship ministry. A pastor for over thirty years, Chip has a unique ability to communicate truth and challenge people to live out their faith. He is the author of many books, including The Real God, Culture Shock and The Real Heaven. Chip and his wife, Theresa, have four grown children and twelve grandchildren and live in California.
More Articles by Chip