Some of us have things in a big, dark, ugly past that no one knows,­ and we'd be ashamed if anyone did.
For some, it's the abortion. For others, it's the affair, the one-night stand on the business trip. For some, it's the time they flat out stole something and got away with it. Still others secretly spend a lot of time on the internet hooked on pornography.
Regardless of what it is, most of us have blown it at some point. The question is, "How do you recover?'
How do you overcome the guilt and the shame and the embarrassment? How do you ever get right with God again and experience His fellowship?
God has given us the answer in Psalm 51. This is David's prayer after his friend Nathan confronted him about his sin.
Have mercy on me, O God, according to your unfailing love; according to your great compassion blot out my transgressions. Wash away all my iniquity and cleanse me from my sin. For I know my transgressions, and my sin is always before me. Against you, you only, have I sinned and done what is evil in your sight; so you are right in your verdict and justified when you judge. Surely I was sinful at birth, sinful from the time my mother conceived me. Yet you desired faithfulness even in the womb; you taught me wisdom in that secret place. (Psalm 51:1-6)
David was a great and godly man who committed adultery and murder, and yet he knew God better than probably any of us will ever know Him. In a moment of weakness, he made a disastrous mistake and then did what most of us do. Instead of owning it early, he tried to hide it and cover up.
We are all sinners by nature, and we all make mistakes. But when we try to cover up our sin and keep it secret, its impact grows.
The good news is this: With God, failure is never final. God wants to restore us. 
So what's our part? How do we recover from our mistakes?
Current Series
Discover the Real Jesus of the Bible
Knowing the real Jesus is the most important relationship you will ever have.
Free MP3
Listen Now
Here are three steps:
Get honest. Get it out in the open. Stop the secrecy. Stop rationalizing. Stop minimizing. Stop reframing it. Stop saying everyone else does it. Stop comparing yourself to someone else that does it worse. Do what David did. He got to the point when he said, "I have sinned against the Lord." This is the most difficult step.
Ask God for forgiveness. When confronted, David prayed to God and said, "Have mercy on me … wash away all my iniquity and cleanse me from all my sin." David didn't try to cut a deal or negotiate a settlement. He didn't say, "Now, God, I'll do this if You do this." Instead, he said, "Help me! Forgive me. Cleanse me." If you've never done that, get honest and then ask God to forgive you. He wants to.
I've done some dumb things, some bad things, and some sinful things in my life. Then I would often feel really bad for two or three weeks while I'd try to do good things to balance out the bad things. But nothing would help. What I've learned is that it's only when I've gotten honest with God, and said, "I blew it. Help me!" that I've received His grace. We get grace because God is looking for truth in the innermost man.
Receive His forgiveness. When Nathan said, "The Lord has forgiven you," David didn't go back into the palace and say, "But I just can't forgive myself. I know God has forgiven me but I just can't forgive myself." David received God's cleansing and restoration. We can, too. Do you struggle with forgiving yourself? I know I have.
But, remember, Christ died on the cross for all our sin. He paid for our sin: past, present, and future. The moment we trust Christ, we are positionally right in our relationship with God. But we also need to confess our sin, agree with God about it, and accept His forgiveness to really experience the benefits.
To learn more about meeting God in the middle of your most difficult moments, check out Chip's audio series, Finding God When You Need Him Most.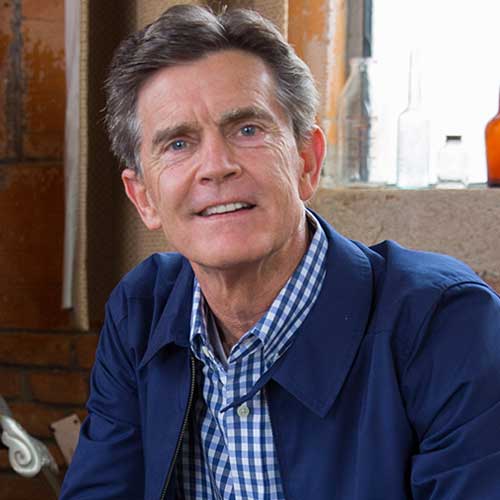 Written By
Chip Ingram
Founder & Teaching Pastor, Living on the Edge
Chip Ingram is the CEO and teaching pastor of Living on the Edge, an international teaching and discipleship ministry. A pastor for over thirty years, Chip has a unique ability to communicate truth and challenge people to live out their faith. He is the author of many books, including The Real God, Culture Shock and The Real Heaven. Chip and his wife, Theresa, have four grown children and twelve grandchildren and live in California.
More Articles by Chip