daily Broadcast
A New Commandment for the New Community, Part 2
There's one thing that Jesus told us we could do to let the whole world know we belong to Him. Chip reveals what that one thing is and how to activate it in your life today.
This broadcast is currently not available online. It is available to purchase on our store.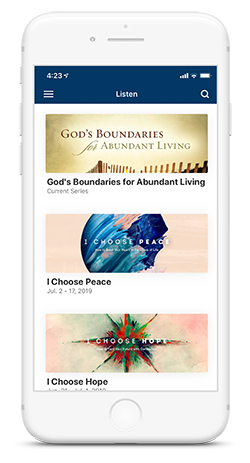 Helping you grow closer to God
Download the Chip Ingram App
Get The App
Today's Offer
Love One Another Resources on sale now.
About this series
Love One Another
Ten Keys to Experiencing Life in a Supernatural Community
We've all heard the thought-provoking challenge to face life's decisions asking, "What would Jesus do?" But what if we were to live each moment in light of Jesus' "new" commandment to "love one another" - as He has loved us? What would happen within our homes and churches if we took seriously His instructions to foster authentic, caring relationships? This series explores the powerful possibilities of lives lived according to the radical "one anothers" of the New Testament.
More from this series
Message Transcript
What did Jesus deserve? Absolute worship and homage. And He willfully became a servant. That's the new commandment.
Now why? Why do you think He gave it? Let me give you three reasons. The first one is very tender. If you're in John 13, flip to verse 31. An interesting thing about verses 31, 32, and 33. They come right before verse 34. So, there's often a real parallel about what's happening there.
Pick it up with me. He's already washed their feet, Judas had taken off, He's going to betray the Lord. "When he was gone, Jesus said, 'Now is the Son of Man glorified and God is glorified in Him. If God is glorified in Him, God will glorify the Son in Himself, and will glorify Him at once.'"
Jesus was seeing Satan leave the room, He was seeing how this whole thing was playing out, His mind flashed back, I'm sure, to eternity past and the counsel of the Godhead, the sending of the Son before the foundations of the earth.
He saw it all and now it was coming. And now the eleven faithful were around Him and He talked about this whole, what's "glorified?" It means "to reveal." It means "to enhance the reputation of." It means for these people, all the plan is becoming unveiled so the world could see the awesome love of God.
Now, notice how His heart gets so tender. Verse 33, "My children," téknon, very interesting word. It has the idea of a father gathering his younger children out of a heart of compassion. And He's speaking to these grown men. He's washed their feet, and He looks into their eyes around that table and He says, "My children, I will be with you only a little longer. You will look for Me, and just as I told the Jews, so I tell you now: Where I am going, you cannot come."
Now, again, we read that and think, "Oh, gosh, He's leaving. Yeah, we know. He's going to be ascended." See, we know the story! They didn't know the story! All they knew was for the first time, I said He was fully God, He was also fully man.
When Jesus sat down in His robe, and there was water in the seat, when He got up, His robe was wet. When Jesus walked through mud, His feet got dirty and they were muddy. When Jesus got a hold of some bad drink, He got an upset stomach. He was fully human!
When Jesus walked for many, many miles, John 4, He got tired. And so He sat down to rest.
These disciples had the experience of being unconditionally loved, accepted, affirmed, listened to, they were in a perfect relationship with a perfect human being.
And now He just said, "I'm leaving. No more late night talks. No more great insight. No more forgiveness. No more looking into a set of eyes that said, 'I knew you blew it, I know you feel bad about it, I love you unconditionally anyway and I'm so glad you came and owned up to it. I'm so proud of you.'" That's gone.
No more theological questions where you say, "Excuse me, Lord, you know, they're saying that over there and this passage I was reading the other day, would You please explain it to me just one more time?" That's not going to happen anymore.
Now notice the text. After He says that, what's the next verse? Look in your Bible, verse 34, "A new commandment I give unto you: That you love one another" – how? "Just as I have loved you." You see, they had this relationship with Christ and He's telling them, they'll understand later in John 14, He's going to the Father.
This experience of intimacy and love like they've never had anywhere in all the earth, you know what He's saying? "Since I'm leaving, I want you all to begin to fill that vacuum by the way you treat one another."
His number one reason for this command was, "I will not be there in My physical presence. You need eyes to look into; you need an arm around your shoulder; you need, at times, to be rebuked like I did Peter on more than a few occasions. You're going to need a physical body where the Christ in them can give you what you need. And so that's why the new commandment.
The second reason is not for their individual, personal reason but it's for the group, a corporate reason. The night before, the night before He turns over the mission to them, they're still arguing about who is the greatest.
This commandment, taken seriously, eliminates discipleship/sibling rivalry. There can be no competition. It's done. If they actually believe this is the new commandment and this is what they're to do – the idea of trying to be the greatest just gets cut at the roots. So, that's the second reason.
And the third reason is global. The first one was personal for them. The second was for the group, disciples. The last one is global. What's verse 35 say? "By this," by what? By the way you all, to the degree you all, to the extent you all, to the authenticity level that you all, vulnerably, honestly love one another, all men will know that you are followers of Mine!
He's saying, "The movement, the revolution, everything I've taught, the miracles I've done, and the promises I have made, it all hinges on something. You guys modeling the message. If it doesn't work in your life, it's not going to sell anywhere."
And so that's why this commandment became the apex. Now, let's ask the last question before we talk about us. How seriously did they take this? How seriously did the early Church take this new commandment? Is this like, "Oh, yeah, there are a lot of commandments in there. And Jesus talked to us a lot. I know it was the last night we were together and all that jazz but, you know, one commandment, there's another commandment."
How seriously did they take it? Let me show you. Turn to Acts, will you? Acts chapter 2. Acts chapter 2. Phenomenal. You talk about taking something seriously, you talk about that axiom of how seriously you take Jesus is how seriously you take His words. Early Church, Pentecost, Peter preaches. Three thousand come to Christ.
Verse 42 of chapter 2, "They devoted themselves to the apostles' teaching and to the fellowship and to the breaking of bread and to prayer. Everyone was filled with awe and many wonders and miraculous signs were done by the apostles. All the believers were together and had everything in common. Selling their possessions and their goods they gave to anyone as he had need. Every day they continued to meet together in the temple courts. They broke bread in their homes, they ate together with glad and sincere hearts, praising God, enjoying the favor of all the people. And the Lord added to their number daily those who were being saved."
You see, this environment occurred at the birth of the Church: Devotion corporately; from home to home, people having deep talks; breaking bread; sharing hearts. "Oh, you got a financial need? Hey! You know what? I've got more than I need, you can have this." No one had need.
Now, I know, I hear you. I can hear you thinking, "Well, yeah, this was their first emotional response. It was early on." Turn the page. Turn the page.
Chapter 4. Five thousand more have come to Christ, some time has gone by. Verse 32 of chapter 4, "All the believers were one in heart and mind. No one claimed that any of them had possessions that were his own, but they shared everything that they had. With great power the apostles continued to testify to the resurrection of the Lord Jesus. And much grace was upon them all. There was no needy person among them. For from time to time those who owned lands or houses sold them, brought the money from the sales, and put it at the apostles' feet, and it was distributed to anyone as he had need."
I would say they took it so seriously the whole economic structure of their lives changed. Their priorities changed. Their time changed. Their values changed.
Turn the page, not done. Chapter 5, verse 41. Now they're undergoing persecution, they're getting it. The disciples have been beaten, verse 41, "The apostles left the Sanhedrin, rejoicing because they had been counted worthy of suffering disgrace for the Name."
Now listen, this is a summary. We have now a lot of time expiring. Verse 42 is a summary, a characteristic of the early Church. "Day after day, in the temple courts and from house to house, they never stopped teaching and proclaiming the Good News that Jesus is the Christ."
Relationships, relationships, relationships, relationships, relationships. Love, love, love, love. Needs, needs across all barriers, the early Church did it. Turn to 1 John with me, will you? All the way in the back. Get to Revelation and go left. All the way in the back.
Let me just highlight a couple things. I want you to get, I want you to get how powerful this is. I want you to try and get your arms around, this is not a command that's on a salad bar and you get to choose one or not choose. This is the whole enchilada.
You do this, you follow Christ; you don't do this, you're not really following Him, according to Jesus. 1 John, he's the same author. Three quick letters written. Chapter 2, verse 9, "Anyone who claims to be in the light but hates his brother is still in the darkness. Whoever loves his brother lives in the light, and there is nothing in him to make him stumble. But whoever hates his brother is in the darkness and walks around in the darkness."
Turn the page. Chapter 3, verse 11, "This is the message you've heard from the beginning: We should love one another." Verse 14, "We know that we have passed from death to life, because we love our brothers. Anyone who does not love remains in death." Verse 16, "This is how we know what love is: Jesus Christ laid down His life for us. And we ought to lay down our lives for our brothers. If anyone has material possessions and sees his brother in need but has no pity on him, how can the love of God be in him? Dear children, let us not love in words and tongue," in other words, be warm, be filled, yeah, hope it goes well for you. Uh-uh. "But let us love with actions and in truth."
Verse 23, "And this is the commandment: To believe in the name of His Son, Jesus Christ, and to love one another as He commanded us. Those who obey His command live in Him, and He in them."
Chapter 4, verse 7, "Dear friends, let us love one another, for love comes from God. Everyone who loves has been born of God and knows God. Whoever does not love, whoever does not love," look at it, "does not know God. This is how God showed His love among us: He sent His Son, the one and only One into the world that He might live through Him. This is love: not that we loved God, but He loved us and He sent His Son as an atoning sacrifice for our sins. Dear friends, since God loved us, we also ought to love one another. No one has ever seen God but if we love one another, God lives in us and His love is made complete in us."
Are you getting a drift? Is there a very unsubtle message? Skip down to verse 16, "God is love. Whoever lives in love lives in God, and God in him. In this way, love is made complete among us so that we have confidence on the Day of Judgment: Because in this world we are like Him." Don't skip over that. "In this world we are like Him" – how? We love how He loved.
"There is no fear in love. But perfect love drives out fear, because fear has to do with punishment. The one who fears is not made in perfect love. We love because He first loved us. If anyone says, 'I love God,' yet hates his brother, he is a liar, she is a liar. For anyone who does not love his brother, whom he has seen, cannot love God, whom he has not seen. And He has given us this commandment: Whoever loves God," get this down, "must also love his brother."
How seriously did the early Church take it? They took it so seriously that eleven people and a group of about a hundred and twenty followers who couldn't vote, who had no political clout, who had no technology, no satellites, no talk shows, no printing press, who only had the word of mouth, who had no power in the system, a group of eleven, and by now about a hundred and twenty, loved one another so deeply, so radically that their lifestyle, even in the midst of persecution by three hundred years later, transformed the entire culture of Roman society.
And the secular historians – I mean, they were made as lampshades, Christians were. They were fed to the lions. Here's the testimony of secular historians: "O how they loved one another. O how they loved one another."
The revolution, and that's what Christianity is, it's a revolution, was ignited because the early Church took it seriously. And I'm telling you, that's what we're about.
You see, when we begin to get outside the lines and love each other in radical ways, where it really is, there is a price tag, where it's death to ourselves, death to our agenda, out of our comfort zone, loving people of different color and different background; loving people you wouldn't really like to be like; loving people that your emotions don't click on and you don't have any ooey-gooey feeling.
You choose to extend yourself because they're a part of Christ's body. Loving people from multiple backgrounds, loving people with political agendas that are so far away from yours that you say, "And that's okay. I don't have to agree with you. I'm going to treat you with dignity."
Reaching into a person's life or a mom or a dad or a son of someone who has AIDS, and who even got AIDS for all the reasons the Bible condemns and saying, "You know something? I understand that. But you still need to be fed, don't you? You still need a ride to the hospital, don't you? You still need some financial aid, don't you? I'm going to love you the way Jesus loved me."
I tell you what, a group like this gets their arms around that and the Spirit of God gets a hold of your heart and we start loving each other that way… If we love, they will come. If we love, they will come. And it's not a field of dreams. It's a promise of reality.
Well, here's our challenge, you ready? Our challenge, I've pretty well said it, but let me succinctly state it: Is to take Jesus' words seriously.
The look that you're giving me right now is, The implications of this are absolutely overwhelming, and you are right. And they're absolutely exciting.
Why is this so critical? Let me give you six quick reasons. Why is it so critical? Number one, personal loyalty to Christ. I don't know where you're at, don't know what you do, don't know how often you read the Bible, or how much you pray or anything else. I'll tell you this though, for you and for me, if I don't love other people the way Jesus loved them, I am disobeying the only time in all of Scripture Jesus said, "I have a fresh, I have a new commandment." So, I'm not loyal to Him. It's my first step in obedience to Christ.
The second, Christianity is anemic. All the Barna research, all the Gallup Polls tell us what? Christians don't live any different in morality and ethics, not much, than the rest of the world. We start loving one another, we'll break through that.
The third reason it's so critical, people are hurting. I don't have time to grasp, to explain what it's like for a family to go through cancer.
I was in Dallas, I sat in on a faculty meeting at Dallas Seminary. For twenty-five minutes they did nothing but take prayer requests, students and faculty. And it was just, "So and so has cancer; this student, one of our top students was hit by a car; this student has a brain tumor." People, in the body of Christ, in this room, in this room if we could give everyone a flashcard and a little marker and put the number one critical hurt in your life, if your wrote it and then we held them all up, you would look around the room and you would just weep.
People are hurting. And they need you to love them and you need to be loved.
The fourth reason it's so critical is that life is complex. I don't know about you, there's so much information coming at me and so much, we can't navigate life alone. We need each other.
The fourth reason is that soul care or life transformation isn't happening for many. And what I mean by that is there are Christians authentically coming to Christ, I mean, really coming to Christ but they don't have a group around them to help them get into the Word or process information.
You know what? Every couple has big, big problems. And if you're the exception, God bless you, mentor us. And there are different seasons in your relationship, you get to points where you just look across the bed, across the table and you think, "I don't even like that person. I don't want to be married to them!"
Well, you don't get divorced, you realize, "Welcome to the NFL, this too will pass," you get some help, you think differently, you work on some issues, and then you look back five years and say, "Wow, boy, that was pretty normal. But, man, we came through it."
Every family has struggles with kids! Every man that I have met has struggles with lust. Soul care! Helping one another in life transformation – it's not happening because people aren't connected. So, we put up façades, we play games, and your soul shrivels. We've got to love each other. We've got to help each other. You were never designed to become more holy on your own.
The last reason, it's our greatest apologetic, verse 35 of chapter 13. The greatest apologetic, people can disagree, disagree, disagree. When their son is in trouble, when their wife is in trouble, when their kid has cancer, when they have a big problem, when you love them, guess what happens? All those intellectual reasons start to just filter away. They just filter away.
When you remove your prejudging, when you reach into people's lives that they think, "Oh, evangelicals don't care about us, they're the narrow, bigoted group." When you break those stereotypes and you radically love and when they see us love each other, [dog barks]  I'll tell you what, it makes the dog bark.
[Laughter] You've got to be quick in this room or you're in trouble! Second, how are we going to accomplish this? We had a little comic relief and now we move on. Okay, those are the reasons. Now, here's what you need to understand.
This is not going to be one of those messages like, "Oh, wow, I really need to love people more."
There are nuggets in the Bible that talk about how to love one another, how to encourage one another, how to admonish one another, how to bear up with one another, how to restore people who have sinned, in the way, in the right… And we're going to learn. And we're going to grow.
"A new commandment I give unto you:" Jesus says, "love one another." How? Just as He loved us.
Father, I pray in the name and the power of Your Son that we would take Your words seriously. I ask for grace, courage, sensitivity, and wisdom.
And we tell You we can't do it out of self-effort, we can't do it by trying harder. We ask that You would so fill us with an awareness of how deeply and unconditionally we are loved that we could become so secure, or at least significantly secure enough, to start giving away what we are receiving. God, we know this is Your will; we offer it to You in the name and the power of the Lord Jesus. Amen.