daily Broadcast
Born to Be a Winner, Part 1
Do you struggle with seeing yourself in a positive light? Wondering if you measure up to the expectations of those around you? Chip's wife, Theresa, shares her journey to see herself as God sees her - as a precious. valuable child of the King.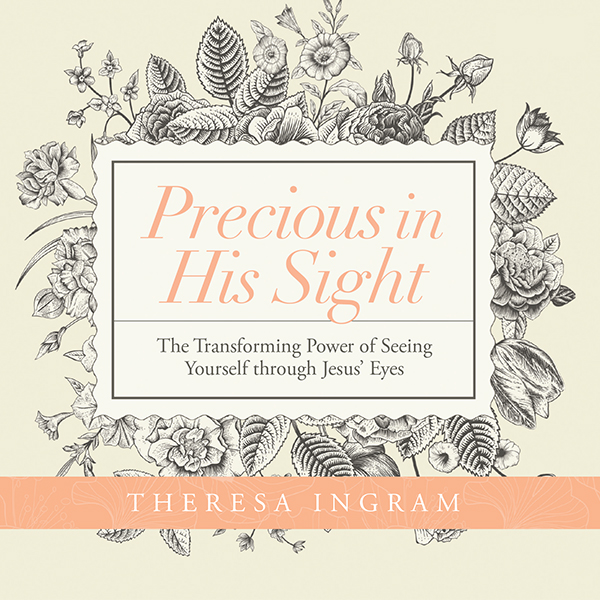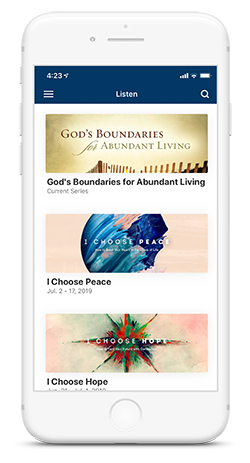 Helping you grow closer to God
Download the Chip Ingram App
Get The App
Today's Offer
Precious in His Sight Resources on sale now.
About this series
Precious in His Sight
Seeing Me Through Jesus' Eyes
This series, taught by Theresa Ingram, wife of Chip, helps women understand that they are fully forgiven, deeply loved, and have great worth because of their relationship with Christ. We all spend many hours and days trying to be someone significant, only to realize we often don't like the person we see in the mirror. Little do we know how precious we are in God's sight.
More from this series
Message Transcript
Who we believe we are, will influence how we live our lives. It will influence how we live our lives. In Proverbs 23:7, it says, "For as a man thinks within himself, so he is." And what we believe in our hearts, what we say to ourselves, our self-talk about who we are, will program our spirit to either success, or defeat. And we need to think about, Well, what do I believe about me? You know, do you believe that you were born to be a loser, or born to be a winner? And I want you to know, tonight, that God says that you were born to win.
Well, when my little boys were four and a half years old, Chip and I were married, and, six months after we were married, we moved away from everything that I had ever known, up to that point in my life. We moved from West Virginia to Dallas, Texas. And we moved there for Chip to attend Dallas Theological Seminary.
And, at this point in my life, not only had God given me a husband, but He had given me something even greater, because, for the first time in my life, I began to experience unconditional love from someone. Even in his imperfect way, it was a wonderful thing, and I had not experienced that before. Chip began to pour into my life words of encouragement, about me, as a person, that I had never heard before. And our first few years of marriage were rough, because we had so many adjustments to make in our lives, but I sensed a lot of love, and a commitment from Chip, that helped me to feel secure in our relationship.
And as a part of his schooling at Dallas Seminary, he had to take counseling courses. And he was in this one particular class, and he was learning about how our negative beliefs – how we think about ourselves – affect our behavior. And as he was listening to his professor one day, he saw his wife in an illustration. He thought that sounded just like me.
And so, Chip is the kind of person that, if he sees there's a problem with anything, he wants to fix it right now. And so, he comes home, and he drags me in to see his professor. We went in there – and his professor was a psychologist; he was very well trained in this area. And so, then, I took a couple personality tests, and I went back in and talked with him. And so, Chip and I went back in together. And the professor looked at Chip, and he said, "You know, you have a wife who is a Cadillac, but she thinks she's a Volkswagen."
And he began to describe to me the impact that my background had had on the way that I learned to view myself. And that moment was one of those defining moments in my life. You know, we all have those from time to time, but it was a time in my life when I realized, for the first time, that my thinking was wrong. And I realized that I had never fully embraced what God had done in my life, and that my negative thinking was actually a hindrance to allowing God to work in my life, and to use me the way He wanted to.
And at this time, of course, we were preparing to go into full-time ministry. And so, this was something that I felt like, You know, I really need to get this worked out. And so, I began to take steps toward learning how to find my identity in Christ, and to learn how to embrace who I really was. And I found it to be a long journey, and I found it to be a lot of hard work at times. And I'm still working at it some. You know, 'til the day I die, I'll still be working on some of these things.
But you know what? God changed me. He changed me, and, now, I experience a freedom in my life: a freedom to enjoy the way God has made me, imperfections and all, and the freedom to learn from, and appreciate, my past. And I have a freedom to be used of God, and to use the gifts and abilities that God has given me.
And you know, I believe God wants this for all of His children. It's not just for those of us that have come from difficult pasts. And it's not just for those of us who are going into full-time ministry. He wants this for all of His children. He wants all of us to have the freedom to live in, and to embrace, the identity of who we truly are.
Well, some of you were raised in really wonderful, Christian homes, very loving homes, and you had very positive parents. And you wouldn't have had near the struggle that I did in this area, and that's wonderful. It's a wonderful thing. Yet, there are others of you who were raised in very neglectful homes, with abusive parents, or you came from broken homes. And you have real, deep struggles in this area of your life, and struggles with your self-image. And they just seem impossible to overcome. Sometimes they do.
And, because all of us are imperfect people, and we're living in a very sinful world, and because we have an enemy, the devil, who is always trying to plant those negative thoughts in our minds, we each – all of us – need to really learn to embrace, and grasp, who we are in Christ. It's important for all of us, so that, when those negative thoughts come – and they will; we know they will, for all of us – and those doubts come into our minds, that we have a way to be reminded to combat those thoughts, and reminded of who we really are in Christ, so we respond to life situations out of that truth, not out of the negative thoughts that may be there.
And God desires for us to see ourselves as He sees us, and He wants us to be free to think, and to be, all that he created each of us to be. And it's not so that we're focused on ourselves all the time – that's not what we're to do – but so that we are fully satisfied with who we are, and so we can enjoy God, and so that He can use our lives. And God says that you're beautiful in His eyes, that you are of great value to Him, and that you are a good person, and that you're clean, and that you're fully forgiven, and that you're righteous, because of your relationship with Him. And we need to learn to embrace that truth. And just think about, do your thoughts and your actions really reflect that you believe it? You know, we need to think about that and think about, what do we believe.
Well, tonight, I'd like to give you six ingredients that are very important to have in our lives for each of us to truly embrace God's truth. And these are all very biblical, right out of the Bible. I've found that they work. Whatever God says, I know that it works.
And these are six essential ingredients for learning to think correctly about who we are, and for changing our negative self-talk into self-talk that reflects God's truth about us. And tonight's session is kind of our tool-time session, because we're going to learn some things that we can actually do to change the way we think.
Well, the first thing that we need to recognize is that the battle is in our mind. That's where the battle is. Our mind plays a very, very important role in our relationship to Christ, and how successfully we live our lives.
In Romans 12:2 and 3, it says, "And do not be conformed to this world, but be transformed by the renewing of your mind, that you may prove what the will of God is, that which is good and acceptable and perfect. For through the grace given to me I say to every man among you not to think more highly of himself than he ought to think, but to think so as to have sound judgment, as God has allotted to each a measure of faith."
You see, it's in the renewing of the mind that we know how to do the will God. It's in the mind. And the only way that we will not be conformed to this world – which is what we don't want to do with the negative thoughts, and the negative beliefs – is to renew our mind with God's truth. And it's in the renewing of our minds that we're able to make wise, sound decisions, you see, that will reflect the will of God. In 1 Corinthians 2:16, it says, "For who has known the mind of the Lord, that he should instruct him? But we have been given the mind of Christ."
Think about that. Think about what you have: the mind of Christ. We have been given the ability to think as Christ would think. That's a wonderful, wonderful treasure. Ephesians 4:23 to 24: "That you be renewed in the spirit of your mind and put on the new self, which in the likeness of God has been created in righteousness and holiness of the truth." Here, again, that we be renewed in our minds – that's where the battle is. And we've been given this wonderful, wonderful treasure of our minds to make decisions, and to think in a way that we can live out our lives according to God's will, to make choices with our minds, to live righteously, and to be all that God planned for each of us to be.
And so, doesn't it make sense that that's where Satan would attack? You know, it makes a lot of sense. This is where our battle lies. And if he can keep us doubting God's goodness – if Satan can keep us doubting God's goodness, and His love, if he can keep us believing that we're bad people, and that we're failures, and he can keep us covered over with guilt, and, condemnation, and he can keep us out of God's Word, and he can keep us so busy trying to earn God's favor that we don't spend any time with the Lord, then, you see, he's won his battle. And we're under his control, and we are fulfilling the prophecy, or the tattoo, "Born to Lose." And Satan does not want us to know, and believe, who we truly are.
And so, he's going to attack that area with a vengeance, especially if you start working on it. He's going attack. Because if we could really grasp who we are, you see, then God is really going to use our lives. And Satan wants to keep us believing that we're victims. But God says we're not. He says we're victorious in Him.
In 2 Corinthians 10:4 and 5, it says, "For the weapons of our warfare are not of the flesh, but divinely powerful for the destruction of fortresses. We're destroying speculations and every lofty thing raised up against the knowledge of God." Those are thoughts – those are thoughts in our minds that are against God, "and we're to take every thought captive to the obedience of Christ."
There, again, where is the battle? It's in our minds. That's where we need to fight. Satan is the accuser of the brethren. And if you are having condemning thoughts, it's not from God. If you're having feelings of guilt over things that you have already asked the Lord's forgiveness for, that guilt is not from God. Or if you even have vague feelings of guilt, and you don't even know why you feel guilty, or know of anything that you've done wrong – it's not from God. It's from the pit of hell. And we need to recognize where those negative thoughts come from, and we don't have to accept them. We don't have to listen to them.
But the key to our success in this area is to, first, recognize where the battle is, and it's fought in our minds. Satan is out to destroy God's people, and to render all of us ineffective in God's service. And his major area of attack will be to bring negative, doubting thoughts about God. And God says to renew your mind. He says to take every thought captive to the obedience of Christ.
And it's something that we do. You see, it's something that we act upon. It's not something that we just sit around, and hope God zaps us, and it happens. It's something that we have to take an active part in. And so, we're gonna learn tonight: how do we fight this battle, and win? How do we do that?
Well, the second thing here – number two is: first of all, to win the battle, we must have regular and specific times of mind renewal. We have to have this or we will not change.
First, (A) we must spend time in God's Word on a regular basis. We must spend time reading the Bible, being in the Bible. And that's something that we have to choose to do. It's something that we have to discipline ourselves to do – to read God's Word, and to learn from Him. Hebrews 4:12 says, "For the Word of God is living and active and sharper than any two-edge sword, and piercing as far as the division of soul and spirit of both joints and marrow, and is able to judge" – listen – "the thoughts and intentions of the heart." That's where the change comes.
It's able to show us what our thinking is – whether it's true or false. It's able to transform our thinking. It's living, and active. It's taking God's Word into our mind. And it's like taking an arrow, and shooting it through those speculations, through those false beliefs, because now we have the truth, we know what God says to us. And how, how in the world, could we take every thought captive to the obedience of God, if we don't know what His truth is? And we can't know His truth unless we're in His Word on a regular basis? Not just every couple of weeks – that won't work. That won't transform our minds. It's on a regular basis that we need to do that.
And it needs to become a habit in our lives, just like brushing our teeth every day, or eating dinner. You know, we think those things are so important, and most of us wouldn't miss those things, ever. And being in the Word of God needs to be that important to us, because it's doing more for us than brushing our teeth, and eating a meal. His Word – His Word is the bread of life. His Word sustains us. His Word is the bread from Heaven that gives us what we need, and transforms our minds. And it helps us to live successfully.
The second thing (B), here, is meditation on God's Word, and memorization of God's Word, will instill God's truth deep in our hearts. And memorizing God's Word is one of the most effective tools that I've experienced, because you have instant recall of what you've learned. In Joshua 1:8 it says, "This Book of the Law shall not depart from your mouth, but you shall meditate on it day and night, so that you may be careful to do according to all that is written in it." And then, there's a promise. You know, like, if you do this, if you meditate on it, there's a promise: "…for then you will make your way prosperous and then you will have good success."
And, I don't think that means that you're going to be rich, or you're going to be happy all the time. What it means is, God's Spirit is going to be at work in your life, and guiding you, and helping you, because you know His truth. And then, you'll make decisions according to the will of God. And where's the most successful place to be? It's in the will of God. That's the safest place to be. It's the most secure place to be. It's the place where we have peace.
And so, we need to meditate on it, to mull over it in our minds, to think about it, chew over it. And, you know, when you read, to think about a passage, and what it means: What does that mean to me, and how would that apply to my life today? And write it down, and think about it as you go through your day. That's what it means to meditate and think upon it.
Psalm 119:9 to 11 says, "How can a young man keep his way pure? By keeping it according to the Thy Word. With all my heart I have sought Thee. Do not let me wander from Thy commandments. Thy Word I have treasured in my heart, that I might not sin against Thee."