television Broadcast
Dream Great Dreams, Part 1
God is looking for ordinary people to do extraordinary things for Him. Do you believe that? It's true. But in order to move this from your head to your heart…you need to take one very important step. Chip examines what that step is. Don't miss it!
This broadcast is currently not available online. It is available to purchase on our store.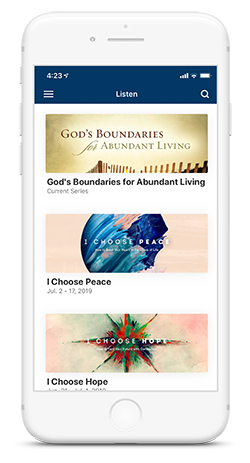 Helping you grow closer to God
Download the Chip Ingram App
Get The App
Today's Offer
Good to Great in God's Eyes Resources on sale now.
About this series
Good to Great in God's Eyes
Ten Practices Great Christians have in Common
Are you tired of the status quo Christian life? Do you long for a spiritual breakthrough? Are you looking to go to the next level or get a fresh infusion of faith and spiritual passion? Great Christians live out their faith with purpose. In Mark 10:43, Jesus says, whoever wants to become great among you must - what? You'll explore the idea that there are certain practices available to every believer, at every maturity level, to move us from good to great, in God's Eyes. ACSI approved
More from this series