daily Broadcast
Experience a Broken Spirit, Part 2
Did you know that God wants to speak to you? It's true. In fact He wants to go way beyond speaking to you. He wants to support you, empower you, direct you, and use you to do things beyond your wildest dreams. Chip reveals how God wants to do this in your life.
This broadcast is currently not available online. It is available to purchase on our store.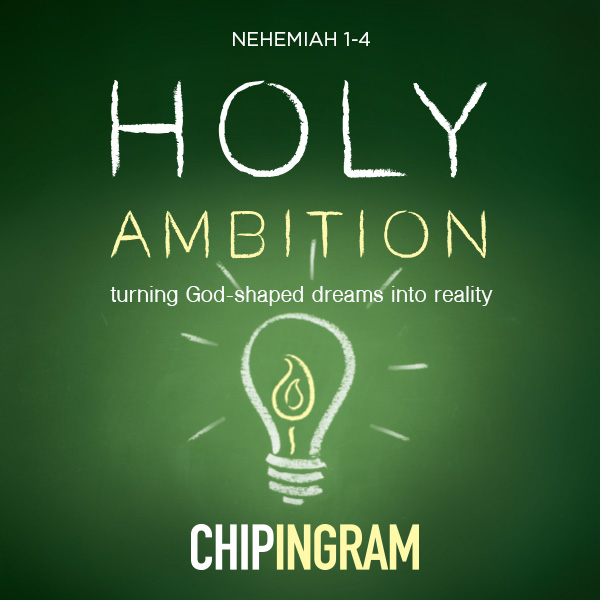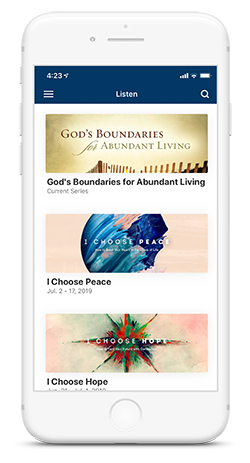 Helping you grow closer to God
Download the Chip Ingram App
Get The App
Today's Offer
Holy Ambition Resources on sale now.
About this series
Holy Ambition
Turning God-Shaped Dreams into Reality
The God of the universe is looking for regular people to accomplish things beyond our wildest dreams. In this series, from Nehemiah 1 - 6, learn how God uses ordinary people to accomplish extraordinary things and the process by which He molds men and women for His purposes.
More from this series
Message Transcript
Nehemiah saw a huge problem. He had a dislocated heart. And he had God-centered prayers. God-centered prayers. Are yours God-centered? Are mine God-centered? Or do we just whine and complain before the throne? "Oh God, what about this? Oh God, what about this? You haven't done this, you know, and this, and this keeps happening. And what…"
Sometimes, we just worry out loud, and call it prayer. And we don't even think about who we're talking to. When Nehemiah prayed, he said, "I am speaking to the I AM THAT I AM. I'm speaking to the One who spoke, and the galaxies came into existence. I'm speaking to the One who has all power, and all resources. I'm speaking to One who keeps His covenant of loyal love." And it starts by beginning to get a high view of God – a view of His majesty, His power, His wisdom, His love, His justice, and His holiness.
I love what [A.W.] Tozer says. I read, probably, a chapter of this book, the first fifteen years I was a Christian, every day, and then, I kind of cut back to maybe a chapter, once a week. It's a tiny book, called The Knowledge of the Holy, and it's just about God: What's God like? Tozer writes, "Modern Christianity is simply not producing the kind of Christian who can appropriate, appreciate, or experience life in the Spirit. The words in Scripture, 'Be still, and know that I am God,' mean next to nothing to the self-confident, bustling worshipper in the middle period of this century.
"But the alarming thing is that our gains are mostly external, and our losses are wholly internal. And since it is the quality of our religion that is affected by internal conditions, it may be that our supposed gains are but losses spread over a wider field."
We have never had more TV, never more video, never more mega-churches, never more presence. Christianity has never had "the external affluence and influence" but, all the while, the quality of the kinds of Christians we've been producing over the last fifty to seventy years is less, and less, and less like Jesus. They're less holy, and they're less loving. And they have less faith.
And, in the name of Jesus, we've sought personal peace and prosperity, and the average Gospel going out, in many parts of the world, is, Jesus is your self-help buddy, and life is really about you: "Now, make my life work out. And if I ever get cancer, or my marriage is in trouble, or my kids have a problem, or I have a financial dip – 'Hey, God, what's the deal? Who do you think You are? Don't You understand, I'm the center of the universe?'"
And then, we get mad. And we get mad, and we get disillusioned with the God of the Bible because we don't understand who He is. Tozer goes on to say, "What comes into our minds when we think about God is the most important thing about us."
If someone could register – bang! The word "God" comes to your mind. What's He like? Who do you really pray to? That, my friend, is the most important thing about your entire being.
A low view of God will produce an anxious, striving, frustrating life. And a high view of God will produce a life that has issues and problems, but we'll see them in view of His wisdom, and His power, and His sovereignty, and the response is to trust.
I put a little passage there – it's Isaiah chapter 6 – because the way you get a high view of God is by becoming a worshipper. I will tell you this, having done this: You can become a Bible student, and read the Bible a lot – which is very important. You can go to a small group. You can say, you know, "I listen to Christian music." And all those things are helpful.
But if you are not a person who takes the Word of God as your prayer book, and begins to worship God for who He is, the connection of all this intellectual stuff you're putting in your brain will never go into your heart, so that you can really trust Him when it's difficult.
That happens by worshipping. That's when you sit quietly in a room, and you sing to God. That's when you adore Him, and praise Him, and thank Him, and honor Him.
And you're not trying to get anything done. And you're not looking at your watch. And you open your eyes, and you look at things that are beautiful. And you thank God for what He's made, and who He is. And you cry out, "Holy, holy, holy is the Lord God Almighty. Heaven and earth is full of Your glory." And you begin to rapture in the presence of the power, and the majesty, and the love of God.
Worshippers. And in worship, we get a high view of God. And when that happens, you'll notice, as you read – in that Isaiah passage – there's worship, and there are angels. And the train of the robe – it was about His majesty, and His power – fills this temple.
And Isaiah, this prophet, has this amazing experience. And when he sees God high and lifted up, and holy, then he says, "Woe is me, for I am a man of unclean lips among a people of unclean lips."
And I would suggest that the average Christian thinks their lips are pretty clean, they're doing okay, and, "God, I just need a little help to get through the day, so that You can help me fulfill my agenda for my world, my family, my singleness, my job. And here's what I would like You to do for me today."
And, therefore, you don't have deep experiences of repentance. You don't have times of realizing, Wow, how have I drifted? How have I become so critical? How did my motives slip into being so performance oriented? Why am I so short with my kids? Why is it that what I really care about – and I'm so upset, because the stock went from here, to here. I thought I had an eternal perspective. Why are certain things eating me up inside because I can't control them?
Those are evidences. And God says, and Isaiah responds, "Woe is me." See, when you get a high view of God, you'll get a recalibrated view of yourself. Notice, it's not just Isaiah. It's Nehemiah; it's every character I can find in the Old or New Testament.
So, notice his response: He says, "I confess the sins. We Israelites." Notice it's first person. You know, if I were this guy . . . I mean, I hope I would do better. But if I were Nehemiah, I'd be looking at this bad situation, and I'd pray for a while.
And I'd say, "You know what? All those people messed up. Why did they mess up? They're worshipping idols, and they've done this, and they've done that, and if they would shape up and…"
But he doesn't. He realizes he's a part of it: "I," "we," "I," "we," "I confess the sins, we Israelites, including myself and my father's house, have committed against You. We've acted very wickedly towards you. We have not obeyed the commands, decrees, and laws that You gave your servant, Moses.
No excuses. No ducking. No blame-shifting. No, "Well, You know, Lord? I came from a very difficult family. You know, circumstances have been really rough on me. You just don't understand what I've been through." He just owns it. And he not only owns it for himself – he owns it for his father's house; he owns it for the nation. And he repents.
The mark of a high view of God are prayers that are God-centered, and the mark of prayers that have genuine repentance and confession are gut-wrenchingly honest prayers.
My personal struggle – we don't want to do therapy for me, but I'll just give you a quick highlight. My personal struggle, in prayer, goes something like this – when I draw near to God, I see stuff about me I don't like. Okay? So, when I see stuff about me I don't like, I have to face that, or I have to run.
And so, the difficulty in praying, for significant, quiet, in-depth times, is the reality that, if I really get honest, I'm going to see some things about my motives, I'm going to see some things about me that aren't that pleasant.
And what that does is everything in me, then, "Well, I'll pray later. I'll pray deeper. Later."
And what I find is, when I'm having my most intimate times with God, there's a practice of not only worship, but a practice of asking Him to search my heart, and sitting quietly, and letting Him bring, not general feelings, like, You're a terrible dad, you're a terrible pastor, you're a selfish, no good… That's the enemy. That's called "condemnation."
No, it's more like, "You know what? What have you been thinking about for the first four hours today? Um, when you were in that conversation, you know, your voice got kind of this way, and that way, because you were just frustrated. You didn't really care about them. And when that person came up afterwards, when you were tired, you were kind of looking at them, but you were just glazed over. You didn't care." "God, I'm sorry." Or, "Ingram, your priorities are out of whack. You're trying to do too much, in too many different directions, and you know what? This is what you need to do." And you know the only avenue? It's not "try harder." It's "repent. It's "ask forgiveness." It's "get right."
If you don't know how to do that, I've given you a passage to work. It's James 4:7 to 10. And it's the clearest, best repentance passage I know of in all of Scripture. And it gives you a very clear model.
It says, "Submit, therefore, to God." When you repent, the first thing you need to do is realize you quit trying to run everything. It's back to the all-in. It's back to the surrender. "Submit, therefore, to God." And then, once you do that, you get a lot of opposition. And then, it says, "Resist the devil and he'll flee from you."
Then, you take a positive step. "Draw near to God" – promise – "He'll draw near to you." And as you draw near to God – maybe that's getting back in the Bible, maybe it's getting connected back to a small group, maybe it's having honest conversation. Draw near to God – maybe you go ask for forgiveness from someone. But you draw near to God, He'll draw near to you.
And as He does, then He'll show you stuff: "Cleanse your hands, you sinners. Purify your hearts, you double-minded." See, He'll tell you about some actions, and about some attitudes.
And then, He talks about mourning, and turn your laughter . . . And the idea, it's not that we shouldn't be happy, and laugh. The words, in the New Testament, have to do with this, sort of, self-sufficient, living for my pleasure, and not really owning at the level and the depth that you know, "I'm really living a self-centered life. Will You forgive me?" And you mourn. And you grieve. Just like when you hurt someone's feelings, and you tell them you're sorry, and you really mean it. That's what he's talking about.
So, an accurate view, a broken spirit happens with a restored view of God that leads to an accurate view of myself. A restored view of God requires me to become a worshipper on a regular basis. An accurate view of myself demands repentance, and confession.
And then, notice what happens: When you're really clean, when you're not – a lot of us pray like this, "Oh God, please do this. Oh God, please do this." I wonder if He will? "Oh God, please do this." Maybe, maybe, maybe, I doubt it, I doubt it, I doubt it. "Please, please, please, yeah, yeah, yeah. If this would happen, this would happen, I promise . . ." And we're just…
No, no, no, no. When you see God for who He is – and you watch this all through Scripture – and when you're around people whom God uses greatly, you'll find this in their lives: They get an accurate view of themselves.
And when they repent, and they know they're clean, they kind of come in the presence of God with boldness, and clarity, like the Hebrews passage: "Therefore, come boldly before the throne of grace to find mercy in your time of need. For you have a Great High Priest who's blazed the trail, and the pioneer . . ." And it says, "You come in. What do you need?"
And you listen to this man pray. The broken spirit results in a renewed commitment to fulfill God's agenda. And so, he's now, he's a new man. He's cleansed. He knows he's blown it. He sees God's on the throne. There's a big problem, and he can't solve it, but he's going to ask.
And he's going to quote parts of Deuteronomy 30, and Exodus 32. And he's going to say, "God, I'm going to remind You of some promises You made." He says, "Remember the instruction You gave your servant Moses, saying, 'If you are unfaithful, I will scatter you among the nations.'"
"Remember, God? Remember You said that? Well, we were unfaithful and we're scattered. That one's been fulfilled. But remember the second half of it? 'But if you return to Me and obey My commands, then even if your exiled people are on the farthest horizons, I will gather them from there, and I'll bring them to this place, Jerusalem, the place I have chosen as a dwelling for My name."
See, when you start to have a broken spirit, you pray God-centered prayers, gut-wrenchingly honest prayers. And then they're not hopeful prayers. They're promise-centered prayers.
You begin to realize, you know, God has some promises about your finances. God has some promises about your marriage. God has some promises about when you're stuck, and you're depressed. God has some promises. And you take His Word, and you say, "I actually believe it's true. I don't feel it, but I believe it's true. And I'm going to pray, and claim the promises of God." That's faith.
And so, notice his prayer, and notice the focus. He reminds God, and it turns to intercession. He looks at this bad situation, and it's not like, Well, you know, I'm pretty wealthy, and I'm affluent, and I've got a good position. I guess I'll really rev it up, and make something happen. That's not what he prays. See, he let God work in him, before He worked through him. "These are Your servants and Your people, whom You redeemed by Your great strength and Your mighty hand." Where's the focus? "Your," "Your," "Your," "Your," "Your." "O Lord, let Your ear be attentive to the prayer of this, Your servant, and to the prayer of Your servants" – notice the small group – "who delighted in revering Your name."
And then, over these three months of praying, Nehemiah went from someone who prayed, and was asking, "God, I don't know my part in Your plan. I don't know my divine design. I don't know my gifts, and I don't know, in this time of history, exactly what You want me to do." But at the end of three months, he realized, God showed him, that he had the gift of leadership, and that God wanted him to take his leadership skills, and go back, and head up the rebuilding project. And so, he's going to go.
He'll take a radical step of faith. He's going to get in front of this king, and he's going to act like he's really sad. And what he knew was, in that culture, if you act like you're sad in front of a king,
you have two options. Option one: "Hey, what are you sad about? How can I help you out?" Option two: "That's illegal. Kill him. Get rid of him. I know…" So, he realized, he was willing to put his life on the line. And so, he intercedes. James 5:16: God says very, very, very clearly – He says that "the prayer of a righteous man" – and, I have learned, the prayer of a righteous woman – "will accomplish much." We'll have to get serious.
I'm a little embarrassed, to be honest, that we gather as a people, and we have so many needs, and we sing, and we hear, and we teach, how little we actually stop – how little in our relationships with one another – we go to each other's houses. We talk. We have fun. We drink coffee. We do stuff. When's the last time you said, "You know, before you leave, let's stop. Right now, let's stop. Let's pray. Let's ask God. Let's believe." I believe that's God's agenda.
Three summary principles that I think will give us some handles to move forward: One, we must let God work deeply in us, before He will work significantly through us. What if you asked Him, and really meant it – what if you said, "Oh God, what do You want to do in me? What do You want to correct? What do You want to restore? What do You want to heal?"
Second, until we make prayer a priority, progress and power will never be a reality. Here's what I can tell you – because I've been down this road before, not only in my personal life, but in church, in Living on the Edge. Here's what I'll tell you: Two and a half months from now, we'll put check marks next to these that will blow your mind. Because you know what God's agenda is? It's not, like, big for Him to answer these prayers. He wants to teach us that He actually listens.
One of the things I do every year is, I think of the biggest, top ten things that are most overwhelming, or the things that I believe God wants to happen, and I write them down. I have my top ten. And, I mean, they're big. And they're specific. And then, I pray over them. And I just can't tell you how many Decembers – it's like, wow, eight . . . I never dreamed.
And it was like, "God, how could I not believe?" The Lord, the God, the Creator, the great and awesome God.
Third, difference makers are not necessarily those with a lot to give. You don't have to have a big house. You don't have to be rich. You don't have to be a super-intellect. In fact, actually, when you read this Book, it's like God goes to great lengths to pick people who don't have much of any of that.
Read 1 Corinthians, and He lists all these, sort of, dysfunctional, difficult, sinful people, who have been through all this terrible stuff, and such were some of you. God uses the foolish – us regular people, with our baggage, and our hurts, and our pasts, and our sins to confound the wise.
Every great movement of God starts with a little handful of people who, ridiculously, and mostly at the ridicule of others, actually believe God would do exactly what He says. Grace always flows downhill. It requires humility.