daily Broadcast
Experiencing Hope, Part 2
Here's a crazy thought: Suffering is actually essential for spiritual growth and maturity - not exactly what everyone's preaching these days. Join Chip as he explains how the experience of suffering can bring us closer to Christ.
This broadcast is currently not available online. It is available to purchase on our store.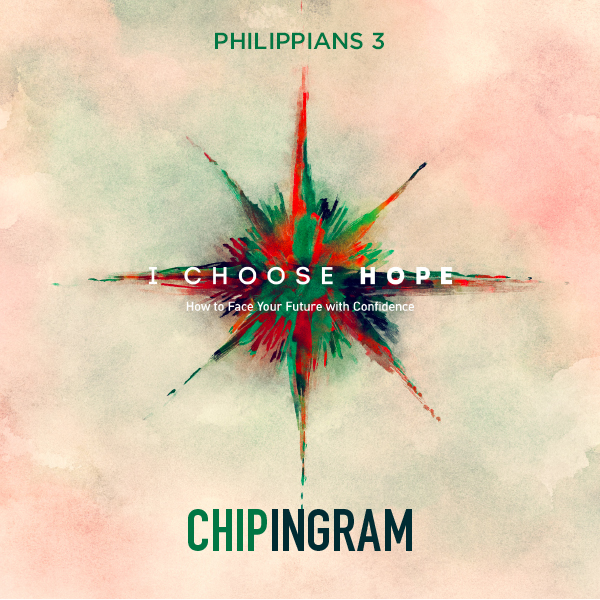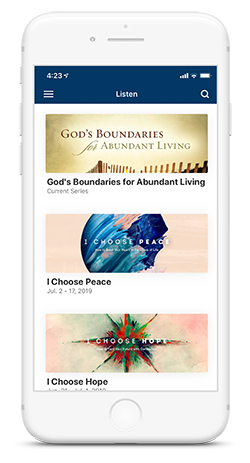 Helping you grow closer to God
Download the Chip Ingram App
Get The App
Today's Offer
I Choose Hope free mp3 download.
About this series
I Choose Hope
How to Face Your Future with Confidence
We all hope in something or someone. The question is: Will your hope deliver? In uncertain times, hope can waver. Families are under assault, the global economy is tenuous, and violence is on the rise. Is it possible to live confidently in such alarming times? In this series, from the book of Philippians, Chapter 3, Chip explains what God has to say about our future and our fears. He'll teach us how we can face tomorrow, and each day that follows, with certainty and hope that never fails.
More from this series
Message Transcript
Power is perfected in weakness. God's power shows up in supernatural ways when His children say, I can't do this. I can't make this relationship work. I can't change my supervisor. I can't get inside my kid's head or my parents' head and get them to see things the way they ought to. I can't break this habit. I have unresolved anger issues.
And then power is perfected in weakness. The first step to experience God's power is: Lord, help me! Remember Peter? What happens? Very short prayer. Peter is sinking, what does he cry out? "Help me!" David, who really messed up, "The Lord is near to the brokenhearted. He saves those who are crushed in spirit."
This is an unfortunate truth. You will probably never experience the love of God and the power of God more than at a time when you come, not to a hard situation, but when it gets impossible.
And it's like, hands up, I can't do this. I can't do this a single more moment. I can't do this. And then you cry out, Oh, God! Deliver me. And He may deliver you out of it, He may deliver you through it, He may change you in radical ways.
One of my closest friends went through, I think, just in Chip Ingram's opinion, there could be worse things, I just can't think of any. His grown son, prime of life, committed suicide. In a moment, had some bipolar stuff going on. And I have watched that man's life change more in the last two years out of his pain, out of his suffering. I have seen God's power.
Because in his deep, deep distress – he was reading the Bible before, but he was listening a lot better now. He was praying before, but now, once a week, he drives out near where he and his son would spend some time, special time, and he looks out over this, and he just pours his heart out to God.
And, guess what, he has met Jesus. He has met the power of God and the comfort of God and the grace of God and the patience of God. And he has had deep, deep down valleys. And he is not, he's a big former athlete and not known for tears, not known for being overly sensitive. That's probably why we get along. No comment, please.
And I have watched a sensitivity and a crying and an emotion that has transformed him. But if it's trying hard and, Jesus, will You give me a little help? you'll never experience His power. How could you take where you're feeling hopeless and admit today, "I can't do this"?
Second, not just His power in our weakness, but His presence in our pain. We are a society in the Western world, especially in America, that any type of suffering or pain is to be avoided at all cost.
"You have been called for this purpose," says 1 Peter, "you have been called for this purpose, to suffer with Him."
At the end of chapter 1, he said, "It has been granted to you," the word is grace, "God has given you this grace, not only to believe in Him, but also to suffer for His sake, experiencing the same conflict which you heard and now see to be in me."
Now, this is not a masochistic – there is plenty of suffering that is going to come your way. But if, unconsciously, your worldview is: all suffering, all difficulty, all pain is, I've got to avoid at all cost or I've got to just get through it, I've got to zoom through it, you will miss God. You will miss God.
Some of the suffering that you're in, someone else did it to you, some of it you brought on yourself like me. Some of it, it's just a fallen world. You can't – the economy, the politics, the racism, the tension, the work situations. You don't have control over all that.
Here's what I'm going to tell you, though. And you guys know this so just turn on those really smart brains of yours. Everybody in this room is going to go through a life that is really, really hard and you're going to suffer. True or false?
If you haven't had some major health issue, just hang on. If someone hasn't betrayed you that you really trusted yet, just hold your breath. If you don't get a raw deal of injustice somewhere, somewhere. If one of your kids don't really disappoint you or God doesn't come through and bring Mr. Right or Miss Right into your life.
We are all going to suffer. You know what Paul says? In a fallen world where suffering is going to come at the hands of others – persecution, at times for doing exactly what God wants me to do, he says, I don't want to waste it. I was with Jesus and when I was with Jesus, there's something that happens when someone goes through it with you.
Notice his experience. His experience is 2 Corinthians chapter 4, verses 7 through 12. He says, "But we have this treasure, this Spirit living within us, this gospel, this new life in earthen vessels," speaking of his human body, "so that the surpassing greatness of," what are we back to? "the power will be of God and not from ourselves." Now, listen to this list. This is his life experience. "We are afflicted in every way, but not crushed; we are perplexed, but not despairing; persecuted, but not forsaken; struck down, but not destroyed; always carrying about in the body the dying of Jesus," notice his purpose clause, "so that the life of Jesus also may be manifested in our body."
What he's saying is: I've just been doing exactly what God wants me to do, and you name it, we have been there. It's bad, bad, bad, bad, bad, and a little worse. But in the midst of it, God is – hey! – not struck down, not giving in, not giving up. And as we die to ourselves and we ask God: What do you want this to look like in the midst of my suffering? The manifestation of the life of Christ! He says, "I am experiencing that."
Notice he says, "Jesus, also being manifested in our body, for we who live are constantly being delivered over to death for Jesus' sake." Why? "So that the life of Jesus may also be manifested in our mortal bodies, so that death works in us, but life in you."
My friend I was telling you about? Death is working in him. And now I have watched life in family members. I have watched, he has a heart for evangelism and he's just a bold human being. And, so, he came into my office a little bit before all the things with his son and he said, he calls me "bro."
"Hey, bro, I need some good stuff. I meet all these people; they've got all these needs." And he went through, okay, "Give me those three CDs on that, give me a couple books on that, give me three CDs on that." And, so, he cleaned out part of my closet and he puts them in the back of his truck.
I can't tell you, I bet there have been fifty, sixty, maybe a hundred people in two years that have seen the baptism of his son coming to Christ, heard his story, him listen to them – and they are clients – and he has handed either a CD or a book and he says, "I only give to the ones that I know are serious."
Death in him; life to others. And then he tells me this, he goes, "Man," he played major college, he was a quarterback at a big school. He said, "Man, I have experienced some highs. It doesn't get any better than this, does it? It's like when Jesus is going right through your veins and you realize it's not you!" This is what Paul is talking about. What are you suffering?
The theology of it, he says, "Yeah, thanks be to God," Romans 5, "we are justified by faith and we exalt," or, "boast in this brand-new relationship." It's our introduction into grace. "But not only this, I also exalt," do you understand the mindset that is so different than us? "I exalt in the tribulation that I am going through." Why? "Because tribulation produces endurance." What is endurance? I just keep getting up and doing the same thing when it's hard and I don't feel like it.
And what does endurance do, over time? It produces proven character. What's that? It means your attitudes change as you hold up under that by the grace of God.
And proven character doesn't disappoint because – why? It produces hope, and hope doesn't disappoint because the love of God has been poured out into our hearts.
And what he is giving us is a theology of suffering and difficulty in a fallen world, but as you trust in Him and as you persevere and you say, Lord, I can't do this, but will You be near me? Oh, God, one more day of work and I hate this job. Oh, God, this marriage counseling is the worst idea in the whole world! I can't stand facing all this stuff. But I'm not giving up, I'm not giving up, and I'm not dropping out.
And as you do that, change happens. And the change happens in you. And the change produces this unswerving hope in your life that you realize, Wow! God is real and He is with me.
My wife got cancer. It was very serious, they did major operations and then they did radiation, all this high-powered stuff and thank God for Kaiser, Stanford, everybody. They did an amazing, amazing job.
But here's what I can tell you about suffering: if you go through something deep and scary with someone you really love, however much you thought you loved them, it goes to a whole new level.
I will never forget driving her after all that to each radiation treatment and they did some new high-powered thing that just…
And every, single time we would leave and we would pull into the little coffee shop and she would sit in the car like this and I would go in and get two cups of dark roast, of course. And then they had little oatmeal cookies and they said, "Would you like it heated?" I said, "Please."
And I would take my little oatmeal cookie and I would give her her coffee and we would break it in half. And I didn't know if I had a few more weeks, a few more months, or a few more years, but I can tell you this: that moment, those journeys together – there was a love and an intimacy that I have shared with my wife that God has allowed to continue that could have never happened.
Now, my hand goes up, Lord, I would like to be on the list of "no more cancer ever." And then my hand goes up to say, Lord, it's horrendous but I wouldn't want to miss that – what I share with her.
And what Paul is saying is, This is what I want to share with Jesus. But do you see behind all of this, there is this passion, there is this focus, there is this sense that – Paul has been there and done that. If getting famous or being smart or getting in the right school or wealth or how your kids turn out. If all that could be a hope that would satisfy, he had been there and done all that stuff. He is saying, "This is what matters."
Finally, he says, "The life, the life we can experience in our death." He is really talking here about coming to that point where: I'm going to be conformed to the likeness of Jesus' death.
And here's his theology, in fact, you could read all of Romans 6. But verse 4 says, "Therefore, we have been buried with Him through baptism unto death so that as Christ was raised from the dead to the glory of the Father, so too we might walk in newness of life." And then here's his theology, "For if we become united with Him in the likeness of His death, certainly we shall also be in the likeness of His resurrection, knowing," as a fact, "that our old self," the old Paul, the old Chip, the old you, "was crucified with Him" – why? "in order that the body of sin," or, "sin's power over us might be done away so that we are no longer slaves to sin, for he who has died is freed from sin." There's a lot there. Here's all I want you to get: there is a mystical union that, when you turn from your sin and recognize, I fall short of the glory of God, and you repent and you turn toward God and say, I can never be made righteous, but I accept the gift of Christ on the cross and His resurrection to pay for my sin, come into my life, now I want to walk with You, there is a mystical union.
The moment you do that. I don't understand it, and if anyone can explain it, they are probably lying. I don't think they can either. But what he says is that we are united, we are actually in Christ in His death so that when He died, your sins, your past, bam! Sin, death, Satan – broken power! You are resurrected with Him, so you are in this real spiritual union with the living God. That's the theology.
And so notice, here's his practice. His practice is Galatians 2:20. He says, "See, I don't have to sin anymore. I still do, but I don't have to, because I have been set free." Here's Galatians 2:20, here's how he lives each and every day to experience it. "I am crucified with Christ." "I have been crucified with Christ," notice, it happened, "and it is no longer I who live," in other words, I have new life in me. The old Chip, the old you, the old Paul, Saul, died. "…but Christ now lives in me, and the life which I now live in the flesh," in your body, "I live by," uh-oh, there's our word, "by faith in the Son of God who loved me and gave Himself up for me."
Paul is living every day with the reality that what is really true of me is this: when I trusted in Christ, the old me died. I was raised with Him. His Spirit actually, that raised Christ from the dead, dwells inside of me. I now have complete access to God. God the Father sees me like He sees God the Son, fully righteous in my position.
And, now, I am on this journey of experiencing His power in my weakness, experiencing His pain – His presence in my pain – and that I am being changed so that I can come to that thing that you identified and said, I feel hopeless about my marriage. I feel hopeless about my future finances. I feel hopeless about, will we ever have children? I feel hopeless about…
And I can invite Jesus in and say, I can't solve this, I can't manipulate it, I can't get people to do what I want. In my weakness, will You give me help? I don't even know what that looks like. And until or through, in the presence of the difficulty and the pain that I feel, I want to experience You.
And what I will tell you is that as you read the psalms and read the gospels, that's where I would go if you are suffering.
And as you look at the life of Jesus when you say, Will You help me know You that way? You will experience hope, not just know about it.
Will you pray with me?
Lord, I thank You so much. I confess, I want to be the first to get in line, to run to the front of the line and confess to you that I know a lot more than I experience, that I can explain this better than I can live it.