daily Broadcast
Facing Internal Opposition, Part 2
Chip takes a look at how to face opposition when it comes from a trusted friend or adviser.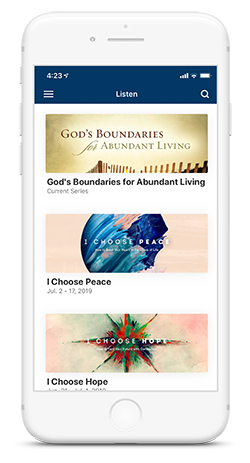 Helping you grow closer to God
Download the Chip Ingram App
Get The App
Today's Offer
Keep Pressing Ahead free mp3 download.
About this series
Keep Pressing Ahead
How to Make it Through Anything
There are times in our lives when we simply get to the point that we say, "I can't take it anymore!" This depression is just too dark. This marriage is just too hard. The job I lost, the family member I buried, the junk I'm going through. And deep, down inside your heart you say, "I quit. I'm done." And though you may go through the motions on the outside, you've just had it. Your mind says, "I've got to trust God," but your heart says, "I've heard it all before and it's not working for me." You begin to drift - from people and from God. This series, drawn from Nehemiah, will help you overcome adversity and keep you pressing ahead no matter what.
More from this series
Message Transcript
But notice the second thing he does: It's thoughtful confrontation. He doesn't go off. He doesn't just start screaming. He consults with himself, he evaluates the situation, and there's thoughtful confrontation. Now, if you're thinking to yourself, Now, I've got a pretty significant issue. And here's what it is, and it's in my family, and it's really exactly what you talked about. But I don't know how to address it. I'm not sure, exactly, what I should do.
And let me give you the basics here. You can study it for yourself, but Matthew chapter 18, verses 15 to 17 – just watch the progression. Because what we tend to do, when something like this happens, is, we go to someone else, and start talking about it, instead of, Here's the biblical process for thoughtful confrontation.
"If your brother or sister sins" – and they can be inside your home; they can be in your small group; they can be in the church, but, "If a brother or sister sins, go and point out their fault, just between the two of you. If they listen to you, you have won them over.
"But if they will not listen" – step two – "take one or two others along, so that 'every matter may be established by the testimony of two or three witnesses.' If they still refuse to listen, tell it to the church" – the idea, to the church leadership – "and if they refuse to listen even to the church, treat them as you would a pagan or a tax collector." Doesn't mean you don't love them, but you're not going to afford the same fellowship and relationship that you would with a brother or sister in Christ.
The third thing that happens is public accountability. You notice that they respond, and then, he doesn't just say, "Okay, I've addressed the issue. I was really mad; I've thought about what to do," but then, he says, "There's got to be a follow through; there's got to be a plan, so that what we're talking about now" – because what happens in every situation? It just slides back to the way it used to be.
So, follow along, if you will, and notice what he does after they say, "Okay, we will do exactly what you say." Verse 12, second half, "Then I summoned the priests and I made the nobles and the officials take an oath to do what they promised." In other words, he went public. He calls an assembly. He says, "We're going to look at this. There's going to be public accountability." And then, he calls the priests, and he says, "Priests, you represent God; nobles, you've been loan sharking, right? You took these people's land?" "Yeah." "You took their kids?" "Yeah." "You did this; you did – okay, right? Ready? You said that you would stop it. Take an oath right now, before God, in the presence of these priests."
And it says, "I also shook out the folds of my robe and I said, 'In this way may God shake out of His house and possessions every man who does not keep this promise. So may such a man be shaken out and emptied!' At this the whole assembly said, 'Amen,' and praised the Lord. And the people did as they promised."
Now, what you need to understand about the culture, here, is, in the front folds of your robe, you would keep your personal possessions. And so, Nehemiah makes them take an oath, and there's a large group, and they're on the spot. He's telling it like it is; he's using the moral authority that God has given him.
And then, he unfolds his, and his personal stuff falls on the ground. And, basically, it's a curse. "May God do to you just like all my personal stuff, and all – may He take every aspect of your life, and cause it to roll to the ground, if you don't keep your promise." And so, he publicly charges them. He has them verbalize what they're going to do; he gets people on a follow-up plan. And so, what he does is, he provides public accountability to move forward.
Now, what's this got to do with us? 1 Timothy chapter 5, verse 19, says, "Do not entertain an accusation against an elder unless it is brought by two or three witnesses. But those elders who are sinning you are to reprove before everyone, so that others may take warning."
All I want you to see is, even in the New Testament, when there are issues where it's…these aren't gray areas. This isn't my opinion versus your opinion. This is when, in the Church, people violate the clear truth of God's Word.
And when they violate it, this is someone with the courage, who does it lovingly, kindly, under control, but says, "That behavior, or that attitude, is destroying the unity, and when the unity is destroyed, and we're not on the same page, the work of God gets thwarted."
Can you do a little, quick Bible study with me? Are you ready? Open up to Exodus chapter 22, okay? Go backwards. Genesis, Exodus, second book of the Bible. Exodus chapter 22. And what I want you to get is that this guy is not just going off. Like, "You know what? I kind of like you didn't do that." What he's realizing is: these Jewish nobles, leaders, and wealthy people are in such violation of the truth of God's Word.
Exodus chapter 22, skim down to verse 25, and it talks about how Jewish brothers, in God's economy, are supposed to handle lending money. "If you lend money to My people, to the poor among you, you are not to act as a creditor to him; you're not to charge him interest." That's pretty clear, isn't it?
"If you ever take your neighbor's cloak as a pledge, you are to return it to him before the sun sets, for that is his only covering, his cloak, for his body. What else shall he sleep in? And it shall come about that when he cries out to Me, I will hear him, for I am gracious."
You see what He's saying? This is just, often, for collateral. During the day, if a person is really poor, and you might lend him some money… What he's saying is, if you take his outer garment that he used to wear during the day, and cover him – most people, they had enough food just for today. And this was their covering.
He says, "You give that back to him. Don't put him in that situation, let alone take his home, his vineyard, his…" Now, skip over one more, if you will. Skip over to Leviticus chapter 25, okay? Next book. Genesis, Exodus, Leviticus. Again, this is a book about how Jews are to treat one another, under God's economy. Skip down to verse 36, and now we're going to talk about interest, and attitude, and the poor. And this is what God says. This is how they're supposed to live. It says, "Do not take interest from him, but revere God, for your countrymen to live with you. You shall not give him your silver at interest, nor your food for grain. I am the Lord God, who brought you out of the land of Egypt to give you the land of Canaan and to be your God. And if a countryman of yours becomes so poor with regard to you that he sells himself to you, you should not subject him as a slave service. He shall be with you as a hired man, as if he were a sojourner with you until the Year of Jubilee" – every fifty years, where everyone goes back free.
Now, are you catching the spirit? One more, one more. Deuteronomy chapter 24 – we're making our way back to Nehemiah. What I want you to get is, there are certain things that are absolutely clear. You can't have unity without truth, and you can't have truth unless it's enforced lovingly, kindly, and clearly, with the courage, and everyone has influence. This is what Nehemiah does.
Pick it up in verse 10: "When you make your neighbor a loan of any sort, you shall not enter his house to take his pledge. You shall remain outside, and the man to whom you make the loan shall bring out the pledge to you. And if he is a poor man, you shall not sleep with his pledge. When the sun goes down, you should surely return the pledge to him, that he may sleep in his own cloak and bless you" – and notice this shift – "it will be righteousness for you before the Lord your God. You shall not oppress a hired servant who is poor and needy, when he is one of your countrymen or one of your aliens who is in the land of your towns."
Now, would you say that's a pretty clear rendition of what they're supposed to do, and they're doing just the opposite?
Well, let's talk about why Nehemiah was so successful.
Because here's where the application comes, because some people have betrayed you, right? Some people in your small group have gossiped about you. Some of you had terrible relationship in churches that – someone – are you ready? A pastor actually lied to you.
So, here's the – you know why I said that? Because sometimes you're the person who is offended, and hurt, and betrayed, and there's internal conflict, and – guess what – sometimes, if you're really honest, you're the person who is inflicting it. You're the person talking about someone else. You're the person gossiping. You're the person who is bitter. You're the person who is causing it.
See, we're in God's family and no one has arrived. So, let's ask ourselves – see, there can't be unity. Where there is unity there is power. But unity requires truth and purity. There is a lot of pseudo-unity, "Hey, man, how you doing? How you doing? Great."
In the South, there was a lady that told me how this works. She says, in the South what you say, "Love your hair; hate your guts." I said, "What's that mean?" "It means that when we're with people, we always say, 'Love your hair.' In other words, everything is fine. And then, privately, to someone else, we say, 'Hate your guts.'"
And you know what? I'm fearful that a lot of the lack of power in the Church of Jesus Christ is, a lot of us are living little lives where, when there's an issue, "Love your hair," and then you get in the car and you say, "Boy, I don't think that marriage is going to go anywhere," or, "Boy, they better deal with that with their daughter," or, "You know what? I know that – there's nothing wrong with maybe a glass of wine here and there, but that dude is an alcoholic."
Would you tell him? "Who am I to judge?" A brother, or sister, with God's truth, to judge, to bring to light, to love, to restore. That's who you are, called to, commanded to.
Well, let's find out, what was it that gave Nehemiah – what gave him this power for people to respond in such a way? Because resolving conflict takes more than know-how, and skill.
Listen to verses 14 to 19, and then I'll just summarize what he does. "Moreover, from the twentieth year of King Artaxerxes, when I was appointed to be their governor in the land of Judah, until the thirty-second year" – twelve years – "neither I nor my brothers ate the food allotted for the governor." So, he had an expense account. He was the governor for twelve years, and he said, "I actually didn't use my own expense account that I could have charged."
"But the earlier governors – those preceding me – placed a heavy burden on the people and they took forty shekels of silver from them in addition to the food and the wine. And their assistants also lorded it over the people. But out of reverence for God I did not act like that. Instead, I devoted myself to the work on the wall." In other words, he actually did it. He rolled up his sleeves. He modeled it.
"All of my men were assembled there for the work and we didn't acquire any land." "I didn't use my position to get financial gain." "Furthermore, a hundred and fifty Jews and officials ate at my table, as well as all those who came from the surrounding nations. Each day one ox, six choice sheep, and some poultry were prepared for me, and every ten days an abundant supply of wine of all kinds. In spite of all this, I never demanded the food allotted to the governor, because the demands were heavy on these people."
Because his role – he's a dignitary. He's a diplomat. He's the governor. He had people come every day – about a hundred and fifty – for lunch, or dinner, or something. And he said, "I can tax the people. That's my right. But out of my own pocket I did it, because they can't handle it."
And then, notice where his focus is. He says – here's a prayer – "Remember me with favor, O my God, for all I have done for these people." That's why he had courage.
Now, in your notes – here's what I want you to get. Why was he so effective? Just jot down, "His example." He walked his talk. So, for some of us the first application is not what we say. It's, we need to walk our own talk.
The second thing that gave him moral authority was his courage.
He cared enough to confront. He got mad! But he got mad under control. He didn't compromise. That's what's killing us. It's killing families. It kills denominations. It kills small groups. It kills people in the workplace. You're a follower of Christ; don't compromise.
Third, his love. The people mattered to him. Well, how much? Well, if I would look at the P&L statement for Nehemiah, "Nehemiah, where is your money going?" Because that always tells you where your heart is. Well, out of his own pocket, for twelve years, here's the money. "I paid for this. I handled that. I made some loans."
Where your time goes, and where your money goes, and where your energy goes – you can think whatever you want about what matters. That's what matters.
Nehemiah loved people. And he loved them not to the point where he did a little something that made him appear that he was loving. He did things that cost.
Finally, his integrity. He feared God. Life verse for me on this one is Proverbs 29:25, "The fear of man is a snare." And we're all afraid. We're all people pleasers, to some level. But at the end of the day, Nehemiah said, "I'd rather be afraid of God, and not doing what He wants me to do, than afraid of what people think."
And so, in summary, the leverage of your life is what gives weight to your words. It's your life. And by the way, perfection? Absolutely not. But your life, your authenticity, you live it out. And something happens in the heart, in the soul of your children, and your friends, and the people in your small group, as you blaze a trail, and you're a Nehemiah. We spur one another on to love, and to good works, and other people realize, I want to be like you. I want to walk with God like you. It's contagious. That's how great things get done.
This is the last prayer, on earth, of Jesus. And He says, "Father, this is My prayer, that these followers of Mine could be one, even as We are one. I want people to hear, not just these present disciples or followers, but the disciples that will hear and believe from them," which is all of us, in the last two thousand years. "I long for them to have a unity, and a connectedness, and an authenticity with one another that, when they see how they treat one another, and how truthful they are, and how pure they are, and how authentic they are, they will then know that the Father has sent Me."
And so, Father, I know it requires courage. I know that as Your Spirit speaks there are people going, Oh my lands, what does this mean? What do I need to do? And so, before we move on, can I just ask you to stop? Stop in your tracks and just ask the Spirit of God to whisper clearly, What's my next step? Tell Him you want to obey. Accept His forgiveness. Ask for courage.