daily Broadcast
Held Tightly by His Promises, Part 1
Do you feel defined by your mistakes? No matter what you've gone through, what you see as a damaged or tattered life, God sees every one of His children as a masterpiece, displaying His glory. If you're struggling to believe that's true, join Theresa Ingram, as she shares her story and why we can hold on to God's promises.
This broadcast is currently not available online. It is available to purchase on our store.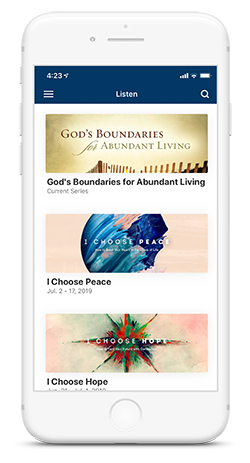 Helping you grow closer to God
Download the Chip Ingram App
Get The App
Today's Offer
He Holds Me Forever Resources on sale now.
About this series
He Holds Me Forever
Do you ever wish that you could experience love and relationships at a deeper level? For most of us, giving and receiving love in a healthy, God-honoring, and others-centered way does not come easily or naturally. Theresa Ingram shares her journey through broken relationships and a painful past that drove her to discover the truth about love and relationships, and how that discovery has set her free to love others and herself.
More from this series
Message Transcript
Well, I was talking with a young girl just a few weeks ago and she, she is in that time of her life where she is early twenties, and we were talking about love and relationships. And she is obviously getting close to that time where she would like to be married and would like to meet someone and is looking forward to that in her life. And I was so impressed with her attitude.
And she told me that she had memorized something, and I wrote it down, because I was so impressed with what she said. And she quoted a line for me out of Oswald Chambers' book, The Love of God. And this is what she said, "Drink deep and full of the love of God, and you will not demand the impossible from earth's loves. And the love of wife and child and husband and friend will grow holier and healthier and simpler and grander."
And I realized that this young woman was looking to fill up her love tank with God's love. And a lot of time, God uses people in our lives to do that. He does use people. He uses others to express His love to us, but He wants us to experience His love first. And He wants to be the one who fills up our love tanks.
Well, when I was in my early twenties, I looked at life totally different than this young woman. And I tried to find all the love in my life met solely in another person. And so, I fell in love with this young man and I got married. And I just, I loved him so much, and I just put so much weight upon this one person in my life to fulfill all my needs.
And there were many things that were wrong in this relationship with him. But I overlooked them because I wanted love so much that I let those things go, because the entire focus of my life was on this person.
And the sun rose and set upon his life and whether he was in a good mood and whether he treated me kind or not – it didn't matter, because I needed his love so much. And so, I worked hard not to cause any waves in the relationship.
And several years later though, he left me and left with another woman and left me alone with two little boys. And you see, I tried to fill up my love tank with something that wasn't stable, that something could not satisfy my life.
And again I was at that place where I truly longed to be loved and I was empty inside. And I felt like I was more damaged than I ever was before.
Remember, we said that God loved us first, He loved us before we even knew Him, and that He was pursuing us, even though we weren't aware that He was there at the time.
Well, as I look back now on my life, I see that God was doing that for me, and He was putting His arms around me, and He was orchestrating the affairs in my life to draw me to Himself, even though I wasn't aware that He was there.
Well, after my husband left, I took a new job working at a college and the director of admissions at this college who I worked for at the time and I didn't realize at the time was a very godly, Christian man. He loved the Lord.
And I would work with him every day and he would ask me questions about my life, just trying to be friendly. And he would ask me, "Well, how are you doing? How is your family doing?" And I try not to take my problems to work with me. But one day, he kept asking this every day and I couldn't hold it in anymore.
And I just started crying right there and I said, "Oh, my life is just a mess and my husband left me and I have these two little kids to take care of and I don't know how I'm going to make it." And then I was really shocked that I was saying all this to my boss, and that he was so kind.
And the amazing thing that I see now is how God used this man to draw me to Himself, to draw me to God. And John Conaway didn't quote Scripture to me. He didn't do that. And he didn't tell me that I needed to go to church. And at the time, he didn't even tell me how to be saved. I didn't know that for a long time.
But every day, what he did, it was tell me how much God loved me. He told me that over and over again, how much He loved me and how much He wanted to take care of me. And so, as I listened to this, I decided that, well, maybe there's something to this.
And I wanted to find God. I wanted to know if He was real. And John Conaway was also a lay preacher there in some of those, in West Virginia there are all these little country churches. And so, he would go around to some of these churches and preach on Sunday evenings.
And so, I was searching and I wanted to find out if this God of love really did exist. And so, I went with him and his wife one Sunday night to church. And we sat through the service and just did all the things that you do in a typical church service.
And I went there with a purpose, though, and that was to find God. And he didn't know that. He didn't know where I was in my life. But I wanted to find God. And so, as I sat through everything that was going on, I was looking for something to happen. I was waiting with expectation. I don't know what I expected God to do, but I thought He was going to do something to reveal Himself to me. But nothing happened.
And I sat through that service, I listened to the message and singing and everything. Nothing happened. And so, I walked out of that church, it was over, I was out on the sidewalk about ready to get into my car and I felt so disappointed. And almost devastated to think that, well, you know, I hear all this about God but He doesn't seem real. He certainly didn't reveal Himself to me in any way.
And as I was about to get in my car, there was a little old lady there. I didn't know her. She didn't know me. She didn't know a thing about me. And she walked right up to me and she said, "Would you like to be saved tonight?" And I just thought, God is doing something here!
And I said, "Yes! Yes, I want to be saved. I want to know the Lord." And I didn't even know even yet how to do that. And so, she and everyone that was outside of the church went back into this little Free Methodist church and we went up to the altar and I prayed and I asked Christ to come and live in my life.
And it was just the most tremendous night that I have ever experienced. And because for the first time I knew that God loved me. And I was experiencing for the first time what true love really was. I was experiencing truth, God's truth, and I was experiencing God's love through His people in the church.
And He reached down into my life like He promises that He does, and He loved me. And I learned and have been learning ever since what it means to be truly loved by God. And so, we can't fully understand His love because it's so great that we can never fully understand it, but what we want to talk about today is that we can experience His love in our lives. We can experience it on a regular basis.
In fact, God expresses His love to us in many ways and every day. But many times, we keep missing the signs, don't we? We don't see His love.
Often we fail to recognize God's love, or sometimes we find it hard to believe that He loves us. And why is this? Why do you think that it's so hard to experience God's love?
What the hindrances are to experiencing God's love in our lives and then how can we remove those hindrances so that we can know His love and experience it in our lives?
When I grew up in West Virginia, I remember my bedroom so well that I spent hours and hours in. And in the winter sometimes it could be really cold and we could have a lot of snow. And the winters could be pretty harsh sometimes. But then I remember when the springtime came and it finally warmed up. And you could smell the flowers in the air, and you could hear the birds singing. And I just loved it when it could finally be warm enough that I could open up the window in my bedroom, and I could have that fresh breeze blowing through. And I could even see the curtains moving as that breeze would blow through my bedroom window.
And I thought today, we are going to pretend that there's a window to our soul and when the window is closed, then we close ourselves off from experiencing God's love, but when we open it, then we begin to experience the love that He has for us, a love that is already there, it's there already all the time. You see, it's a choice we make, just like I could open and close my window, it's a choice that we can make whether to open or close the window of our souls, whether to experience His love or not, because it's there all the time.
And we are going to look at four ways that we close the window. What keeps us from experiencing God's love in our life? And then how do we open it? How do we remove those hindrances so that we can know how wide and how long and how high and how deep His love really is for us?
And so, the first closed window that we see here is that sin in my life and disobedience to God's Word keeps me from experiencing His love. In John 15:9 and 10 it says, "I have loved you even as the Father has loved Me. Remain in My love. When you obey Me, you remain in My love, just as I obey My Father and remain in His love."
Now, Jesus is talking here and He is saying, "I love you in the same way that My Father loves Me. That's how I love you." He says, "Stay close to Me and you'll experience the joy of knowing My love, if you stay close to Me." And He says, "I tell you how it is, that you can remain in My love. It's by obedience to My Word." He says, "I came to set an example for you, to show you how to do this. As I have obeyed My Father, then you obey My Word and remain in My love."
You see, God is holy. And His holiness is incompatible with sin in our lives. It just doesn't mix. And He can't associate with sin or have any part of that. And so, when we have sin in our life, when we are disobeying God, then we separate ourselves from Him, we pull away from Him. And that intimacy that He desires for us to have with Him is broken.
When I was a child, I remember one time picking up this figurine that I wasn't supposed to touch. It was one that my mom had said, "You know, I don't want you to touch that," because I think it was very valuable to her. Well, one time I was in the room and I picked it up and I dropped it.
And a piece of it broke off. But nobody was there. So, I took the piece and I stuck it back on. And it stayed. And so, I set it back up on the shelf and she never found out for a long time, she never discovered that that thing was broken. In fact, when she did find out, I was in the room with her, but she thought one of my cousins broke it. And so, I didn't say anything. But I lived for a long time with the fear that she was going to discover that I broke that thing. And then I lived with the guilt of allowing someone else to take the blame.
But you see what I did was I allowed my disobedience – I wasn't supposed to touch it – to place a barrier in my relationship with my mom. And so, when I was in that room with her, well, what do you think was on my mind? I was afraid she was going to find out! And so, what it did was it placed a barrier in my relationship with her. I caused me to pull away from her. And that's what we do when we sin, when we disobey God, it causes us to pull away from Him.
In Deuteronomy 5:10 it says, "But I lavish my love on those who love me and obey My commands, even for a thousand generations." You see, being able to experience God's love is conditioned on our obedience to Him. He is holy. And even though He loves us more than we could ever imagine, as a loving Father, He disciplines His children as any loving Father would.
And He does it for our good. And it's only in our obedience then as we obey His Word, that we open the window to God's love and to have that intimate relationship with Him.
And so, we open the window by living righteously because God's love is perfected in lives that are pure. 1 John 2:4 and 5, "The one who says, 'I have come to know Him,' and does not keep His commandments, is a liar, and the truth is not in him. But whoever keeps his word, in him the love of God has truly been perfected. By this we know that we are in Him."
It says the love of God is perfected in the believer. The word perfected here does not mean that we reach a state of perfection. That's not what it means at all, but it means that we are continually growing and continually maturing in our walk with the Lord.
And as we live in obedience to Him, and to His Word, that we are growing in Christlikeness. We are growing in our knowledge of His love for us. And He proved His love by dying on the cross to pay for our sins and then forgive us so that we could come to Him and be close to Him.
But every day, He shows us His love by forgiving our daily sins. I don't know about you, but I sin just pretty much every day. I do something, you know, I may have a bad attitude. Or say something unkind. Or worry about something that I should have trusted God for. But every time that I ask Him to forgive me, He embraces me with His love and He forgives me.
Now, did you ever think that the forgiveness of your daily sins is a sign of God's love? Did you ever think about it like that? That every day that He forgives us, He's showing His love to us?
And it doesn't matter what we have done, how big we have messed up. It doesn't matter. When you recognize you're wrong and you come to Him with a sincere heart, He is waiting to embrace you and forgive you.
David Wyrtzen writes in a book called Love Without Shame, "This divine loyalty is more tenacious than the compassion a mother feels for the child she carried in her womb. Forgiveness flows from this womb like tenderness God feels for His babies. Human parents sometimes quit on their children, but the ultimate Father's heart stirs within to restore His child. When grievous sin stains our heart, Satan attacks with his potent lie: God has given up on you. The relationship is over. Why return to a Father who has disowned you? True confession breaks through this deception and remembers God's unchanging mercy, loyalty, and compassion. When God's rebellious children cry out for mercy, He always listens. He gives far more than a spot cleaning. He bleaches out every stain." He bleaches out every stain.
And so, the steps to take, if you look in your notes here, the steps to take is daily confession of our sins. Don't let sin stay for long periods of time. Keep short accounts. When you are aware that you have done something that is in disobedience to God's Word, confess it right away wherever you are. You don't have to hold onto it. You don't have to wait until you can get in a room all by yourself. Just confess it and be free of that. And stay close to God. As soon as you're aware, confess it right away.
In Psalm 51:1 and 2, David prays, "Have mercy on me, O God, according to Your unfailing love, according to Your great compassion, blot out my transgression. Wash away all my iniquity and cleanse me from all my sin." You see, King David knew what it was like to blow it big time.
And yet he came to God with a repentant heart and God forgave him. David did experience consequences in his life for what he did – the sin of adultery and murder. I mean, they are big things we think of as big sins. And sin always damages us and it always damages other people. But David came to God with a repentant heart and he was completely forgiven and his record was wiped completely clean. Wiped completely clean.
And so, the steps to take, first of all, is make confession a part of your daily life. And the second thing is spend time in God's Word on a regular basis. And I am going to be bold enough to say: five to seven days a week. We need to be in God's Word.
Psalm 119:11 says, "I have hidden Your Word in my heart that I might not sin against You." You see, God wants to speak to you. He wants to tell you how to live, how to live a good life, how to have a life filled with joy. He wants to be close to you. And He wrote you a love letter! It's in His book, the Bible, because He cares for you so much, He wrote this book as a love letter to tell us how much He loves us.
When I first realized that I was falling in love with Chip, he was about to go overseas on a mission trip. And we hadn't communicated to each other at this time that we were really in love. And so, he went away on this trip and I didn't hear from him. He was gone for the whole summer. I didn't hear from him for quite a long time.
But after about a month or so, there was a letter in my mailbox from South America. And I got really excited and I went and picked up this letter and I opened it up with anticipation of what he was going to say to me. I was so excited to hear. And you know, I believe that that's how God wants us to open up His Word. That when we open it up, that we are in such anticipation of what He has to say.
What is He going to say to me? He has important things to say to me. And He wants to speak to us. But He wants us to be excited about getting in His Word and He will speak to us through His Word. He wants us to know Him. He wants us to know how much He loves us.
And so, a question that I would ask for us to take to heart: is there any area of my life that needs cleaned up? Any sin in my life that I have not confessed to God that is separating me from Him?
And secondly, do I spend regular time reading and meditating on God's Word so that I can know Him and have an intimate relationship with Him? We need to answer these questions individually in our own hearts.
Well, secondly, we close the window of our souls by a believer's learned way of thinking about themselves – the self-talk – what we say in our minds to ourselves can keep us from experiencing God's love.
In Proverbs 23:7 it says, "As a man, or as a woman thinks in her heart, so she is."
As she thinks in her mind, that's how she's going to act. And we learn to believe certain things about ourselves that may or may not be true. They may not be true. We live in a world system and a culture that is telling us every day that we need to have certain things and we need to behave a certain way. We need to look a certain way. We need to believe certain things in order to be loved, accepted, and significant in our lives.
And what we believe about ourselves affects our actions and it affects our emotions, it affects the decisions that we make, it affects everything in our lives – what we believe about ourselves.
And particularly in our growing up years, we learn to define ourselves in a certain way. I grew up in a home where I was afraid to mess up. I was afraid to even make an accidental mistake, because even those things were punished. And during those years at home, I was afraid of my dad.
And when I wanted to ask him to go someplace or to do something special, it would take me hours just to get up the courage to go ask him. And I would sit there and I would go through all this torture in my mind, trying to build up the courage to ask him to do something. And then when I did, most of the time, he said no.
And so, I learned that unless I do everything perfectly, that unless I don't mess up, then I'm not a good person. And then early in my Christian life, as an adult, every time I messed up I thought God didn't like me. I thought He didn't like me. And I believed that He certainly wouldn't give me good things and that if I asked Him for something, He would probably say no.
You see, that's what I learned about myself. And so, it's very important that we take a good look at what we think and what we believe and compare it with God's Word to see what our self-talk is. To see if it's really true or not.
Because of what we believe about ourselves, we may try to earn a love, God's love, that is freely given. We may try to earn it, but it's already there. And because of what we believe about ourselves, we might not believe that God would take care of us. And because of what we believe about ourselves, we may believe that, He sure wouldn't listen to my prayers. He sure wouldn't give me good things.
And because of what we believe about ourselves, we may not believe that God really loves us. And so then we close the window of our soul from experiencing His love.
Well, we can open that window by filling our minds with God's truth to overcome the negative belief systems we have learned and we will cling to His promises for our lives. That's how we can open that window.
In Philippians 4:8 it says, "And now dear friends, let me say one more thing as I close this letter. Fix your thoughts on what is true and honorable and right. Think about things that are pure and lovely and admirable. Think about things that are excellent and worthy of praise." In this passage, the apostle Paul is putting on his psychology hat. Did you know he was a psychologist too?
And he tells us: how do we deal with the lies we believe? How do we deal with all these negative things that we think in our minds? And he says to think about what is true, think about what is a fact, what is statements that are real, that are not lies, that are not rumors, but they are real, they are sincere and they are genuine. Think about things that are true.
He says: Think about things that are honorable, that are respectful. Think about things that are right. Things that are in keeping with God's truth, with His Word. Think about things that are lovely, things that are beautiful, that are pure – morally pure. Think about things that are admirable, he says. Think about things that speak well of the thinker. Think about things, who is the thinker? It's you! Think about things that speak well of the thinker.
If someone could hear your thoughts about yourself, what would they hear? Would you want them to hear it? For a long time, I believed down deep in my heart that I was unlovable, and that because I kept messing up, God wouldn't give me good things. He did that for other people. He does that for smarter people, but He wouldn't do that for me.
But I learned that through God's Word, that I was wrong and that He tells me in His truth that His love for me is eternal and that I am His and that His desire is to be close to me, that I am His child and that He treasures me and that He will withhold no good thing. He says He will withhold no good thing from those who walk uprightly.
And He gives us the desires of our hearts. And so, let me ask you, are you lovable?
Do you believe that God sees something infinitely precious in your life? That when He looks at you, you are precious to Him? Do you believe that God wants to do good in your life? Well, this is what He says, this is what His Word says is true, but we must begin the process of recognizing the lies we believe and choose to replace those lies with God's truth.