daily Broadcast
Serving - How to Deepen Your Love, Part 1
As he begins this series on how to keep love alive, Chip shares four biblical principles that set the tone and establish the foundation for the rest of these programs. He starts with a very concrete look at what love is - and what love is not.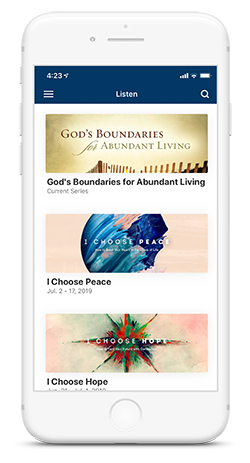 Helping you grow closer to God
Download the Chip Ingram App
Get The App
Today's Offer
Keeping Love Alive Resources on sale now.
About this series
Keeping Love Alive - Volume 1
Four Biblical Practices Great Marriages Have in Common
How do you keep love alive when you see your marriage starting to teeter, or crumble, and everything in you wants to give up and get out? In this series, Chip provides four biblical practices that all great marriages have in common. For each one, he provides key principles, then practical implications, and finally, super practical tools to make those practices a reality in everyday life. This is a no-holds-barred, candid look at the way marriage really works and how to make yours better. If you'll invest the time, what you'll find in the end, are love, hope, joy, and peace - for you, and the one you love.
More from this series
Message Transcript
My father was in the military – Guam, Iwo Jima, Purple Heart. My wife's father, military, lost a brother on a ship. Both of our fathers came out of World War II alcoholics. We came from not healthy backgrounds, so we brought that into our marriage.
My wife married early to get out of the house, had a not-good experience, married young, put a guy through college, he started selling drugs, ran off with another woman. She had two little boys, so she was a single mom for a while so I got to know her as a friend for a year or so and then later we got married. So, blended family, lots of baggage, alcoholic past, God calls us into ministry. I have never met anyone who loves God more than my wife. And I have never met anyone who makes me more crazy than that woman right there. We couldn't resolve anger; we couldn't resolve conflict. It was like we put everything in a truck, within six months after we got married, and after I had been a schoolteacher and a basketball coach and I had played ball overseas, and it was like within six months it was like, "What have we done?"
We were a mess. And within the first year, by God's grace, where I went to seminary, a guy named Paul Meier was teaching a class of the Meier-Minirth Clinic and went and talked to him and we were broke. And for the student rate of ninety dollars a session, which was a huge amount of money, twelve sessions, it's the best money we spent that we didn't have – think on that one. Really. We were making under a thousand a month.
So, here's what I want to tell you, now, we have – we think we're going to make it.
We passed forty-one years last December. And those kids that I got to adopt have turned out amazingly well and God gave us two more.
I want to tell you something. Hard work. The challenges you have, the conflicts you have, the family of origin issues, the financial issues, the sexual issues, the in-law issues – welcome to the NFL. Okay? That's real stuff. And we are going to talk about that.
The overarching theme is "How to keep love alive." And I'm going to talk about four biblical practices that great marriages have in common.
One book that if you haven't read, it is so worth it and I'll be talking a little bit more about it later, is The Five Languages of Love. And in the introduction, Gary Chapman talks about being on a plane and he sits next to a guy and one thing comes to another and he says, "Well, what do you do for a living?" He goes, "Well, I'm in marriage counseling and I do seminars and I write books on marriage." He said, "Well, this is my lucky day!"
And he said, "I love it, like you're in love, but does anyone ever keep love alive? I mean, is it possible? Do people just say, 'I guess marriages are mostly empty,' and you just grind it out?" He said, "Is there any way to keep love alive?" And, of course, Gary Chapman in his book talks about that in-love, euphoric, over-the-top dissipates. But the need to feel loved never goes away.
And you and I are living in a day and in a culture that basically says the in-love feeling is what marriage and relationship is all about and if you don't have that all the time, you probably married the wrong person, or you, right? We fall in love, we fall out of love and so what you need to do is find the next person. Which then you look at the statistics and it doesn't work and the next one after that doesn't work. And it's chaos.
And so, it's a gift from God to have that euphoric in-love experience and what a lot of marriage needs is: how do you keep the passion alive? What needs to happen in your relationship so that you feel loved by your mate? So that your emotional love tank gets filled up by the other person and vice versa, because that's part of going through all the ups and all the downs.
And I want to go to maybe an unusual place. You can open your Bibles, I want to read a passage. It's Ephesians chapter 5 and normally what we do is we talk all about, it talks about what a woman should do and be and then it talks about what a man should do and be. And then it has this little line at the end that says, "Oh, but this is really about the mystery of Christ and the Church." Follow along. Ephesians 5. I'll pick it up at verse 25.
"Husbands," I mean, you talk about a hard assignment, "love your wives," how? "just as Christ also loved the Church," well, how did He do that? "and gave Himself up for her," why? "so that He might sanctify her, set her apart, having cleansed her by the washing of the water with the Word," well, why? "that He might present to Himself the Church in all her glory, having no spot or wrinkle or any such thing, but that she would be holy and blameless."
Parallel, "So, husbands ought to love their own wives as their own bodies. He who loves his own wife loves himself. For no one ever hated his own flesh, but nourishes it and cherishes it, just as Christ also does the Church, because we are members of His body."
And then he goes back and reaches into Genesis, that classic passage, "For this reason, a man shall leave his father and mother and shall be joined to his wife and the two shall become one flesh." Look at verse 32. "This mystery is great, but I'm speaking with reference to Christ and the Church."
In other words, there is this model of marriage that is a love relationship between Jesus and His Church. And then He kind of brings it back down to everyday life, "Nevertheless, each individual among you must also love his own wife, even as himself, and his wife must also see to it that she respects and honors her husband."
And I was thinking and praying and asking God, Lord, what do You want to say to this group of people? And that passage kept going over and over and over. And what I realized is very rarely do we take how Jesus loves the Church and use that as our model for how we are to love one another in marriage.
And so, what I want you to do now is to open to John chapter 13.
And this is a time where the disciples are being told to go prepare the Last Supper. They don't know it's the Last Supper. It's just Passover. They are Jewish boys. It's a very important moment. They are going to reenact that moment where God delivered His own people and the blood was put on the doorpost and the lamb is going to be killed.
And all these things are going to happen, and Jesus has been telling them for some time now that the religious leaders are going to kill Him. And He sends them on ahead and now, imagine, the parallel is going to come. You can look at your notes and you can sort of look ahead.
But what I want you to get is the context and where Jesus was. He sends them on ahead and they get to this upper room and when they get to the upper room, we learn the commentary is from one of the other gospels, on the way there, what they were discussing. Does anybody remember? Who is the greatest?
I mean, after three years, and you're going to hand over the ministry to save the world to a group of guys that have been with You, they have seen You raise people from the dead, they have seen
You feed five thousand, four thousand, they have seen You walk on water, they have heard all Your sermons and all Your messages and You've got twenty-four hours with them and their big argument is, "We know He is leaving and so, who is going to be the top dog now? Who is going to get so many stars or stripes, right?"
And so, they walk in and I think the Lord created this little test for them. And when you would walk the dusty streets, everyone wore sandals. And when you would walk in a room, there would be a large jar and then probably the lowliest servant in the household would be there. And when you came in, they would wash your feet off and towel them dry.
So, all twelve of them walk in and no one humbles himself, because, "I'm better than that. This is about me." It's about, "I'm more important than that. That job is too lowly." In other words, they're here the last night and their passion and their focus is, "My needs, about me and my role and what I need and who ought to serve me."
Is there a remote sense that any of us have felt that way in your marriage? Now, let's push it a little farther. After all He has done for them, think of what He has done for them. Think of not just the time teaching. Can you imagine having a struggle and it's kind of late at night and you're all taking a long walk and you go over by the fire, you say, "Hey, Jesus, could we talk?" And He says, "Sure." And He shares with you on and off for three years.
And after all He has done, this is how they treat Him. This is what they have learned. Any of your in your marriage ever felt like you have really gone out of your way, you have really tried to do your best, you're being the best husband or the best wife or whatever and then you feel like your mate is kind of dissing you? That's where Jesus is at, emotionally.
So, let's find out: how does He respond? John chapter 13, pick it up at verse 1. "Now before the Feast of the Passover," don't miss this, "Jesus knowing that His hour had come and that He would depart out of this world to His Father, and having loved His own who were in the world, He loved them to the end."
In other words, this is going to be one of His greatest acts of love. "During the supper, the devil had already come into the heart of Judas Iscariot, the son of Simon, to betray Him, Jesus, knowing that He, the Father had given all things into His hands, and that He had come forth from the Father and He was going back to God, got up from supper, laid aside His garments; taking a towel, He wrapped it around," or, "girded Himself. He poured water into a basin, and He began to wash the disciples' feet and to wipe them with the towel, with which He was girded around His waist.
"Then He came to Simon Peter and he said, 'Lord, do You wash my feet?' Jesus answered and said to him, 'What I do you do not realize now, but you will understand hereafter.' Peter said to Him, 'Never shall You wash my feet!' And Jesus answered, 'If I do not wash your feet, you have no part with Me.' And then Simon Peter said, 'Lord, then wash not only my feet, but also my hands and my head.' And Jesus said to him, 'He who has bathed needs only to wash his feet, but is completely clean; and you are clean, but not all of you.' For He knew the one betraying Him; and for this reason He said, 'Not all of you are clean.'
"So when He had washed their feet, and taken His garment, reclined at the table again, He said to them, 'Do you know what I have done to you? You call Me Teacher and Lord; and you are right, for so I am. If I then, the Teacher and the Lord, washed your feet, you also ought to wash one another's feet. I gave you an example that you also should do as I did to you."
And then we get this moment. "Truly, truly, I say to you, a slave is not greater than his master, nor is the one who is sent greater than the one who sent him. If you know these things, you re blessed if you do them."
Let me skip over, because He is now going to talk about His going and Judas is going to get up. And at the end of this Supper, if you skip all the way to verse 34, He says to them, 33 for context, "Little children, I am with you a little while longer. You will seek Me; as I said to the Jews, now I say to you, 'Where I am going, you cannot come.' A new commandment I give to you, that you love one another, even as I have loved you, that you also should love one another."
How did He just love them? He served them. Who deserved to be the head and who chose to be the servant. Who should have been offended and who chose to humble Himself? Who knew, was secure enough to know where He came from and where He was going and didn't have to have their approval? And so, being secure and knowing His role, He could love them and He is going to love them to the end. And now, what He says to them, "This new commandment, I don't want you just to love, I want you to love each other the way I loved you."
Now look at verse 35 in your Bible; notice the impact. "By this all men will know that you are My disciples," why? "by how you love one another, because you love one another the way I love you."
And I will tell you, that starts in our marriages. I mean, I want a great and fulfilling marriage, I want to be happy and feel loved and connected and accepted and all those good psychological words, right? We all do.
But I want you to remember that your marriage isn't just about your personal fulfillment. Other than the Church of Jesus Christ, your relationship with your mate is the single most powerful testimony of the reality of God. And when people see in the midst of, not it's perfect, you've got it all together, in the midst of struggle and difficulty and sick children and dysfunctional past and big mess-ups and huge mistakes and forgiving of one another and working through conflict – when they watch you love one another through all that, that's the power.
And God will use your lives in amazing ways. I always want to remind us as we get started, because we have grown up in the consumer world. Man, I will tell you, we are bombarded every day. "It's about you. It's about you. Are you happy? You deserve to be happy. Are you fulfilled? Are you feeling okay today? Is everything alright? You deserve a break today. The life is about you. If you're not happy right now then something is wrong. If you ache somewhere, there's a pill or we can give you an injection or we'll give you a surgery."
There is something! You should never have a problem, you should never have a struggle, you should never be sad, you should never be disappointed, everything should be perfect and you can buy something to get that.
See, the whole point of advertisement is to help you understand that there's deficit. And you can buy or have something or someone that will solve it. And it's a lie from the pit of hell. If you can't be happy with who you actually are in your relationship with God, you have no hope of being happy with anyone else.
No one has the power to do that in your life. In fact, the weird part of how God designed life to be is it's when you give your life away that the greatest fulfillment and the greatest joy you get.
And so, you'll notice that's the teaching of Jesus. His motive, what was His motive in serving them? Love. His action: He washes their feet. Did you notice that just because you love someone, it doesn't always work? That some of them accepted it readily and some of them couldn't accept it. Why couldn't Peter accept it? He was embarrassed, wasn't he? He just realized, I mean, I think every one of those guys, as He went one by one by one is going, Oh, I just wish I would have washed my feet. Oh gosh. I just wish that I…this is painful.
When you're really getting something you don't deserve and you're just, I mean, when you're exposed – those guys were exposed. They're just going, Oh my gosh. Any of us could do this, but not Him. And when it got to Peter in his arrogance, he goes, "No, this is, this is unacceptable." He thought he was being spiritual.
Sometimes when we want to serve our mate, sometimes out of some faulty thinking, our mate won't let us. It's one thing to serve, but there's another thing in this passage, you have to be willing to receive it. Some people are very uncomfortable receiving. Some people from family of origins believe down deep in their heart, almost below the conscious level, I am unworthy. I am unlovable. And when you seek to love them and care for them and speak words of life, it's like BBs off of a tank.
My wife's self-image was so low when we first got married, she so viewed herself, after her family background, being abandoned by this person, by being rejected – and she is kind, she is beautiful, she's intelligent, she is gifted, and she is godly. All of that was absolutely true objectively. Told by me and friends and others. And then she would look in the mirror and she saw unworthy.
One of the biggest things in our marriage counseling was she couldn't receive any love. She couldn't receive a compliment. She couldn't…it just made me nuts. So I got really frustrated. When I get frustrated, I'm not very loving. "What's wrong with you?"
And so, no matter how, here's a hard time in marriage: when you're trying your very, very best, right? And you're thinking you're really loving the other person and you're trying really hard and it gets worse instead of better.
That's when you have these really scary moments like, "I don't think this can ever work. I don't think this can ever work." And I want you to know there is hope and it can. And we are going to learn from this passage, the beginning, of how to restore your passion.
The principles out of this passage to identify to deepen your love, number one, is love is not a feeling. Jot that down. Love is not a feeling. Romantic, emotional feelings are good. Just don't confuse them with love. Definition of love, I've kind of just taken what the Scriptures teach and packaged it together: love is giving another person what they need the most, when they deserve it the least, at great personal cost. I'll say that again, because I have to remember it a lot. Love is giving another person what they need the most, when they deserve it the least, at great personal cost.
And if you would just pause for a moment and think in your mind, What happened at the cross? What did God the Son do? He gave us what we needed the most – forgiveness – when we deserved it the least. We were His enemies. We were hostile to Him. At great personal cost.
And what did the Father do? He gave the Son. And that's our model. And, by the way, it's the supernatural power of God in us to do that. I can't do that on my own and you can't do that on your own.
Notice also, love is serving. If you redefine love in your marriage, it's putting the needs of your mate above your own. You might jot down Philippians chapter 2, verses 3 and 4. Paul is talking about what it really looks like to love and he says, "Do nothing from selfishness or empty conceit, but with humility of mind, consider others more important than yourself. Do not look only on your own interests but also on the interests of others."
And again, it's the kingdom, it's completely upside down. I live in a world, I am bombarded in a world that says, "Get, get, get. Consume, consume, consume. Me, me, me. My needs now."
And when two people in marriage, each want their needs met, what happens? It doesn't work. Now, here's the hard part. At least, in my little world, I thought once I started giving, that magic would happen and Theresa would just respond overnight and it would be wonderful. And it was not. And I think she felt like the same thing.
One of the greatest lessons I learned was the only person that can change Theresa is Theresa and the only person that can change Chip is Chip. And so, in my marriage, instead of all those thoughts in your mind, If she would only do this. If she would start doing this. If he would stop doing this. If he would start doing this. If he would just pick up his stuff. How many times have I told him this? If he would just call when I said. If she would just be more affectionate. Blah, blah, blah.
Since you can't change them, here's the deal. You just say, Lord, I can't change that person. But there's a supernatural dynamic. I am going to follow Your example and I'm going to do for my husband, or, I'm going to do for my wife what Jesus did for His disciples. I am so secure in who I know You are and who I am, I am going to serve and I'm going to care and I'm going to sow seeds of love that serve them, that meet real needs in them.
Because here's what happens, when your mate gets more and more whole, they change. They really do change. But how many, how is nagging working? Anybody? Anybody? Or blaming. How is that one? How about the old ought and should? "You ought to do this. You should…" That's how parents talk to children.
"You never!" "You always!" Those are four words you should eliminate from marriage, along with divorce. Go to your little dictionary and cut it out. Divorce. Get it out. Ought, should, always, never. Does anyone always do anything? Does anyone never? "You never help." Really? I mean, really? You ought. So, it's serving. It's putting their needs.
Third principle here is that love must be received. Ask yourself, sometimes when you're hurt and you're resentful of your mate and they try and do something kind, what do you do? You want to make them pay, right? I'm not going to receive it right now.
They try and be a little affectionate or they say something kind, "Eh, I'm not ready to make up right now." I'm going to twist it, twist that old knife. Why? Peter. Peteress. Miss Peter. I don't know. Why? See, you have to let down your guard.
There's this idea that we are going to, like it's some sort of game that you do this and I'll do that and I'll pay you back and you do this. That's how you ruin relationships. Here's – I read the passage: the two become one. There's no such thing as a winner and a loser. It's either win-win or lose-lose.
Every interaction, every conversation, every fight, every disagreement, every big issue – it's either a win-win or it's a lose-lose. You can feel better for fifteen minutes like, "I got my way!" Or, "She better do that!" Or, "He is finally." And guess what, now, when resentment or hurt or woundedness happens in one person because the other thinks they "won," I'll tell you what, you're just sowing seeds of discord. Believe me, it'll pop up later.
And so, well then how do you, how do you do this? Did you notice even that love is unconditional? You might jot that down. By the way, this takes supernatural, Holy Spirit power in you. Sometimes, have you ever felt like, I just don't feel like loving my mate right now. Have you ever, you know the right thing to do. Anybody ever had, you just know for sure what the right thing to do is forgive them. Or the right thing to do is to take the initiative to make up and then this comes to your mind, You know what? I think eight out of ten times, I always take the initiative. I'm not doing it this time. Because it's not really eight out of ten times, because you're in denial. It's probably only six point five or something, right?
And the Holy Spirit, you hear that little nudge and then it's like, They don't deserve it. Like somehow it's, this isn't like spiritual ping pong. They don't deserve it, the ball going back and forth. It's: what is going to make the relationship right? What is the outcome? Do you realize that there was one person whose feet got washed that Jesus knew would betray Him later? Talk about unconditional love.