November 2019
Top Three Requests
Protection for Chip and our team as they teach and equip leaders in Egypt, Jordan, and key leaders from Yemen later this month.

God will keep the door open in China for us as tension and restrictions continue to grow.

God will move in the hearts of all those who partner with us to create and fulfill our largest year-end match ever in order to fulfill Christ's clear call and direction for 2020 and beyond.
Top Three Praises
Incredible time in China – Culminating in 1 million copies of The Real God provided directly to our Chinese brothers and sisters and sharing our first 100,000 copies of True Spirituality (Romans 12) with training.

Amazing response to Equipping The Next Generation. Thousands of groups, including over 500 high school and college groups representing 16,500 individuals going through our new Why I Believe curriculum free of charge thanks to generous partners like you.

Encouraging and inspiring Leaders of Leaders. As Chip taught 300 pastors and wives in NC, 500 pastors in NY and 3,000 influencers at the SES Apologetics conference this Fall, a special praise as we were able to give every pastor The Real God church campaign kit to help their churches be filled with Christians who live like Christians.
"Sometimes what we passionately preach to others is God's not so subtle message to ourselves."
About this time last year, I was commissioned by the board of Living on the Edge to take the next year to listen very carefully to what God was saying to me and to us as an organization.
After 36 years of serving as a senior pastor, I had stepped down from my role as a senior pastor and had a very clear call to devote 100% of my time to Living on the Edge and the extraordinary opportunities in America, China, and the Middle East. Our Board was concerned that I would be so consumed with the ministry of today that I would miss this strategic window of opportunity to really ponder what God has done in the last 25 years through Living on the Edge and what He might want to do in the next 25?
Their counsel was clear—don't rush, take your time, get wise counsel, read widely, give yourself permission to get around great leaders. Add an extra day as you travel around the world to sense what God is up to and what part Living on the Edge might play in His kingdom.
So that's what I've done for the last twelve months. It came to be known on the prayer request whiteboard in our office as: God please show Chip the "Next Big Thing" for Living on the Edge.
In between speaking across the country, writing a new book, recording the daily radio programs, making a couple ministry trips to China and one to the Philippines I was constantly asking, "Lord, what is the 'Next Big Thing'?"
I sought out business leaders who had built great organizations, spiritual leaders whose walk with God I wanted to emulate, and lifelong mentors I trusted to help me process who I am, what I'm best at, and what God might have for me in my remaining years.
About 10 months into this internal journey to discern and hear God's voice about the future, I started to feel an overwhelming pressure.
Everyone was praying about the "Next Big Thing"…
…and I didn't know what it was!
The last thing I wanted to do was make something up. God would never bless that. But I am a leader! I'm supposed to have vision and direction for the future! As the October board meeting got closer and closer, my anxiety level began to rise and so did the urgency and honesty of my prayers.
Finally, one morning just before I was about to meet with our COO to prepare for a week of prayer and strategic planning with our executive team I begged God, "Please show me what's the "Next Big Thing!"
As I sat quietly in my office at home, I heard the still small voice of the Holy Spirit, "Chip, I am going to show you the "Next Big Thing" but it's not at all what you think. It will be much like an onion that is peeled layer by layer as you obey me and follow my lead. Here's how you will discover the "Next Big Thing":
I want YOU to go deeper with ME.
I want the BOARD and STAFF to go deeper with ME.
I want the STAFF to go deeper with each OTHER.
I want YOU to go deeper with your MINISTRY PARTNERS.
As you do, I will show you the "Next Big Thing." In fact, this is the "Next Big Thing" for right now.
That morning began a new journey of going deeper as our COO, Andrew, and I surrendered our lives afresh to Jesus. We gave Him our expectations, our dreams and desires and shared more deeply and vulnerably than ever before.
We scrapped our 3-day strategic planning session with the executive team and refocused that time on going deeper with the Lord, with each other, and asking God what He wanted to do "in us" first, and then through Living on the Edge. Next, we brought the entire staff into the process. As we prayed, shared, and surrendered ourselves and the ministry to Jesus over the next 2 months, God reminded us of the impossible things He had done through Living on the Edge over the past 25 years; then in a way I never expected, He showed us the impossible things He has planned for us in the future.
God spoke clearly and powerfully to us as a group. 
As we surrendered our ideas, our agendas, our expectations, and our egos, the Holy Spirit identified 4 specific and strategic needs that He has prepared us for and is calling us to address in these historic and turbulent times. I share what these 4 are on the Coffee Break audio along with a message that will help you hear God's voice for your future.
I was tempted to make this letter all about "God's Next Big Steps" for Living on the Edge, but I'll save that for later. I sense this journey of going deeper with the Lord (fresh surrender) and going deeper with those you love (honest vulnerability) are far more important for you right now. Whatever you're going through, know with absolute certainty that "when you draw near to God, He will draw near to you." James 4:8
Yes, there are challenges all around us, but solving them in our strength and self-effort is futile. God must work deeply in us before He will work powerfully through us.
Let's go deeper together,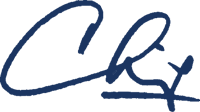 Chip Ingram
CEO & Teaching Pastor, Living on the Edge