Listen Now
Today's Broadcast: November 25
Experiencing God When You Get a Raw Deal, Part 2
From his series, Finding God When You Need Him Most, Have you ever done the honorable thing and it backfired on you? Did you ever do all the work and someone else got all the credit? Chip explores three timeless principles, from Psalm 73, about how you can respond when life hands you a raw deal, when you're ready to give up, or when you really wonder, "God, where are You?"
Scripture: Psalm, Psalm 73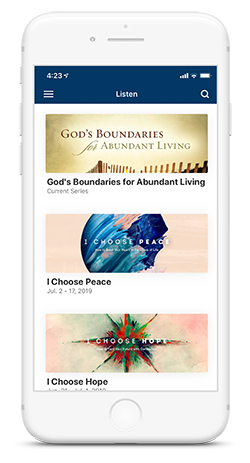 Helping you grow closer to God
Download the Chip Ingram App
Get The App
Current Series
daily Radio
Finding God When You Need Him Most
In Finding God When You Need Him Most, Chip Ingram reveals how you can meet God in the midst of your most difficult moments. Through Chip's teaching from some of the most comforting and encouraging Psalms, you will move from...
weekend Radio
I Choose Joy
How to Live Life Above Your Circumstances
In the midst of difficulty, chaos, and continual pressure, what is it that sets a believer apart from the crowd? What causes people to notice that there's something supernatural at work in their lives? In this series, from the book...
Recent Broadcasts
Recent Series