Listen Now
Today's Broadcast: January 15
You are Competent, Part 1
Shame is a powerful feeling of regret or dishonor. Some people ignore it and others are crippled by it. In this message, Chip helps us see that under the influence of shame, we tend to believe the lie that we're unworthy of love or belonging. Join Chip to learn Jesus' answer to shame.
Scripture: Ephesians 1:15-23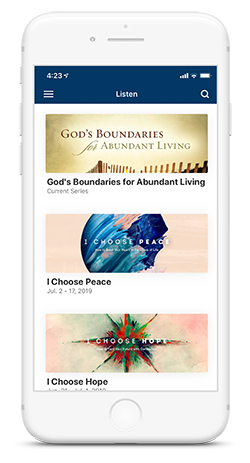 Helping you grow closer to God
Download the Chip Ingram App
Get The App
Current Series
daily Radio
Discover Your True Self
How to Silence the Lies of Your Past and Actually Experience Who God Says You Are
Who are you? Who says so? You? Your family? Your friends? From the first two chapters of the book of Ephesians, Chip helps you discover who God says you are as a believer in Christ. Understanding your position, the freedom,...
weekend Radio
The Holy Spirit
Experiencing His Power and Presence 24/7
Who is the Holy Spirit? Is He more than "The Force?" For many believers, a relationship with the Holy Spirit rarely factors into our day-to-day lives. The truth is, experiencing His power and presence unlocks spiritual living to an entirely...
Recent Broadcasts
Recent Series