Listen Now
Today's Broadcast: September 24
Understanding the Journey, Part 2
In this message, Chip asks five key questions to understanding the generosity journey: What does it mean to be generous? Why is living generously so important? What are the first steps to living generously? What keeps us from living generously? and How can you become more generous? Chip opens God's Word to reveal the answers to those questions and much more.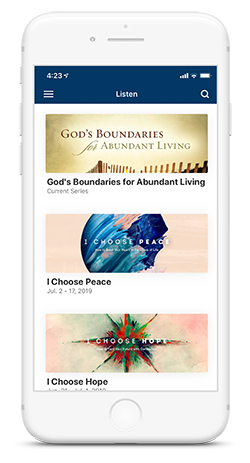 Helping you grow closer to God
Download the Chip Ingram App
Get The App
Current Series
daily Radio
Living Generously
Being generous isn't something that comes naturally to most people but research confirms that truly generous people are happier, have a stronger immune system, and have more positive, life-giving relationships. Who wouldn't sign up for all that - right? In...
weekend Radio
Unstuck
Overcoming the Pain of Your Past
Pain. It is part of the human experience, and one of the things that helps us grow to maturity. But for some of us the pain we have experienced feels crippling. Broken promises, dysfunctional families, damaged relationships and rejection keep...
Recent Broadcasts
Recent Series