Listen Now
Today's Broadcast: November 28
Learning How to Stop Stress Before it Starts, Part 1
Deadlines, flight delays, traffic jams, crying babies – what do all these have in common? Well, for most of us, these situations cause us stress. We are surrounded by stressful events every day! How do you keep the chaos of life from stressing you out? Chip explains God's solution for stopping stress BEFORE it starts.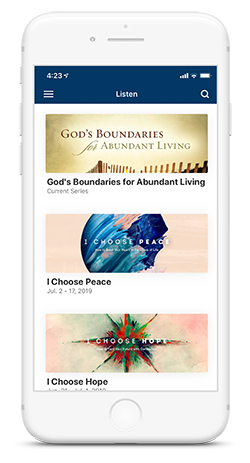 Helping you grow closer to God
Download the Chip Ingram App
Get The App
Current Series
daily Radio
Resilient
Withstanding the Storms of Life
What's the key to standing strong in the storms of life? How do we keep getting up no matter how many times the waves of trial and discouragement knock us over? One word – Resilient. Chip and Ryan Ingram team...
weekend Radio
Overcoming Emotions that Destroy
Practical Help for Those Angry Feelings that Ruin Relationships
How do you deal with those angry feelings we all experience? In the series, Overcoming Emotions That Destroy, Chip Ingram will help you identify whether you are a spewer, leaker, or stuffer. You will learn the difference between good and...
Recent Broadcasts
Recent Series