Listen Now
Today's Broadcast: August 7
Facing Personal Failure, Part 1
The most difficult of all situations for most people to endure are ones that come from their own hand. Personal failures. Destructive choices. A tragic decision. How do you ever recover from personal failure? There is a way. Join Chip as he shares God's divine plan for providing forgiveness and restoration.
Scripture: Nehemiah 8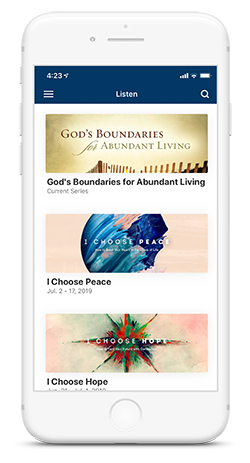 Helping you grow closer to God
Download the Chip Ingram App
Get The App
Current Series
daily Radio
Keep Pressing Ahead
How to Make it Through Anything
There are times in our lives when we simply get to the point that we say, "I can't take it anymore!" This depression is just too dark. This marriage is just too hard. The job I lost, the family member...
weekend Radio
Unstuck
Overcoming the Pain of Your Past
Pain. It is part of the human experience, and one of the things that helps us grow to maturity. But for some of us the pain we have experienced feels crippling. Broken promises, dysfunctional families, damaged relationships and rejection keep...
Recent Broadcasts
Recent Series