Listen Now
Today's Broadcast: September 16
It's Complicated, Part 2
It's easy to stay focused on our calling when life is good. But what happens when a giant wrench is thrown into your plans? Join guest teacher Ryan Ingram for this message, as we learn how meaningful community can help us stay on purpose even when our circumstances crumble around us.
Scripture: Acts 13:4-15:35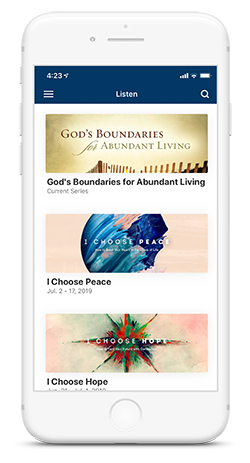 Helping you grow closer to God
Download the Chip Ingram App
Get The App
Current Series
daily Radio
Purpose FULL
Discovering God's Calling on Your Life
The word purpose is defined as 'the reason for which something is done.' So what is your life's purpose? The fact is we all long to know why am I here? Join guest teacher Ryan Ingram for this new series...
weekend Radio
The Real God
How He Longs for You to See Him
There is a deep sense of unease in our rapidly changing world. Popular culture says that love means self-satisfaction and that status and appearance are what count. Social media reinforces that It's all about me. This ultimately self-destructive perspective has...
Recent Broadcasts
Recent Series