Listen Now
Today's Broadcast: October 20
Spiritual Warfare 301: How to Do Battle with the Enemy and Win, Part 2
Have you ever been praying and had a wicked thought go through your mind? Have you ever been driving and had an impulse to do something crazy or evil? What's the source of those wild, out-of-control thoughts? With Chip, you'll discover where those thoughts come from and how to battle with the enemy when they enter your mind and win!
Scripture: Ephesians 6:16-17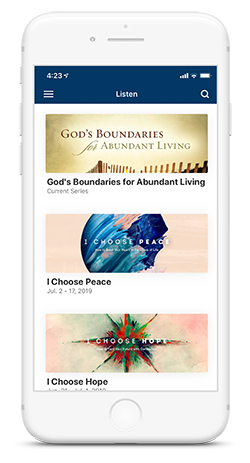 Helping you grow closer to God
Download the Chip Ingram App
Get The App
Current Series
daily Radio
Invisible War
What Every Believer Needs to Know About Satan, Demons, and Spiritual Warfare
Beneath our tangible landscape lurks an invisible spiritual realm where unseen battles rage. It's real. And it's dangerous. If you're prepared to remove the blinders and gaze into the unseen world, Chip Ingram is ready to take you there. Hang...
weekend Radio
Overcoming Emotions that Destroy
Practical Help for Those Angry Feelings that Ruin Relationships
How do you deal with those angry feelings we all experience? In the series, Overcoming Emotions That Destroy, Chip Ingram will help you identify whether you are a spewer, leaker, or stuffer. You will learn the difference between good and...
Recent Broadcasts
Recent Series