October 2020
Prayer and Perspective
Our nation would honor God and His Word. (Psalm 33:12)
Our President, Congress, and the upcoming election. (1 Tim 2:1-2)
Hearts that will pursue righteousness and not sin. (Proverbs 14:34)
Unity and no more division. (1 Corinthians 1:10)
Evil to be exposed and cast out. (Ephesians 5:11-12)
The protection of our children. (Psalm 82:3-4)
God's protection. (2 Thessalonians 3:3)
Wisdom to "love all our neighbors." (James 1:5)
Revival and restoration. (Psalm 80:18-19)
The church and the Lord's people to wake up. (Romans 13:11)
The 5 Pillars of Perspective
God is GOOD. (Psalm 84:11)
Life is HARD.  (John 16:33)
God is SOVEREIGN. (Romans 8:28)
God is ALL WISE. (Romans 11:33-36)
God is all POWERFUL. (Jeremiah 32:17)

ACTION STEPS:

Refuse to WORRY. (Philippians 4:6-7)
Get God's DIRECTION. (Psalm 119:105, James 1:5, Proverbs 15:22)
Develop a PLAN. (Proverbs 16:9, Proverbs 16:3)
Move forward BOLDLY. (Joshua 1:9)
In Crisis and Uncertainty
Fan into flame the gift of God within you… For God has not given us a spirit of FEAR, but of power, love, and self-control. – 2 Timothy 1:6-7
Dear Ministry Partner,
As we approach the coming election and survey the multiple challenges facing our nation and our lives, I agonized and prayed deeply about what God would have me share with you. The conversation went something like this – "Lord, do you want me to…
Help people understand the difference between Black Lives Matter (the civil rights – nonviolent Christian call to Justice) and Black Lives Matter – "the movement" (the critical theory, cancel culture, Marxist perspective that would make Martin Luther King, Jr. shudder?).
Help people discern when to obey the government as it relates to church closings, religious liberty, and when civil disobedience should be exercised?
Remind people to exercise their civic duty to vote according to their conscience and the truth of Scripture while not putting their hope in flawed candidates, or in the outcome of the election?
Provide biblical counsel and godly perspective for those who are struggling with discouragement, depression, social isolation, joblessness, finances, and family conflict?
Remind people that suffering is not unusual, that You refine us during hardships, and that our calling to live out our faith and share the love of Christ in word and deed has not changed despite all in the world that has changed?
All those issues are important Father, but what would YOU say is MOST IMPORTANT for Your children to know in this uncertain, chaotic time?"
You may be surprised to know that in A.D. 67, God's people faced an almost parallel set of circumstances. The political landscape was sharply divided as Nero overthrew the senate's rule in 62 A.D. Rome burned in 64 A.D., Christians were blamed, worshiping Jesus became illegal, persecution escalated, and violence and brutality were the norm. Infanticide was legally practiced, poverty and financial hardship reigned as 70% of the empire were slaves. Racism within and outside the church between Jewish and Gentile believers festered while false teachers peddled prosperity and attacked the resurrection.
It is in this parallel context that God speaks with crystal clear direction to an individual named Timothy about how to respond. It's the Apostle Paul's last letter written from a dungeon and it provided a blueprint for what to do, why and how in that chaotic and uncertain time.
In this month's Coffee Break audio, I share in detail this blueprint. Regardless of who wins the election, when a vaccine is ready, whatever happens to the economy, or what path justice and religious liberty take in the days and years ahead – this is God's will for every one of Jesus' followers:
In Crisis and Uncertainty – Here's God's Plan for Timothy

* 
Be Faithful – Don't Shrink Back! – 2 Timothy 1:1-18
So do not be ashamed of the testimony about our Lord or of me his prisoner. Rather, join with me in suffering for the gospel, by the power of God. (v.8)
Be Strong – Don't Give Up! – 2 Timothy 2:1-13
Therefore I endure everything for the sake of the elect, that they too may obtain the salvation that is in Christ Jesus, with eternal glory. (v.10)
Be Pure – Don't Give In! – 2 Timothy 2:14-26
Flee the evil desires of youth and pursue righteousness, faith, love and peace, along with those who call on the Lord out of a pure heart. Don't have anything to do with foolish and stupid arguments, because you know they produce quarrels. (v.22-23)
Be Ready – Don't Be Surprised! – 2 Timothy 3:1-13
In fact, everyone who wants to live a godly life in Christ Jesus will be persecuted, while evildoers and impostors will go from bad to worse, deceiving and being deceived. (v.12-13)
Be Confident – Don't Be Afraid! – 2 Timothy 4:1-18
I have fought the good fight, I have finished the race, I have kept the faith. The Lord will rescue me from every evil attack and will bring me safely to his heavenly kingdom. To him be glory for ever and ever. Amen. (v.7, 18)
Paul's plan for Timothy is God's plan for you and for me. Hold onto this plan; these truths apply to us today and they are true in all circumstances, whatever may come. That is what I believe God wants me to share with you and I hope they encourage you in the challenging days ahead.
Grace and Peace to You,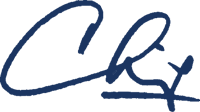 Chip Ingram
CEO & Teaching Pastor, Living on the Edge
*Please join me in reviewing the "5 Pillars of Perspective" daily in October as we pray and fast for our nation each Wednesday this month.