September 2019
Top Three Requests
That God will prepare the hearts of those attending teaching events this month:

– September 12: Teaching Why I Believe at 12 Stone Church in Atlanta, GA
– September 16-18: Teaching Pastors to become High Impact Communicators at The Cove in Asheville, NC
– September 20-22: Teaching The Invisible War at The Cove in Asheville, NC

For boldness to follow wherever God leads us without distraction or hesitation so that the greatest avenues of His will and purposes are fulfilled through Living on the Edge.

Wisdom as we craft strategic plans for the next year on how to best equip parents, grandparents, and leaders to disciple the next generation well.
Top Three Praises
For God's continued favor on the many teaching and training opportunities He is opening before us and the resulting impact of the ministry partnerships He is integrating in China and the Middle East.

For the successful launch of the Why I Believe study last month and continued wisdom for parents, grandparents, and leaders using it to give clear answers to their children, students, and youth groups across America.

For the prayers and generous partnership of you and all the incredible people who are on this mission of discipleship with us at Living on the Edge.
Are you READY to get God's BEST this fall?
It's hard to believe summer is over and the fall season has begun. For many of us that means a new schedule, kids entering a new grade, maybe a new school, new demands, new opportunities, and of course new challenges.
Getting off to a good start is critical. As I began to think about my new fall season, I did a little "3 step exercise" that has really helped me to be ready to experience God's best this fall:
Step 1: Look back on your summer
It doesn't take long to reflect back over the summer. Make a list of the highlights and pause to give thanks. Mine looks like this:
Teaching military couples with Theresa at The Cove
Teaching the D-6 Parenting Conference in France
Family vacation with all our grown children and grandkids
Lausanne Global Workplace Forum in the Philippines
Amazing Mid-year Match results
Teaching a 4-part series at Venture Christian Church
Attended a confidential briefing on China and the Middle East
Thinking back on these things helped me remember how faithful, kind, and personal the Lord Jesus is to me. These weren't projects or meetings, they were people's lives with all their hurts and struggles intersecting with Christ's life-changing grace. Their faces and their stories fill my heart and mind as I ponder each event.
As I look over this list I am humbled by what God has done, and I am deeply moved by the stories of suffering and sacrifice in China and the Middle East.
A woman prior to entering back into her country where Christian conversion is punishable by death asked our ministry partner: "Before we return to our county, please teach us how to die well." In China, the situation is everything you've heard and read about except worse.
Those two last reflections spurred me on to Step 2.
Step 2: Look Up – What is God saying to you?
As I studied the book of Matthew this summer, chapter 10:26-34 has taken on a whole new meaning in light of the challenges in China and the Middle East and my upcoming travel there this fall.
Jesus commands His disciples: "Do not be afraid of people (v. 26)…do not be afraid of those who can kill the body (v. 28)…but fear him who can kill body and soul…do not be afraid for your Father does not let two sparrows fall to the ground without His consent and you are far more valuable than sparrows (v. 31)."
What fears are you facing? How can you gain courage to face them?
I have some very practical suggestions about how to face those fears and will share the #1 prerequisite to receiving the courage and power given by the Holy Spirit for the challenges you'll encounter this fall. I encourage you to listen to the audio of this Coffee Break as I develop this passage in a much more detailed and personal way.
That's what God has been speaking about to me. So how about you, what is God saying to you? Doesn't it make sense that He's been speaking to you this summer in preparation for what you'll be facing in the fall? What will it look like for you to be READY? To trust Him? To make sure you and your loved ones get His very best?
Step 3: Look Ahead – What's on the Horizon?
For me, it's several speaking engagements in places where I know I will be challenged:
September 12: Teaching Why I Believe at 12 Stone Church in Atlanta, GA
September 16-18: Teaching Pastors to become High Impact Communicators at The Cove
September 20-22: Teaching The Invisible War at The Cove in Asheville, NC
October 11-12: SES National Apologetics Conference in Charlotte, NC
Late October: China
Mid-November: The Middle East
Just writing these things down, and knowing that God wants me to be bold and not afraid of people, criticism, danger, or my own inadequacy helps me be mentally and spiritually prepared for what's ahead.
What's coming up this fall in your world?
Why not write down the big events, new challenges, and new opportunities and ask God for His direction, power, and wisdom? He wants to help you. And after you listen to the teaching message on this month's Coffee Break, I think you will understand how to experience God's power and gain a new perspective that could make this one of your greatest fall seasons ever.
Thank you for your prayers. I covet them and need them desperately. And thank you for your continued financial support which allows us to develop the radio broadcasts, podcasts, Bible studies, group materials, and resources for our brothers and sisters here and around the world.
Grateful for your partnership,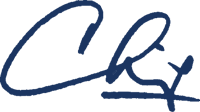 Chip Ingram
CEO & Teaching Pastor, Living on the Edge