daily Broadcast
The Time is Now!, Part 2
Do you ever wonder what Jesus is doing this very minute? In this message, Chip reminds us that scripture says Jesus is actively engaged, right now, in something that involves YOU, personally! Join Chip as he reveals what Jesus is up to and how your awareness of it can change your perspective on everything!
This broadcast is currently not available online. It is available to purchase on our store.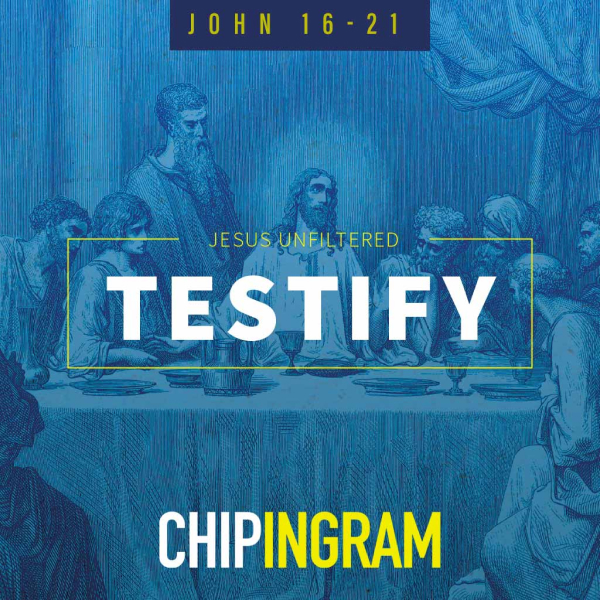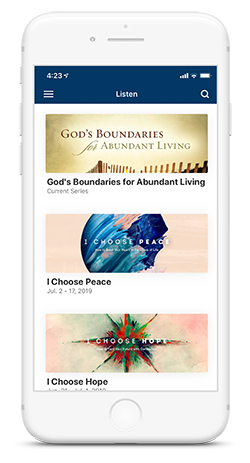 Helping you grow closer to God
Download the Chip Ingram App
Get The App
Today's Offer
Jesus Unfiltered – Testify Resources on sale now.
About this series
Jesus Unfiltered - Testify
Testify is the 4th and final volume of Chip Ingram's series, Jesus Unfiltered, an exposition of the entire Gospel of John. Testify reveals Jesus' last days on earth and His final words to His followers, from then to today. It's a bold, gritty assignment – far from the ease and prosperity of content religion. Jesus tasked His followers with a mission to testify; He promised a future of tribulation; He provided the limitless power of the Holy Spirit; and He guaranteed the hope of victory. Testify will encourage and challenge you to take your faith to the next level – to be strong and courageous – for the sake of His Kingdom to come.
More from this series
Message Transcript
Jesus came to give His life to pay for your sin and mine and for everyone, whosoever. Even people that reject Him, He still loves them. He has made the offer.
He is praying, back then was praying for us; God knew that we would be in this room, in this place, in this time of history, with all that is happening in America, with all that is happening in the Middle East, with all that is happening with terrorism, with all that is happening with the movement of technology, with all the things that are happening in terms of morality and family. He knew that we would be here.
And so since our time is coming, do you know what Jesus is doing right now? He is at the right hand of the Father making intercession for us. You know what the Holy Spirit is doing? He leads us in our prayers and when we don't quite have the words to know exactly what to pray, Romans chapter 8, "in groanings too deep, He is praying for us." I don't know how all this works, but we must need a lot of prayer and it must be supernatural to live this life.
And notice He said, "That I might be in them." Jesus, as He is praying, He wants us to understand, like He wanted those disciples to understand, It's not just that I love you, the Father loves you in the same way that He loves Me. Can you get your head around that? If you ever get lonely, you feel insecure, you wonder about the future, Jesus said that, My heavenly Father actually loves you as much as He loves Me and I love you that way. What are we all looking for in life? Aren't we honestly just looking to be deeply loved and accepted and have a purpose and a plan? And Jesus is saying, "That's why I came."
And so here is the "what" that He prayed for us. He prayed that we would be unified with Him and unified with each other. He also prayed that we would be glorified, that there would be a day that we actually would be glorified because, 1 John would say a little bit later, we don't know what we will be like, but here's what we know, when we see Him, Jesus, we will be like Him and that we will share in this new kingdom and that we would experience the love of God.
By the way, this idea of oneness may be the most poorly interpreted or misused verse in all the years. The unity He is talking about here is not uniformity. He is talking about a union of mind and heart and will. He is saying, "Just as the Father and the Son have a oneness of heart, a love for one another, they are one in that way so I want Us to be one with Him."
And you think of the oneness, think of, if you could just quickly in your mind's eye, go through the book of John and listen to all the times Jesus said, "I can do nothing apart from the Father, I only act as I see Him act." Jesus lived in total dependency on the Father. Jesus lived in the power of the Holy Spirit. Here's what He is actually saying: He is praying that we would be so in sync with the Father and the Son, by the power of the Holy Spirit in the same way that Jesus would. In other words, we would obey from the heart out of a love relationship, that our decisions, that our lifestyles, that the words that come out of our mouth would reflect our relationship with God.
This isn't some ecumenical sort of everyone will be one and it's one big organization. He's not saying that at all.
He is saying that we would be so connected in our hearts with God the Father, with God the Son, and the Spirit living within us – are you ready for this? My translation would be: that we would be Christians that live like Christians. That's what He means by being one with Him.
And then He says, "I want you to be one with one another." In other words, that we would love each other the way Jesus loved the disciples. Well, what did He do? He laid down His life for them. He spoke the truth in love. He made radical, radical sacrifice.
Being a follower of Jesus isn't coming to a meeting and it's not just some sort of external morality. It's not even being a part of a cause and helping people. Being a follower of Jesus is having your heart and your life so connected to Him that what matters to Him matters to you. And so the poor matter, a lady with two young kids that has cancer matters, someone that can't pay their rent matters. A school of people that have come and it's a lousy school and the facilities are terrible – it matters to Him so it matters to us so we step out.
And it's always both things. It's always by our deeds and by our words. We proclaim, clearly, "This is who Jesus is. And this is relationship with Him. And this is the power and this is why we do what we do." But here is the deeds that demonstrate. It's not just talk. Does that make sense?
Review: Jesus is going to walk through His test. He will, after all these years, be betrayed, of all ways, by a kiss because the lights will be low and there will be a pretty large group of people with weapons and Judas will kiss Him. He is the one. Everyone will flee, He will be absolutely alone, go through three mock trials, He will be falsely accused, He will be beaten within an inch of His life. It's humiliating for anyone to be stripped and beaten, but can you fathom? Can you even fathom the Creator of the world so loving the object of His creation, but so allowing us to have choice that His own plan would be to – fully man, fully God – and be stripped and beaten and rejected by the very people that He made in order that His death could accomplish the payment price to redeem whosoever would? The humility of God is staggering. The love of God is just, it's beyond comprehension.
By the way, all of your real spiritual growth and life transformation, it is rooted, it is rooted in understanding and grasping that God loves you, totally apart from your performance. He doesn't love you if, He doesn't love you because.
And when you and I – little, by little, by little – by being in His Word and encouraging one another and taking steps of obedience, the more and more we begin to experience that, then we can love. And we can love people that are different and people who disagree and even people who might even hate you or disagree in violent ways.
It raises the question for me: if this is how Jesus responded and this is how He prayed, how should we pray?
I'm guessing there's more than a few of us that are facing difficulty, right? When Jesus faced difficulty, He prayed for Himself, He prayed for others, and He prayed for future believers that would come out of the ministry. So let's do a little application.
How should I pray for myself? Well, here is the "what." Out of this passage, I would suggest that you need to pray that you might know Christ and make Him known. I have heard people talk about, like, it's unholy and I never pray for myself. Well, Jesus prayed for Himself. I'm thinking maybe if you don't, you ought to start. Right? It's not spiritual not to pray for yourself. Jesus prayed for Himself. And I would say the number one thing you can pray is if He came to give eternal life and if eternal life is a growing dynamic, developmental thing, I would begin to pray, God, I want to know You! That's what Paul prayed in Philippians 3, right? Compared to everything else, I want to know You. David prayed, "This one thing I ask of the Lord, that I will seek, that I might dwell in the house of the Lord, to behold the beauty of the Lord and to meditate in His temple."
[30:04] There's something – ask God to create a desire. Ask God to open your mind, open your eyes that you might really know Him and testify. And that you would make Him known. You would make Him known by how you talk, make Him known by how you drive, make Him known by what you do with your money, make Him known by how you interact with your family, make Him known by what you specifically say about Him at work and in your neighborhood. Pray. Ask God. I want to know You and I want to make You known.
The second thing I would encourage you to pray is that you would finish the work assigned you. And you might jot down: Ephesians 2:10. We are saved by grace: Ephesians 2:8 and 9. And the very next verse says that we have been, we are His workmanship. Literally, the word is: His poem or His work of art, created unto a good work that God has prepared for us. And the idea is: before the foundations of the earth.
There is something. This is amazing. There is something that only you can accomplish in the kingdom of God. Your background, your hurts, your difficulties, your pains, your personality, your spiritual gifts, this time in history – everything leading up to: there's something that God, He has a work for you to do.
I would pray, God, help me to see very clearly what it is and help me not get distracted and to finish the work.
And I have said this a lot of times and I'll keep saying it. One of the greatest gifts Theresa gave me was, she put it in a little frame. And it's Acts 20:24. And it's the apostle Paul.
And the apostle Paul writes: "My life is worth nothing unless I use it for doing the work assigned me by God, the work of telling about His love and wonderful kindness to everyone."
I'd like you to bow your head because I want you to start practicing and I want you just, right now, quietly in your own mind and heart – you can whisper if you like. But I want you to ask God to help you to know Him as He is and to make Him known. And I want you to ask God to show you what your individual work is and probably a lot of you already know what it is, and to do it. I want you to pray for you right now.
Oh, God, I don't know that there would be anything that You would just love to answer more than hearing one of your daughters, or one of your sons say, Oh, God, will You please help me to really know You? Lord, would You give me a hunger for Your Word? Would You help me to talk with You all throughout the day? Would You help me to rub up next to people who know You even better? And then, Lord, would You use me to make who You really are known to people at my job, people in my neighborhood, people at the gym, people at the coffee shop, people at the dry cleaners, people where I hobby? Lord, I pray that even this week, in a fresh way, You will do that in every, single person's life. And we come boldly, in Jesus' name.
Second   I think we need to pray for others. And I think Jesus gives us a good model. He prayed for protection and He prayed for sanctification. That's kind of one of those big words. The word literally means: to be set apart. In fact, you might write in your notes, in this context, it has the idea of being consecrated or, literally, dedicated. What He is praying is that they would be personally pure but they would step out to the task of testifying by the power of His Word and fulfill the assignment that God has given them.
So He says, "Lord, I am praying that You will set them apart, not just for their relationship with Me, but for the task that I have assigned to them." And then He says, "Do it by Your Word, because Your Word is truth." And then notice the very next line was, "Now, I am sending them forth just like You sent Me."
So this is a prayer for their personal protection within and without, but it's also a prayer for their personal holiness before God. And it's also a prayer that they would boldly carry on the mission, that they would continue to do what was started. This is really a picture of, you know in track where the guy runs with the baton and the guy puts this, or the gal puts her hand back here? This is a passing of the baton where He is taking the mission to reach the world with the truth and the love of God, and He is taking it and placing it and He is praying that they would be effective in doing that. He is also praying for protection.
Are there two people you can think of right now that need prayer for Your protection and prayer that they would fulfill what God wants them to do with their life? Maybe they are a best friend, maybe it's a roommate, maybe it's someone at work, maybe it's one of your kids. See, if we have a nice message about, Oh, this was nice. Jesus prayed – and this doesn't change how we pray, then we have totally missed the point, because I have actually been tempted to do this with myself. Because don't you get in ruts in your prayer life? Okay, no one is going to admit that one. I get in ruts in my prayer life and I have been tempted to like, record my prayer.
I wonder how many people, where, in heaven it's, "And Lord, and Lord, and Lord, and Lord, and will You help me with this, and will You help me with that and will You help me with that, and will You help me be happy and would You make this work out and will You put, gimme, gimme, gimme, gimme, gimme, gimme."
I wonder what would happen if we said, "I am going to pray for myself to know God and make Him known and I am going to pray that I figure out exactly why He put me on the earth and I finish it and do. And then I am going to pray, I am going to pray for others that God would protect them, give them joy within and protection from evil without. And then I am going to pray that they discover exactly what He wants them to do and He will set them apart and make them holy and pure and stay on task."
Guess what we are going to do. You got it. I would like you to bow your head and I want you to pray for a couple people. If you only have time for one, that's fine, but I want you to pray for someone's spiritual protection and for their sanctification, that they would be dedicated to the calling that God has upon their life and be faithful to it and be empowered to do it.
Father, as I pray for my kids, and just people I feel responsible for, uhm, I think of Colossians 1, verses 9 through 11. And so I want to pray that for everyone in this room. Lord, I pray that everyone in this room would grow in the real knowledge of who You are, that You would give them, with spiritual wisdom and understanding, exactly to know Your will, that they could walk in a manner that is worthy of You every minute of every day.
And that that would result in You being pleased with every aspect of their life and that they would bear fruit in every good work, living in such a way that they would grow in the real knowledge of who You are. God, when that happens, like the first domino, all the other areas of their life will fall into place, so increase their faith, Father. Help them to know Your will, help them to follow it, help them to get through barriers, help them to trust You when they struggle, remove fears. And I ask You to do that in Jesus' name.
The final thing that Jesus prays for is future believers. And how should we pray about the future? I would guess that maybe two things we could pray is that God will give us a testimony with the outside world and He would give us a testimony with one another.
So the two things I'd pray about, Jesus prayed – what? He prayed that they would be one like the Father and Son are, that they would live their life, and that they would love one another. Two things I want to pray for us is that we would be bold, that God will give you a bold testimony to testify with integrity, to testify with your life, to testify with your words, to be that unusual person in your neighborhood or at the gym or at the coffee shop, that you would boldly and unashamedly – yes, I am a follower of Jesus Christ, I believe He is fully man, fully God, He died for my sin, He rose from the dead, I don't have to preach at all. I just want to tell you what I have seen and heard and how He has changed my life. That's God's desire.