If there's one thing we all have in common, it's that we all want to change for the better.
I don't know many parents that say, "I really want to strive to be the worst parent," or couples who say to one another, "Let's allow our marriage to crumble." And rarely – if ever – will you hear anyone say, "My resolution this year is to gain a lot of weight and eat as unhealthy as possible!"
Instead, most of us are looking for ways to improve our lives and ourselves. There's a multi-billion dollar self-help industry that proves this. Whether it's improving our relationships or learning how to better manage our anger, it's evident with all of the self-help books and seminars out there that there's something inside of each of us that longs to change for better.  
That desire for positive change and improvement is in our DNA because we're made in the image of God. And His plan for each of us is that we continuously change.
Romans 12:2 says, "Do not conform to the pattern of this world, but be transformed by the renewing of your mind. Then you will be able to test and approve what God's will is—his good, pleasing and perfect will."
This word "transform" is the very same word used to describe the drastic transformation that happens when a caterpillar becomes a butterfly. The word is metamorphosis. And the Holy Spirit uses this same word to describe God's intention and command for every one of His spiritual children.
God's goal for the Christian's life is that we would be transformed into His image. This is normal Christianity!
Yet quite often our efforts for change – both physically and spiritually – don't work. Statistics show that most people who lose a lot of weight in a short amount of time, end up gaining it all back, and those who get in shape, get back out of shape – quickly. People who abstain from drugs eventually have relapses. And those who come to know Jesus Christ as their personal Savior rarely live like Christians.
We may sincerely want to change, but we're rarely successful. Many of us at some point in our lives have wondered: "Is it really possible to have lasting life change?"
The answer is, "Yes!" God has given us everything we need to be completely transformed. The Bible teaches and God promises that when a person is born of the Spirit and lives in vital union with Christ that He will radically change us from the inside out. This is a process and a journey. Yet most of us don't understand the process and we don't have the tools for the journey.
Ephesians 4 is about how real life change really works and how we can experience it. In it, the Apostle Paul urges believers to "live a life worthy of the calling you have received." (v. 1)
Most of us don't know what our calling is – we haven't truly grasped the amazing truth and reality that we're filled with the Holy Spirit, we've been chosen, we're deeply loved, accepted, and forgiven by God, and we have a purpose.
In light of all that we've been given as co-heirs with Christ, we are to let Jesus have full freedom to live His life through us.
So often we think the best way to live the Christian life is by doing good activities and trying hard to be good. It's always about do, do, do. We focus only on reading our Bible, praying, and attending church, etc. Although all of these things are beneficial, simply doing them is not enough to truly change us.
Real change is not about duty and activity – it's about other-centered relationships, which can only happen in authentic community. Places of community are our families and our small groups. But we have to be willing to be authentic – to show up and bring our true selves. Only then can radical transformation occur.
This week we're beginning the series, Transformed: The Miracle of Life Change. In it, we're going to unpack what it looks like to live out of the place of relationship rather than religion. We'll learn how to break out of destructive sinful patterns so that we can become the people we've always longed to be. It's my prayer that through this series we'll move from experiencing the frustration of failure to the freedom we have in Christ.
Keep Pressin' Ahead,
Chip Ingram, Teaching Pastor
Living on the Edge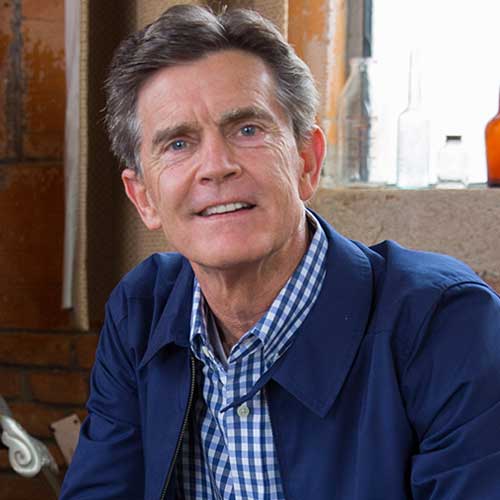 Written By
Chip Ingram
Founder & Teaching Pastor, Living on the Edge
Chip Ingram is the CEO and teaching pastor of Living on the Edge, an international teaching and discipleship ministry. A pastor for over thirty years, Chip has a unique ability to communicate truth and challenge people to live out their faith. He is the author of many books, including The Real God, Culture Shock and The Real Heaven. Chip and his wife, Theresa, have four grown children and twelve grandchildren and live in California.
More Articles by Chip