There are times in our life when we get to the point that we say, "I can't take it any more. I quit! I've had it!"
Maybe you or someone you know is at this point. Perhaps they've been diagnosed with terminal cancer, or you just discovered your mate is having an affair, or you're going through a painful and bitter divorce.
In times like these, our mind tells us things like, "You've got to trust God." But deep down in our heart we're saying, "Yeah, I've heard all that, but it's not working for me."
We might be "going through the motions" and appear okay to everyone else, but on the inside we're giving up and drifting further away from God. Sound familiar?
In the early church, Christians were suffering horrible persecution. At some point, they, too, wanted to give up and stop trusting God. So the Spirit of God spoke to the writer of Hebrews to encourage them and give them perspective in the midst of their suffering. We can apply the same truth to our lives today, no matter what we're going through.
Here's what he told them: "Think back on those early days when you first learned about Christ. Remember how you remained faithful even though it meant terrible suffering." (Hebrews 10:32 NLT)
So do not throw away this confident trust in the Lord. Remember the great reward it brings you! Patient endurance is what you need now, so that you will continue to do God's will. Then you will receive all that he has promised." (v. 35-36 NLT)
Most people miss the greatest thing in the entire world because they quit inwardly. They don't realize that God has a great plan and a great reward for them in this life and the one in the future. That's why we have to keep pressing ahead, no matter what.
We can have "patient endurance" even when going through the most difficult season in our lives. But to do this, we must get a basic understanding of adversity.
Here are three things to know about adversity:
First, people who are righteous and walking closely with the Lord still experience adversity in this world. No one is exempt. But the good news is the Lord promises to deliver us as His children out of and through our afflictions when we believe and trust in Him. The righteous person may have many troubles, but the Lord delivers him from them all. (Psalm 34:19)
Second, God wants to transform your life through adversity. Why? It produces character. There will always be difficult things that we must overcome in every season, and God wants to use every single one of them to develop your character. The Apostle Paul, a man who knew suffering, wrote about this in his letter to the Christians in Rome.
"We also glory in our sufferings, because we know that suffering produces perseverance; perseverance, character; and character, hope. And hope does not put us to shame, because God's love has been poured out into our hearts through the Holy Spirit, who has been given to us. (Romans 5:3-5)
When we keep pressing ahead, that's when the love of God keeps getting poured into our hearts. People who have suffered much and didn't give up, either outwardly or inwardly, have certain richness and strength about them.
As we endure, God changes us. We become more loving, kind, patient — more like Christ. And that should give us hope. We don't have to try hard to be Christians! Our transformation is the work of the Holy Spirit, who molds and shapes us through our trials.
Third, we can take heart and remember that our sufferings and trials are temporary.
"And the God of all grace, who called you to his eternal glory in Christ, after you have suffered a little while, will himself restore you and make you strong, firm and steadfast." (1 Peter 5:10)
The things that are seen are temporal. And at some point we need to believe that now isn't all there is and there's a far bigger, eternal picture. God wants us to live in the now, in light of the forever.
This week, we're beginning the series, Keep Pressing Ahead: How to Make It Through Anything. In it, we're going to build a biblical framework that will teach us how to think about adversity and pain. Join us during the next few weeks as we follow the path of Nehemiah and learn how he responds to adversity and refuses to give up. My prayer is that we'll become Christians who keep pressing ahead no matter what.
Keep Pressin' Ahead,
Chip Ingram, Teaching Pastor
Living on the Edge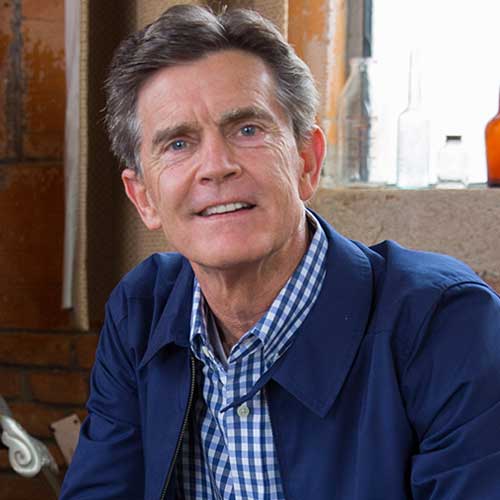 Written By
Chip Ingram
Founder & Teaching Pastor, Living on the Edge
Chip Ingram is the CEO and teaching pastor of Living on the Edge, an international teaching and discipleship ministry. A pastor for over thirty years, Chip has a unique ability to communicate truth and challenge people to live out their faith. He is the author of many books, including The Real God, Culture Shock and The Real Heaven. Chip and his wife, Theresa, have four grown children and twelve grandchildren and live in California.
More Articles by Chip