If you're a father, have you ever awakened in the middle of the night with a knot in your stomach and the horrifying thought that comes to your mind is:Are my kids what they really need from me as their dad?
This happened to me 20 years ago. I found myself sitting alone in my dark living room facing the painful reality that my kids needed more from me than I was able to give them.
It was one of those moments when I came out of the denial long enough to realize that my relationships with my kids and wife were fragmenting. At the time, I was working full time, going to seminary full time, and was moving way too fast to pay attention to my kids' changing needs.
That experience started me on a journey of trying to figure out how I was supposed to become the dad my kids needed me to be.
One thing I discovered is that as fathers, we're to be "lovers" of our children.Dads, we don't often think of ourselves as lovers, do we? More traditionally, we see our role as disciplinarian or provider. But the Bible also paints a picture for fathers as being lovers of their children. (Malachi 4:5-6)
So, what does a lover do? A lover gives others what they need the most. That's what God does with us. As the lover of our souls, He gives us as His children what we need the most even if it comes at a great sacrifice.
Similarly, as dads, whether it's giving a tender hug or discipline, we're to love our kids by sacrificially giving our lives to them, like Christ has done for us.
A dad who is a lover of his home frequently asks the following questions:
How are my kids really doing?
We can't just look at our kids' outward appearance. We need to also pay attention to their inward condition. How's their mood? How are they doing emotionally?
Do my kids sense my loving approval and acceptance?
As dads, our job is to bless our children by communicating our love through our words, our touch, and how we live our lives. We need to let our kids know that we accept them and are for them.
Am I connecting with my kids on a deep level?
As your kids get older, they might not like it if you begin probing into their lives. But it's your job to be connected to your kids. This means asking them tough questions, spending quality time with them, and not giving up even if they might hate your guts for a while. They will eventually notice your efforts to connect with them.
What if all of this is new to us?
Doing these things might not come naturally to many of us, especially if we didn't have a father who treated us in this way when we were growing up. This was true in my case too.
But, here's the good news! Being a great dad can be learned.
Here are four easy steps we can take to become the fathers our kids need us to be:
1. Begin with your thinking.Practice thinking the way God thinks about being a father, instead of the way you were raised.
2. Get support.Don't do it on your own. Get into a growth group and find some people who can pray with you. Find three or four guys who have similar struggles and get together regularly to share your experiences.
3. Realize that being a great father requires supernatural grace.You need the Holy Spirit to help you. You can't do this apart from the supernatural grace of God.
4. Ponder the future.This might sound bizarre, but I often picture myself as an old man in my late 70s or 80s celebrating my birthday. The question I ask is: "Will I be able to look back and say the real legacy of my life was raising kids who walked with God?"
It won't matter how much money I have or what car I drive. But what will matter most to me is whether or not my kids will be there, and if they want to be there.
Being great father is hard and it takes a lot of courage. But by the love and grace of God, we can learn how to become the fathers He wants us to be.
For more information on the role of the father, listen to Chip Ingram's audio series,Portrait of a Father. Other parenting resources are also available here.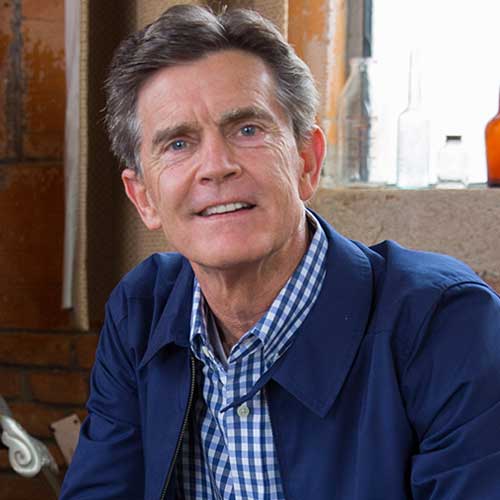 Written By
Chip Ingram
Founder & Teaching Pastor, Living on the Edge
Chip Ingram is the CEO and teaching pastor of Living on the Edge, an international teaching and discipleship ministry. A pastor for over thirty years, Chip has a unique ability to communicate truth and challenge people to live out their faith. He is the author of many books, including The Real God, Culture Shock and The Real Heaven. Chip and his wife, Theresa, have four grown children and twelve grandchildren and live in California.
More Articles by Chip