Methods for building the muscles of spiritual maturity
______________
Practice these 5 power faith-building exercises to build the muscles of maturity and transformation.
Exercise #1: Speak the truth in love. 
Exercise #2: Be angry, and yet do not sin. 
Exercise #4: Say only what helps.
Exercise #5: Be kind to one another.
It's never too late to start "working out."
______________
When my son was a pre-teen, he had become very adept at lying. He was a skilled deceiver, to the point of believing his own stories! He'd memorized Scripture and desired to change, and yet it continued to pop up in his life. 
One night, as he and I sat in his bedroom feeling frustrated and defeated over his lack of progress in this area, I sensed that God had given me an answer. I can't wait to share it with you here. 
Practice these 5 power faith-building exercises to build the muscles of maturity and transformation.
Desire, effort and "trying harder" will not be enough to resist when we're up against our biggest challenges. Like an attempt to press a too-heavy weight, we can't successfully lift more than our muscles have been trained to handle (yet!). 
Thankfully, we have everything we need to live a Christlike life. Christ lives within us by His Holy Spirit and has given us His Word, His promises, and His people. 
In order for our beliefs and behavior to align more as we grow to maturity, we must go into intentional spiritual training to grow our spiritual muscles.
Exercise #1: Speak the truth in love. 
Many Christians have developed seemingly harmless patterns of dishonesty that become the roots of denial, rationalization, compromise, and self-delusion. Undergoing training in this area involves the elimination of "white" lies, exaggerations, and partial truths. 
One of the greatest helps for me has been practicing confession. When I find that I've over exaggerated or misrepresented myself, I stop and confess and the receiver for forgiveness. 
The practice of confession has been my training apparatus to build muscles of honesty. 
Exercise #2: Be angry, and yet do not sin. 
Since God expresses anger, we know it's not inherently evil. But what we do with our anger can be. Most families have developed the habit of either attacking or not saying anything. Neither approach works. 
I'll never forget the first time my wife used an "I feel" message. I'd come home late after not calling to notify her, which was not the first occurrence of its kind. But this time, when she quietly explained how it made her feel, I could set aside my defenses and hear her. 
"I feel" messages have been my training apparatus to build muscles of emotional control. 
Do you wonder about purpose and calling? Read my recent article What's Your Unique Purpose In God's Big Story?
Exercise #3: Steal no longer.
The shortcut mentality to work, as well as the work-yourself-to-death mentality, are both enemies to our transformation.
In Ephesians chapter 4, Paul tells us to go into training in the area of diligence. To develop this skill, he implores us to not take shortcuts — at work, at home, in life. Instead, we can create sacred moments when we treat every moment of every day as an opportunity to turn the daily grind of work into personal worship. Isn't that the kind of Christian you want to become? 
Creating a to-be list has been my training apparatus to build muscles of stewardship.
Exercise #4: Say only what helps.
Words carry the power of life and death.
If you really want to take your spiritual temperature, don't look at your religious activities, your giving, or your morals. Listen to your words. According to Jesus, that's the clearest indication of where your heart is.
One of the best ways we can train ourselves in positive speech is to learn to practice silence and solitude. Sometimes we just need to talk less (that goes for our fingertips, too).
The practice of silence and solitude has been my training apparatus to build muscles of positive speech. 
Do you need help identifying which areas of your spiritual life need to develop more endurance and muscle? Take our short quiz and learn your areas of strength and struggle. 
Exercise #5: Be kind to one another, compassionate, forgiving each other, just as God in Christ also has forgiven you.
As believers we treat people as we would like to be treated ourselves and love them with gut-level compassion. While the world returns offense for offense and hurt for hurt, we break the cycle by treating people as Jesus would treat them.
I want God to forgive me when I'm the offender rather than the offended, so I need to forgive as I want to be forgiven.
The key to building this muscle has been following the principle found in Matthew:
"Therefore, if you are offering your gift at the altar and there remember that your brother or sister has something against you, leave your gift there in front of the altar. First go and be reconciled to them; then come and offer your gift." Matthew 5:23-24
Following the principle of putting my worship on hold until I seek reconciliation has been my training apparatus to build the muscle of forgiveness. 
NEVER TOO LATE TO START "WORKING OUT" 
The power to change is in us from the first day of our relationship with Jesus to our last day on earth. It's available in full as soon as we believe in Him and begin our walk with Him, but learning to rely on that power and following God's training program can be a long process. 
No matter how many times you've started and stopped, no matter how long your frustrations have lasted, you are not too late. 
Make it a priority to practice these faith-building exercises and notice the transformation taking place in your heart and in your life. 
The miracle of life-change is waiting for you.
Find more power faith-building exercises and the corresponding verses for each training method when you watch my Daily Discipleship Course on YouTube. Find other helpful resources on our website, including my book, Yes! You Really Can Change.  
RELATED ARTICLES
RELATED RESOURCES
Yes! You Really Can Change book
Spend 10 minutes a day in Daily Discipleship with Chip. 
Get Started with the Daily Discipleship Course on YouTube, Yes! You Really Can Change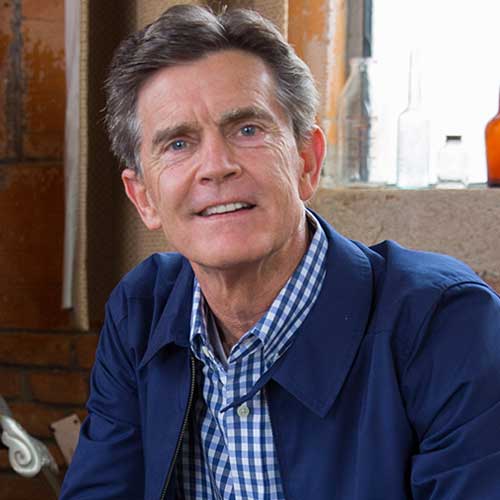 Written By
Chip Ingram
Founder & Teaching Pastor, Living on the Edge
Chip Ingram is the CEO and teaching pastor of Living on the Edge, an international teaching and discipleship ministry. A pastor for over thirty years, Chip has a unique ability to communicate truth and challenge people to live out their faith. He is the author of many books, including The Real God, Culture Shock and The Real Heaven. Chip and his wife, Theresa, have four grown children and twelve grandchildren and live in California.
More Articles by Chip