Let your new identity in Christ impact your daily life
______________
Why aren't Christians living like Christians?
5 Reliable Methods For Putting On Your New Self — Even Before It Fits
______________
Most of us long to be transformed and changed for the better, but we find it incredibly difficult. It's hard to begin the process, and even harder to maintain the change. 
Look at the multibillion-dollar self-help industry. We are bombarded by stories of improvement, and yet statistically, the change is often temporary: the recovered addict relapses, the weight-challenged individual gains back the pounds shed, and — sadly — the people who come to know Jesus live just like everyone else.  
As believers, why didn't the change "stick?" Why aren't Christians living like Christians?
While we have justification through the saving grace of Jesus, the piece we're often missing is sanctification, which is the theological word for living your new life in God's power and growing progressively in Christ-likeness. 
What gives? Why aren't more of us having that kind of Christian experience? 
Is sanctification and the maturity that comes with it only for pastors and missionaries? The Bible teaches that God's will is for us all to be transformed.
In Ephesians chapters 1-3 Paul reminds us that our new self has already been born — we've been adopted and chosen and part of the family; we've been sealed with the spirit and we are in Christ. In a picture, it's as if he's describing our legs, and in the following chapter, he teaches us how to use them. In the following prayer, Paul describes what that new self should look like:
"Be completely humble and gentle; be patient, bearing with one another in love. Make every effort to keep the unity of the Spirit through the bond of peace." Ephesians 4:2-3
We don't wait for these fruits to appear. Knowing we're already "new" whether or not we look like it, we build a foundation on these fruits to experience transformation. 
Following this prayer as our guide, here are the 5 reliable methods for putting on your new self — even before it fits. 
1. Put On Humility.
Humility is often described as not thinking less of yourself, but thinking of yourself less. I like how Paul explains it in Romans 12:3: 
"Do not think of yourself more highly than you ought, but rather think of yourself with sober judgment, in accordance with the faith God has distributed to each of you."
Put on humility. Where pride inhibits genuine fellowship and growth, humility invites refinement and transformation. 
2. Put On Gentleness.
Only hours after Jesus washed His disciples' feet, He willingly allowed Himself to be arrested. When the chief priests brought charges against Him, He gave no answer to defend Himself.
Jesus did not remain silent in front of His accusers out of weakness. He stood silent because He was gentle. He was strong, with nothing to prove and no one to impress. 
May we resist doing our own PR and rest in our position in the Kingdom as sons and daughters of the King. 
3. Put On Patience.
Patience is the ability to remain steadfast in the midst of suffering. The Greek word for patience is makrothymia — literally, a lot of heat. It means you have a long fuse before you get angry.
As believers learning to walk a Jesus lifestyle, our patience is rooted in our realization that we don't need others' approval and have nothing to prove.
God loves us, defends us, vindicates us, and proves our value in His timing.
4. Bear One Another.
Bearing with one another literally means to put up with each other — quirks, failures, idiosyncrasies, annoying habits, and all. 
We are called to put up with each other, to bear one another's burdens in love. Why? Because that's what Christ does for us. He went to the cross not because He loved everything about us but because He loved us—"while we were still sinners" (Romans 5:8). 
If we understand who we are in Christ and let Him live His life through us, we will put up with a lot. 
5. Make Every Effort.
As we learn to put on our new self, what are we to "make every effort" to do, specifically? We are "to keep the unity of the Spirit through the bond of peace." 
We don't strive to achieve unity. The body of Christ is already united in one Spirit, whether we act like it or not. We are called to maintain that unity — the fellowship of believers, the relationships we have with God and with each other. 
We act out our unity by treating one another the way God treats each of us.
Want to learn more methods for transformation? Discover 5 Power Faith-Building Exercises That Work Every Time
WE ALREADY HAVE NEW LIFE
Does it sound daunting to practice these attributes? It should! We need His strength. 
We don't transform ourselves, and He doesn't do it for us without our partnership. We participate in the process He has empowered and laid out before us.
Letting Jesus live through us does not mean we need to pray for more of Him. We already have Him. His Spirit dwells within us. It's not about getting more of Him but about Him getting more of us.
We strip away remnants of the old nature in order for His Spirit and our new identity to show through. 
Remember, we already have new life. Now we're just living like it. 
All of this is possible because Jesus lives in you, and all of His spiritual blessings, power, love, wisdom, inheritance, and character traits are already available to you. You'll need to learn to walk in them, but you don't have to acquire them. You live in what you've been given. 
The core of the Christian life is letting your relationship with Christ manifest inwardly and outwardly in all its fullness. 
Start by trying on these methods of putting on your new self.
Let the identity God has given you play out in your daily life. 
Learn practical methods for putting on your new self when you watch my Daily Discipleship Course on YouTube. Find other helpful resources on our website, including my book, Yes! You Really Can Change.  
RELATED ARTICLES
RELATED RESOURCES
Yes! You Really Can Change book
Spend 10 minutes a day in Daily Discipleship with Chip. 
Get Started with the Daily Discipleship Course on YouTube, Yes! You Really Can Change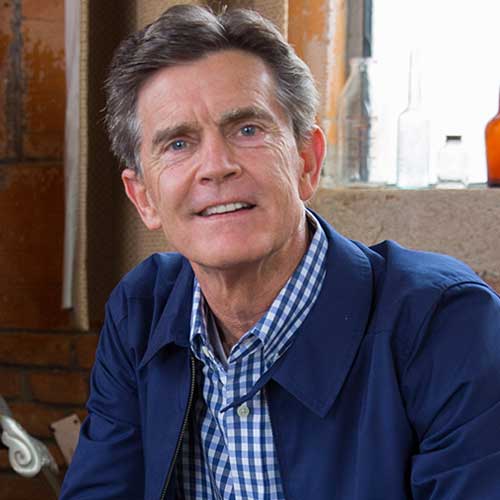 Written By
Chip Ingram
Founder & Teaching Pastor, Living on the Edge
Chip Ingram is the CEO and teaching pastor of Living on the Edge, an international teaching and discipleship ministry. A pastor for over thirty years, Chip has a unique ability to communicate truth and challenge people to live out their faith. He is the author of many books, including The Real God, Culture Shock and The Real Heaven. Chip and his wife, Theresa, have four grown children and twelve grandchildren and live in California.
More Articles by Chip