Taking lessons from Colossians 3, Chip Ingram uncovers how we can cultivate spiritual intimacy and enjoy a thriving marriage relationship. 
Current Series
Discover the Real Jesus of the Bible
Knowing the real Jesus is the most important relationship you will ever have.
Free MP3
Listen Now
Many couples find it difficult to develop intimacy. Not just physical and emotional intimacy, but something even more foundational to the marriage: spiritual intimacy — an experience of moving closer to God as you grow closer to one another. 
In this article, I reveal 4 ways to cultivate spiritual intimacy in marriage for a thriving relationship. If you want to jump to the 4 points, use the links below.
3. Believe that Christ's role in your marriage is key.
4. Believe that God uses marriage to refine us. 
As married couples, a lot of us are exhausted and out of ideas to create spiritual intimacy in our relationship. It might feel too vulnerable to seek God together, or you might be in a season where you aren't interested in any kind of intimacy. Also, many of us have gotten to the point where we've resigned ourselves to going through the motions. 
It's easier that way. Things are fine. And fine is okay, right?
But that's now how God designed marriage!
He is a sovereign Creator and He created marriage to be the picture of Jesus and His bride. Is that how you'd describe your union? Are you thriving? Or could you improve in this area?
WHY SPIRITUAL INTIMACY IS HARD
The underlying difficulty behind loving anyone is reconciling how you see yourself and how you feel God sees you. Because if you don't understand and accept that you are truly loved as you are — not for how you seem, not for how you perform, not for what you have done, not for what you have accomplished — you will strive to validate yourself in every connection.
You can't give away something you don't have. People who have successful marriages do not strive to persuade their partners to make their lives work. They understand:
I am already chosen, I am holy, I am deeply, unconditionally loved. And out of that, out of His love for me, I love my mate.
It is possible to believe that truth and for it to impact your relationship. I've seen it and I've lived it! 
Below, we'll uncover the lessons that can get you there, all from Colossians 3. Building this foundation will inject incredible freedom and grace into your marriage relationship. 
A major source of marital problems is not grasping God's love for YOU. If you don't understand and accept that you are truly loved as you are, you will strive to validate yourself in every connection.
Click To Tweet
SEASONS OF MARRIAGE
Different seasons of life bring new challenges to the marriage relationship. Of course, sometimes it's simply harder to keep love alive than others. 
Are you tired of trying to find new ways to help your partner be a better person?

Are you out of ideas for getting her more interested in physical intimacy?

Do you feel exhausted considering ways to improve communication?
Just because you're in a hard season does not mean there's something wrong with you, your spouse, or your marriage. Relationships are hard, and yet we exist in a world that says it should be easy and fun and make us happy all the time. Thankfully, God uses these seasons to strengthen us, our relationships, and our intimacy with Him. 
To be honest, in my decades in ministry and counseling couples, many — if not most — struggling couples have lost spiritual intimacy, which is the path that moves you up towards God and in towards each other. 
Thankfully, the Author of marriage gave us the manual on how to make that destination a reality. 
4 Ways To Cultivate Spiritual Intimacy In Marriage
There are valuable lessons to be learned about building spiritual intimacy in marriage from Colossians 3:12-17:
Therefore, as God's chosen people, holy and dearly loved, clothe yourselves with compassion, kindness, humility, gentleness and patience. Bear with each other and forgive one another if any of you has a grievance against someone. Forgive as the Lord forgave you. And over all these virtues put on love, which binds them all together in perfect unity.

Let the peace of Christ rule in your hearts, since as members of one body you were called to peace. And be thankful. Let the message of Christ dwell among you richly as you teach and admonish one another with all wisdom through psalms, hymns, and songs from the Spirit, singing to God with gratitude in your hearts. And whatever you do, whether in word or deed, do it all in the name of the Lord Jesus, giving thanks to God the Father through him.
This is a beautiful picture of a spiritually intimate relationship. 
I want you to thrive in your marriage, and I believe God has given us exactly what we need to make that happen. Here are the four ways. 
1. Believe Whose you are. 
You're His. You can't get Him to love you more. 
In this very moment, there is nothing you could ever do to get God to love you more than He loves you right now. And it gets even more amazing. There is absolutely nothing you could do that could get Him to love you less.
Yes, you could make some choices that could cause some uncomfortable consequences. That's the loving thing for Him to allow. But He doesn't love you any more when you read the Bible, pray, or do good things. 
Of course, these things are good, but they don't impact His love for you. On the same note, He's not shocked when you sin, or fall back into a sin pattern.
Do you understand that He loves you? He chose you. He's for you. He delights in you. 
The LORD your God is with you, the Mighty Warrior who saves. He will take great delight in you; in his love he will no longer rebuke you, but will rejoice over you with singing. (Zephaniah 3:17)
Identity struggles? 10 Powerful Bible Verses That Reveal Your True Identity In Christ
2. Believe that you are holy. 
It's a very humbling concept, but as a believer, God looks at you through the lens of the blood of His Son. 
You are precious.
You are loved.
You are forgiven and clean.
Grasping that truth is the first step toward embracing the triangle that is marriage: you, your spouse, and God. 
Experiencing this forgiveness should humble us in our marriage! 
Here's an illustration:
I didn't grow up as a Christian and I did lots of things that were not good. But as a believer, when I messed up, I found that I didn't want to talk to God and seek forgiveness. I thought I was going to get the hammer. 

How much of that seeped into my marriage relationship and my hesitancy to seek forgiveness? As many of you know, stubbornness can become the ultimate standoff! 
But knowing I am precious and seen as holy gives me the strength to say:
I'm going to choose to be the one that says I'm sorry even though I think it was eighty percent her fault and twenty percent mine. I don't want to, but I know it's nothing compared to how You've forgiven me. 
And, in case you've forgotten, this also means that He sees your spouse as holy. Are you treating him or her as holy and precious?
Seek forgiveness: 3 Healing Steps To Forgive Those Who Have Hurt and Betrayed You
3. Believe that Christ's role in your marriage is key. 
The major point of marriage is not happiness or fulfillment, though we should celebrate those moments! Marriage is a metaphor of the relationship between Jesus and the Church. 
Your marriage

Your love

Your forgiveness

Your fortitude

Your cherishing

Your respecting 
These things are a picture of Christ and His bride. And the loudest, clearest, greatest picture the world will ever see of Christians is this: marriages where the spouses love one another. 
I'm sure a lot of us would prefer an easier picture to paint, but He uses marriage because He is good, He loves us, and His goal is to make us more like His Son.
Your marriage, your love, your forgiveness, your working through problems, your caring and loving and cherishing and respecting each other is to be the picture of Jesus and His bride. Click To Tweet 
4. Believe that God uses marriage to refine us. 
His agenda is not to make us happy. He doesn't work all things together for your good, to those that are called, to those that love Him, so that we'll be self-fulfilled and happy. 
For those God foreknew he also predestined to be conformed to the image of his Son… (Romans 8:29)
Imagine sandpaper against sandpaper. This is a picture of marriage, and the beautiful plan of God to refine us and make us more patient, kind, humble, loving, and compassionate as a result of simply "doing life" with another person. 
We pray for patience, but then we miss the chance to work it out in our lives. Look around: there are plenty of opportunities to develop the fruit needed to strengthen every relationship in our lives, including marriage. 
Be fruitful: What Exactly Does Bible Say About Not Bearing Fruit?
3 TANGIBLE WAYS TO BUILD SPIRITUAL INTIMACY
Finally, I'd like to suggest a couple of tangible ways to build spiritual intimacy in your everyday life. 
Pray together

. It might be silently praying while you hold hands, or talking to God together out loud. There are many "right" ways to pray together, but the idea is to make time for this discipline as a couple. 

Worship together

. Listen to teachings together and discuss what God was saying to you. 

Share what you're learning

. Talk about what God is teaching you in your personal study, or read the Bible together and discuss the application for your life. 
The loudest, clearest, greatest picture the world will ever see of Christians is this: marriages where the spouses love one another.
Click To Tweet
Hard times in marriage are a guarantee, and it's my hope that you'll learn these skills that will build your spiritual intimacy so you're ready for the next challenge. It's a sweet moment to celebrate having survived the hardest times.
When things were the most difficult, those were the windows of opportunity for God to gain my attention. And instead of merely having a good marriage, getting along, or being compatible, some truly supernatural, deep things occurred, and spiritual intimacy was cultivated. I want that for you, too.
Listen to Chip's sermon series,
Keeping Love Alive,
on YouTube
and gain more marital insight like resolving conflict, communicating effectively, and managing finances together.
RECOMMENDED ARTICLES
What Exactly Does Bible Say About Not Bearing Fruit?
10 Powerful Bible Verses That Reveal Your True Identity In Christ
RELATED RESOURCES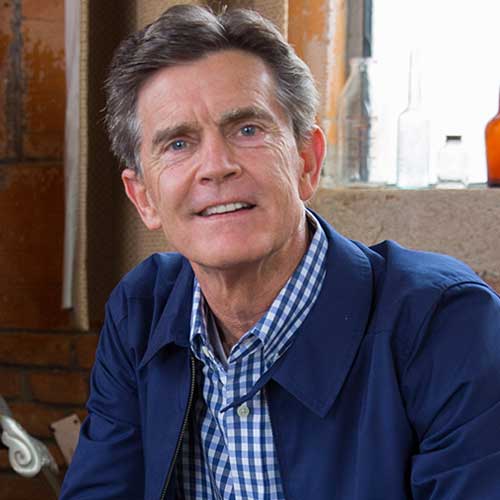 Written By
Chip Ingram
Founder & Teaching Pastor, Living on the Edge
Chip Ingram is the CEO and teaching pastor of Living on the Edge, an international teaching and discipleship ministry. A pastor for over thirty years, Chip has a unique ability to communicate truth and challenge people to live out their faith. He is the author of many books, including The Real God, Culture Shock and The Real Heaven. Chip and his wife, Theresa, have four grown children and twelve grandchildren and live in California.
More Articles by Chip