Many people who win at a lot of sports naturally have a lot of trophies, which they proudly display on the fireplace mantles in their homes. These trophies represent to the world the athletes they are and what they've accomplished.
As a child of God, you're a trophy of God's grace, a representative of His great hope and love. You're up there on God's great, big mantel of heaven. And as a trophy of God's grace, God wants you to tell your story of how you came to know Christ so other people can get to know Him.
Why is your story so important? Your story is His story. It's a story about His supernatural love, the change it brings and what it does in the human heart. Most of all, your story is powerful. It's the simplest and most effective way that you'll be able to share His love for people in your life that you care about the most.
Revelation 12:11 talks about Christians in a future time when we're in a battle against Satan himself. It says that we will overcome Satan by the blood of the lamb and by the word of our testimony.
This means that our testimonies – our stories – are powerful and will eventually help us defeat the enemy and win the hearts of others for Christ. Our stories are key to people truly knowing and experiencing God's love.
Yet many of us as Christians don't know how to share our stories in a simple, clear way. So what about you – have you ever shared your story of how you came to know Christ? Perhaps you've been a Christian your whole life and you've never shared your story with anyone. Or perhaps you've shared it, but you didn't do it in a very loving way.
If you can relate, I'd like to encourage you to take some time today (about 30-40 minutes) to write out or make an outline of your own story. Once you do, I'm confident that God will provide you with the people who will ask you questions that will lead to you telling your story.
So are you ready? Are you willing to lovingly share your story with people as God leads? If you are, here are a few questions to help you get started.
First, think about what your life was like — both externally and internally — before you knew Christ. Externally, were you an adult or a child? If you were an adult, were you single or married, were you working, going to school, etc.? If you were a child, where did you grow up?
Internally, what was going on inside of you? What were your fears or struggles at the time? And when did you realize your need for forgiveness, love and hope?
Then, how did you personally come to know Christ? In other words, who or what caused you to consider Christ as a solution to your need? Most people have some sort of exposure to God's word through a person, a church, etc.
What was your tipping point? What set of circumstances affected you to the point where you decided to consider Christ? For some of us it's a tragedy, a time where someone walked out on us, or we really hit bottom. In contrast, I've met people who became very successful and met all of their goals, only to realize that their life wasn't all that meaningful.
Finally, how did your life change after trusting Christ? Be honest. You don't have to exaggerate. Just tell your story honestly and candidly. It's also okay to be honest about the areas in which you still struggle. God didn't save us and then make our lives perfect; He came to give us hope in the midst of real difficulty. This is the hope that others need to hear about.
This week, we're beginning the series Share the Love. In it we'll discover why we're called to live a lifestyle that is the ultimate reflection of God's love and what it really means to "share the love" with the people in our lives. We'll also examine the common barriers that stop us from confidently talking about our faith. My prayer is that during this series, we'll gain a deeper understanding of how to confidently share God's love in comfortable and compelling ways.
Keep Pressin' Ahead,
Chip Ingram, Teaching Pastor
Living on the Edge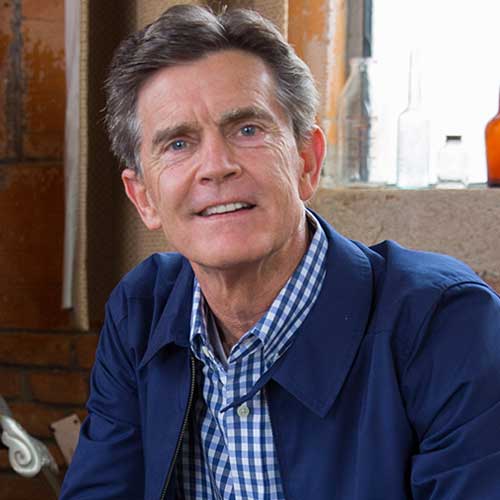 Written By
Chip Ingram
Founder & Teaching Pastor, Living on the Edge
Chip Ingram is the CEO and teaching pastor of Living on the Edge, an international teaching and discipleship ministry. A pastor for over thirty years, Chip has a unique ability to communicate truth and challenge people to live out their faith. He is the author of many books, including The Real God, Culture Shock and The Real Heaven. Chip and his wife, Theresa, have four grown children and twelve grandchildren and live in California.
More Articles by Chip