Do you struggle with doubt in an area of your life? Maybe you doubt your financial future or the future of our country. Or maybe you're struggling in your marriage or with a child and you really doubt that God is going to come through for you. Or perhaps you're struggling in an area of sin or temptation and, deep down, you're not sure God's going to give you what you need to overcome it.
Sound familiar?
You might be relieved to know that everyone – regardless of how godly they are, or how well they know God – has times of doubt. There is no shame in this. In fact, some of the strongest disciples of Jesus struggled with doubts.
So the question isn't whether we have doubts, but how do we deal with doubt?
What I've discovered over the years is that when feelings of doubt overwhelm us, the antidote is praise.
As a Christian, it took me a while to really understand this truth. When I first became a believer, I learned about the importance of sharing my needs with God in prayer and why it's good to intercede for others. But it wasn't until I was a Christian for about 10 years that I really began to understand the power of praise.
Before that, I didn't even know what praising God really looked like.
What I've come to realize is that praising God is not something that just happens when we feel like it or when God does something great and we respond. It's a choice to praise God. So when we feel low and overwhelmed, that is exactly the time when we should choose to praise God.
So how do we do it? The Psalmist teaches us how to in Psalm 145:
First, verbalize specific evidence of God's greatness. 
Praising begins with remembering and verbalizing the specific acts of God.
"Great is the LORD, and highly to be praised, And His greatness is unsearchable. One generation shall praise Your works to another, And shall declare Your mighty acts. On the glorious splendor of Your majesty and on Your wonderful works, I will meditate." (v. 3-5)
Praise means that we remember and think back on the mighty acts and deeds that God has done in our past. Not sure where to start? Get specific. I'd encourage you to list, verbalize and proclaim very specific things that God has done in the last seven days.
Second, focus on God's character and adore Him.
Although adoration is similar to thanking God for what he has done in our lives, adoring Him is different because it focuses on the "who" and not on the "what." We are to freely praise Him not just for what He's done for us, but for His character, which is gracious, compassionate, sovereign, faithful, and righteous.
The Lord is gracious and compassionate, slow to anger and rich in love. The Lord is good to all; he has compassion on all he has made. (v. 8-9) The Lord is trustworthy in all he promises and faithful in all he does. (v. 13)
As we praise God for who He is, our focus moves from the actions of God toward truly knowing Him for who He really is: a God who is loving, kind and faithful to all of His promises.
We can also praise Him and take comfort in knowing that God is in control. "And we know that in all things God works for the good of those who love him, who have been called according to his purpose." (Romans 8:28)
This means that nothing that enters our lives comes to us unless it is ordained by God or allowed by God. Even the evil nature that's happening in our world, God promises to use it for our good. Although this doesn't necessarily mean that everything will go great in our life, God promises to use our hardships in order that He may conform us to the image of His son.
So no matter what we're facing, if we begin to praise God for His goodness, kindness and faithfulness, we'll start to really believe that He is all of these things. Then our perception of Him becomes bigger and our problems, smaller.
This week, we're beginning the series, Facing the Future with Confidence: Finding Peace Amidst Uncertainty. In it, we'll explore what God's Word has to say about our future and our fears. Together, we'll discover how to face tomorrow with confidence and strength in the midst of such unstable and confusing times.
Keep Pressin' Ahead,
Chip Ingram,Teaching Pastor
Living on the Edge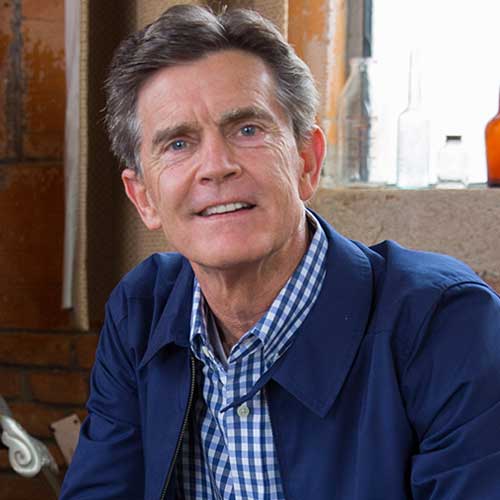 Written By
Chip Ingram
Founder & Teaching Pastor, Living on the Edge
Chip Ingram is the CEO and teaching pastor of Living on the Edge, an international teaching and discipleship ministry. A pastor for over thirty years, Chip has a unique ability to communicate truth and challenge people to live out their faith. He is the author of many books, including The Real God, Culture Shock and The Real Heaven. Chip and his wife, Theresa, have four grown children and twelve grandchildren and live in California.
More Articles by Chip