Take a moment to recall all the people in your life with whom you've recently interacted. It could be at a Bible study, at church, at home, or at work. Now, imagine what it would be like 10-15 years from now if those same people said that you were the one person that impacted their view of God the most.
What if it was your face that popped into their mind every time they thought about what it looks like to live like a Christian?
I can't think of a greater reward!
Our life has the potential to make such a profound and positive impact on the people around us.
This is why God calls each of us as Christians to be great encouragers.
You know all of those commands in the Bible about helping others? It's not a coincidence that they are written in the second person plural. That's because we need each other. Living the Christian life can't be done alone! We all need a word of encouragement, a word of admonishment, and comfort.
Giving encouragement isn't to be taken lightly. And it isn't just about giving other people ooey-gooey feelings either.
Encouragement is you being who God has made you to be so that others can be who He designed them to be.
Encouragement helps others take the "next step" they couldn't take on their own, allowing them to become more like Christ.
Knowing this, we should strive to become that kind of encourager to other people.
But how do we do this?
The key to building up and encouraging others is our attitude.
In 1 Thessalonians 5, the Apostle Paul gives us some brief commands and exhortation that all revolve around our attitude. At this point in his ministry, he has planted a church and it's going great even though they've had some opposition. Now, he shows them how they can be an encouragement to one another.
Here's what he says: Rejoice always, pray continually, give thanks in all circumstances; for this is God's will for you in Christ Jesus. (1 Thess 5:16-18)
1. Be joyful (rejoice) always.
How can we have an attitude of joyfulness all the time? Being joyful is a choice. We can choose to focus on our unchanging relationship with God – the one who loves us and isn't down on us — instead of our constantly changing circumstances.
We can also choose to focus on the unseen instead of the seen. The "unseen" in life is love, compassion, and character. Those are the things that areeternal.
2. Pray continuously.
Some of you may be thinking, "Chip, does this mean we're all supposed to quit out jobs and just pray 24 hours a day?" Of course not!
Paul's command is to pray regularly. In other words, our prayer life shouldn't just be confined to once a day or every week at church. God wants an ongoing moment-by-moment relationship with us.
He wants us to be talking with Him when our full attention isn't demanded elsewhere like at our job. He wants us to cultivate a heart and life where our thoughts and prayers are directed toward Him all throughout our day.
3. Give thanks in all circumstances.
This doesn't mean that we're to praise God for everything – even for things that are extremely painful in our lives. We don't need to disregard our anger, sadness, or our grief either.
Giving thanks in all circumstances means that at some point we take a step away from our circumstances and remember that God is good – all of the time– and He is sovereign. Anything that comes into our life He has either decreed or allowed.
So when we face the issues in life that don't make sense, we can pray in faith,"God, this is a fallen world, but I know you're good and I know that you are faithful, and as an act of worship and obedience I thank you that you're going to bring out the highest and best even if evil people caused the circumstances."
Christians who are awesome encouragers have an attitude that is shaped by alife characterized by joy, prayer, and thanksgiving. We can trust that God will help us to live this kind of life as we read His word and apply it to our lives, as we live in fellowship with other believers, and as we depend on Him.
May God himself, the God of peace, sanctify you through and through. May your whole spirit, soul and body be kept blameless at the coming of our Lord Jesus Christ. The one who calls you is faithful, and he will do it. (1 Thess. 5:23-24)
For additional information and resources related to this topic, browse our small group resources page or listen to our weekday radio program.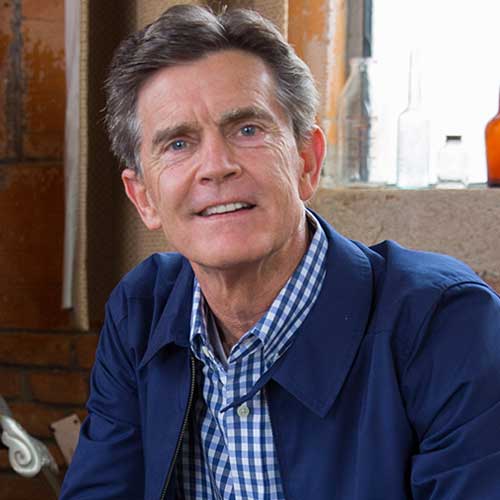 Written By
Chip Ingram
Founder & Teaching Pastor, Living on the Edge
Chip Ingram is the CEO and teaching pastor of Living on the Edge, an international teaching and discipleship ministry. A pastor for over thirty years, Chip has a unique ability to communicate truth and challenge people to live out their faith. He is the author of many books, including The Real God, Culture Shock and The Real Heaven. Chip and his wife, Theresa, have four grown children and twelve grandchildren and live in California.
More Articles by Chip