One of the most powerful and important gifts that you will pass on to those you love the most – your kids, your grandkids, those you disciple, and your fellow church members — is to help them manage their wealth wisely.
But have you ever wondered what that would look like specifically?
First, you need to get honest about how you're managing your own money.
Did you know that your money is the clearest barometer of your soul, more than anything else going on in your life? Imagine your wallet or your 401k, or your purse. Now imagine a chain connecting it to your heart, so that wherever your money goes your heart goes too.
Our money reveals our priorities, our values, and where our heart is.
That's why Jesus talked more about money than heaven and hell combined. Over and over again, he talked about the deceitfulness of riches. Why?
Apparently there is something about money. It's clear that money is not inherently evil. We see this depicted in Scripture, as there are both wealthy and poor people who honor God. But, according to Jesus, money also has the power to deceive us into thinking that we're doing okay in our hearts when we're really not. We don't always have an accurate view of how much money we have and how much we need.
So, how are you doing at managing your wealth?
This question is an important one to ask because you can't pass on what you don't have in you. You can't ask someone to do something if it's not true of you. And even if you never talk to your loved ones about money, if you're actually managing your money wisely, they will be watching and learning from you anyway.
Second, encourage your loved ones to commit to honor God with the first fruits of every paycheck to remind them that it's God's money and not their own.
Proverbs 3:9-10 says: "Honor the Lord with your first-fruits." In other words, give God the very first portion of your paycheck, and then the promise is: "Then your barns will be filled with plenty, and your vats will be overflowing."
The most generous being in the entire universe is God. He gave us His Son. So we should want to be winsomely generous and give Him our first fruits. But we should also know God's heart behind why we should be generous.
Giving is a tool given by God, not to take something from us, but to help us to remember that everything is His.
You see, God wants to bless us! He isn't trying to get our stuff. On the contrary! He loves us! He is for us! He knows that being generous will free us from the power of greed. (And all of us — in our sinful nature — are greedy people.)
God also knows that being generous is good for us. Statistically speaking, it's been proven that generous people live longer, are happier and have better relationships.
Finally, teach your loved ones to make time with God their number one priority so they know how to invest their time, talents, and money entrusted to them.
For over 25 years, I've gotten into a habit of meeting with God, getting out a journal, sharing my concerns, asking my biggest questions, reading His Word, asking Him for wisdom, and then sitting quietly to hear His answers.
Many times we ask people to solve stuff. But God wants to be the one to help us solve our problems and invest our treasure.
If we do these things well, then we can pass them on to those we love the most.
To learn more about how to leave a legacy that stands the test of time, check out Chip's audio series: Download: Passing on What Matters the Most.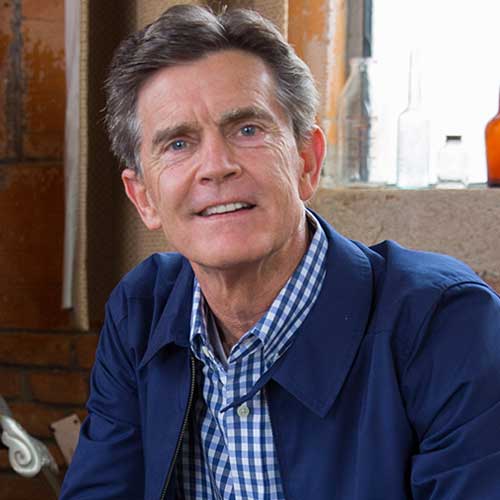 Written By
Chip Ingram
Founder & Teaching Pastor, Living on the Edge
Chip Ingram is the CEO and teaching pastor of Living on the Edge, an international teaching and discipleship ministry. A pastor for over thirty years, Chip has a unique ability to communicate truth and challenge people to live out their faith. He is the author of many books, including The Real God, Culture Shock and The Real Heaven. Chip and his wife, Theresa, have four grown children and twelve grandchildren and live in California.
More Articles by Chip