We live in a culture flooded with psychotherapy, counseling programs, treatment centers, psychiatric hospitals, antidepressant drugs, recovery support groups, and self-help books and videos and podcasts. Many of them are wonderful and life-saving.
But we also live in a country that's among the world's worst when it comes to lack of emotional health. There's a huge gap there, isn't there? Maybe you're in that gap – tired of your emotional pain and wondering how to get healed.
Let's be clear: I absolutely believe some people suffering from damaged emotions need to get professional help. Sometimes, though, we try to cope with the symptoms, and stop short of facing the sources of the pain. God goes straight to the heart of the problem with a prescription I'd like to offer you. You might be surprised at the simplicity.
"Is anyone among you in trouble? Let them pray"(James 5:13).
The word "troubled" here means afflicted, suffering, enduring hardship or distress. Anxious, stressed, discouraged. Have you ever felt that way? Of course. We all have.
In Psalm 13, David – the very powerful king of ancient Israel – shares with us his own prayer as a troubled man. It's an Rx for healing emotional pain: Remember the pain, recount God's character, resolve to trust Him.
Remember your pain:
"How long, Lord? Will you forget me forever? How long will you hide your face from me? How long must I wrestle with my thoughts and day after day have sorrow in my heart" (Psalm 13:1-2)?
You'll notice that David is honest and specific. Here is what's happened and how I feel. How long do I have to endure this, Lord? So what does that mean for us? You can be blunt with God! Pour out that pain and put it at His feet.
Recount God's character:
"I trust in your unfailing love; my heart rejoices in your salvation" (Psalm 13:5).
Then say, "Wait a minute. This is how I feel and what I have been through, but let me focus on who God is. He loves me infinitely and unconditionally. He sent His Son to die for me. He has given me His Holy Spirit, also called the Counselor, to live in my heart!"
Resolve to trust Him:
"I will sing the Lord's praise, for he has been good to me" (Psalm 13:6).
You have to make a decision. You may not feel like trusting Him. It's a choice, an act of the will! And that's what begins the healing process.
Sometimes I feel my emotions starting to go down and the blue funk creeping up. Not exactly depressed, but one person's bad attitude away from not having a very good day. What do I do? I recall Hebrews 13:15.
"Through Jesus, therefore, let us continually offer to God a sacrifice of praise—the fruit 
 of lips that openly profess his name."
It may well be a sacrifice! Stop and take a moment to actually list as many good things in your life as possible, and then thank the Lord for them. (Sometimes I even sing some praise songs –off by myself so I don't hurt anyone's ears!)
Again, I want to be clear that sometimes emotional scars need the attention of professionals. But don't forget, God created your emotions, your personality, your heart, and your life experiences. He can, and wants to, heal you today.
To find out more about God's healing power, check out the series: "Does God Still Heal?"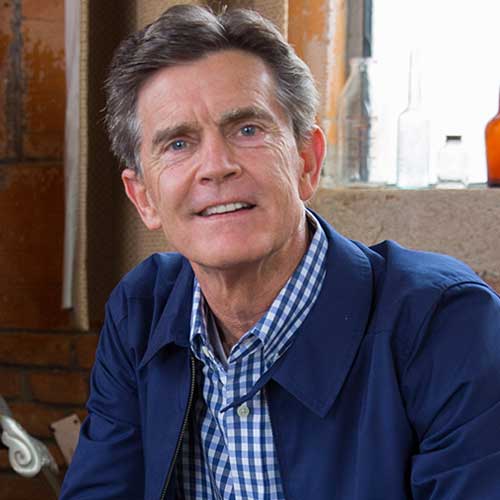 Written By
Chip Ingram
Founder & Teaching Pastor, Living on the Edge
Chip Ingram is the CEO and teaching pastor of Living on the Edge, an international teaching and discipleship ministry. A pastor for over thirty years, Chip has a unique ability to communicate truth and challenge people to live out their faith. He is the author of many books, including The Real God, Culture Shock and The Real Heaven. Chip and his wife, Theresa, have four grown children and twelve grandchildren and live in California.
More Articles by Chip