Today will be filled with final grocery store runs, road trips to family gatherings, and time to reconnect around the table. And hopefully in the midst of it all, there will be a time to pause and share what we're thankful for.
But the importance of giving thanks goes beyond Thanksgiving Day. Why is it so important?
Because God's Word commands us to give thanks, it's an opportunity for us to demonstrate obedience.
1 Thessalonians 5:16-18 says, "Rejoice always; pray without ceasing; in everything give thanks; for this is the will of God for you in Christ Jesus."
Thanksgiving should be a consistent aspect of our prayer life – not just when we feel like it but as a daily act of obedience. Regardless of our circumstances, we should be thankful and express that gratitude to God. This includes thanking Him for the good but also for the challenges.
This doesn't mean we have to pray, "God, I thank You that my wife has cancer."  It translates to something more like this prayer, "I thank You, God, that You are sovereign and know how this illness fits in Your plan. I thank You that also love my wife and are with both of us in the midst of this suffering."
My wife, Theresa, did have cancer, and it was one of the most difficult experiences we've ever faced. Yet it was still possible for us to say "thank you" in the midst of it because we chose to acknowledge our faith in an all-knowing, always good God.
Current Series
Discover the Real Jesus of the Bible
Knowing the real Jesus is the most important relationship you will ever have.
Free MP3
Listen Now
Thanksgiving is not just a way to honor God through our obedience.
Thanksgiving is also a powerful way to alter our perspective.
When we actively and proactively give thanks, it takes the focus off our problems and shifts it to God and who He is. When we set our hearts and minds on God and His character, we're reminded of what He has done and will continue to do in our lives.
I am reminded of Hebrews 13:15 which says, "Through Him then, let us continually offer up a sacrifice of praise to God, that is, the fruit of lips that give thanks to His name."
Take a minute to think about what you want the fruit of your lips to be.
In my life, I want my words to be the reflection of a heart that is grounded in gratitude. When I take the time to "continually offer up a sacrifice of praise to God," it always changes my perspective and gives me peace, especially when I'm feeling overwhelmed or facing a lot of pressure.
So in the midst of all the Thanksgiving festivities today, can I encourage you to make time for thankfulness in your prayers? Thank Him for who He is and for what He's done. God will be honored by your obedience, and you'll be blessed with greater perspective and peace.
We believe in the power of prayer and want to help you experience that power in your life. That's why we've created a FREE online discipleship course called "How to Experience God in Prayer." Sign up today and start your journey toward a more intimate relationship with God.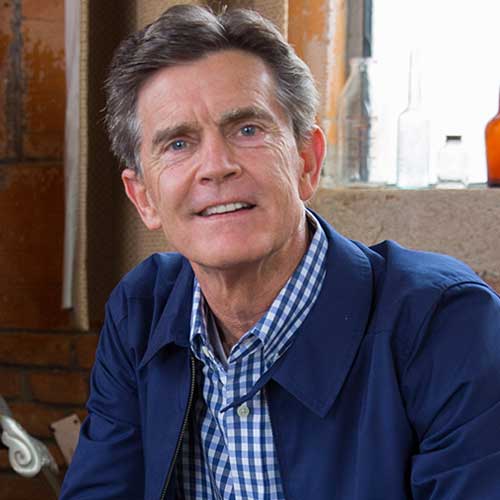 Written By
Chip Ingram
Founder & Teaching Pastor, Living on the Edge
Chip Ingram is the CEO and teaching pastor of Living on the Edge, an international teaching and discipleship ministry. A pastor for over thirty years, Chip has a unique ability to communicate truth and challenge people to live out their faith. He is the author of many books, including The Real God, Culture Shock and The Real Heaven. Chip and his wife, Theresa, have four grown children and twelve grandchildren and live in California.
More Articles by Chip