Anxiety can steal peace from our lives. And if you're like most Americans, you're probably experiencing anxiety on an everyday basis.
This familiar feeling often comes over us like uneasiness, apprehension, dread, concern, tension, restlessness, or worry. It's the feeling of impending danger or doom.
For many of us, our anxiety is a result of our fear of the future.
We fear failing, we fear another terrorist attack, an economic downturn, or that our kids won't turn out right. We fear singleness, or that our marriages won't ever get any better. Or we fear rejection, abandonment, and on and on…
Current Series
Discover the Real Jesus of the Bible
Knowing the real Jesus is the most important relationship you will ever have.
Free MP3
Listen Now
For others of us, our anxiety is caused by some conflict we're dealing with in the present or a regret about something that happened in the past. We feel overwhelmed with guilt and shame over things we can't change.
So how do we overcome anxiety – and is it even possible?
The last night with His disciples, Jesus said,
"I have told you these things, so that in me you may have peace. In this world you will have trouble. But take heart! I have overcome the world." (John 16:33)
It is possible to absolutely be at peace in the midst of horrendous, difficult, and uncertain times. Jesus promised it. But how do we access it?
The Apostle Paul shows us how:
"Do not be anxious about anything, but in every situation by prayer and petition with thanksgiving present your requests to God. And the peace of God, which transcends all understanding, will guard your hearts and your minds in Christ Jesus." (Philippians 4:6-7)
The promise is that when you pray, God's peace will guard your heart and your thoughts – or literally – your minds.
This isn't just any kind of prayer. It's very specific.
It's the idea that the moment you feel anxious, you turn your thoughts and feelings upward. It's pausing in the midst of your struggles and recognizing God for who He is.
Some of us have practiced being anxious for most of our lives. So, we're really good at it! We're experts at worrying. We learned it from our parents and we see almost everyone doing it.
We've also learned from others how to deal with our anxiety. When we feel anxious, most of us shift our attention onto something else like TV or shopping, food or prescription pain pills. We'll try anything to get our minds off of our gnawing anxiety.
I have to confess, when I feel anxious, I often watch ESPN. Or I'll pour myself into my work or go work out. These things aren't evil or bad in themselves, but when I do them, instead of letting prayer answer the door, I'm not allowing God to work in my life and my heart. And I don't have peace.
I have to remember that it's only when our focus, our mind, and our trust is on Christ that we can experience the peace He has to give us. And it begins with prayer.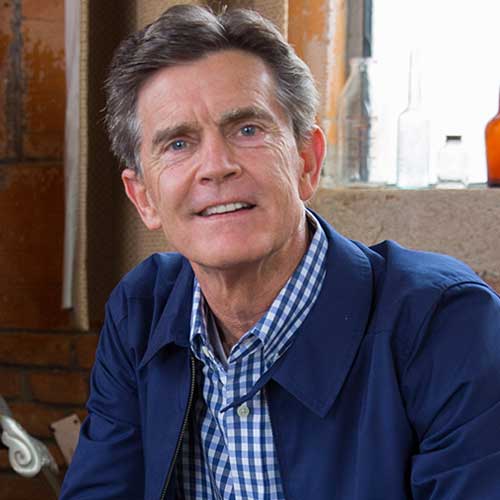 Written By
Chip Ingram
Founder & Teaching Pastor, Living on the Edge
Chip Ingram is the CEO and teaching pastor of Living on the Edge, an international teaching and discipleship ministry. A pastor for over thirty years, Chip has a unique ability to communicate truth and challenge people to live out their faith. He is the author of many books, including The Real God, Culture Shock and The Real Heaven. Chip and his wife, Theresa, have four grown children and twelve grandchildren and live in California.
More Articles by Chip