Do you have a tough situation in your life? Want to see God change it?
Maybe you doubt that He can, or that He will. Maybe you say you've prayed a lot and nothing has happened.
It's true: sometimes God says "no" or "wait." But I believe God wants to say "Yes!" a lot more than any of us would ever dream.
The Bible is full of examples of this. Remember the story of the apostle Peter in jail the night before Herod was probably going to execute him? In Acts 12 we read about how Peter was chained between two guards, asleep. Sentries were everywhere. An angel appears, wakes Peter, releases his chains, and orders him to follow him into the city. Then the angel disappears.
Current Series
Discover the Real Jesus of the Bible
Knowing the real Jesus is the most important relationship you will ever have.
Free MP3
Listen Now
It's an amazing story, isn't it? Here's the key. What had the church been doing while Peter was jailed?
"So Peter was kept in prison, but the church was earnestly praying to God for him." (Acts 12:5)
A group of believers saw an impossible situation, took prayer seriously, and gathered to pray—earnestly, continuously, specifically—unto God.
Okay, it may seem obvious that we need to pray unto God. (Who else would we be praying to, you might ask!) But I want to dwell a moment on that preposition "unto" or "to." In the original Greek the term means "before" or "before the face of God." It implies "motion towards, access to, or nearness to something."
With that in mind, I'm going to say something that may shock you. Most of the time, we don't really pray to God.
How can I say that? After decades as a pastor and Christian leader, it is my observation that in general, during a prayer service, in group prayer or even privately, people focus more on their words and what they're trying to say, or on the other people in the room, or how they feel at the moment, than on the One to whom they're praying.
Prayer on autopilot isn't really prayer.
True prayer is approaching, by the power of the Holy Spirit, the Throne of God and communicating with the Creator of the universe. It's being conscious you're in the very presence of God. The focus is on the Living Word, not your words.
And here's some encouragement: by just mindfully shifting your focus, your prayer life will be transformed. Why? Because when you become truly aware of Who it is you're speaking to, then all of a sudden the size of your problems begins to shrink, your emotional struggles begin to ease, your hope rises, and your faith grows!
Think of it like bringing nickel-and-dime issues to a multi-multi-multi-multi-billionaire. Can God fix your broken relationship? Like that! Can He heal your body? In an instant! Can He turn around a disappointment at work? Done!
Maybe you think God works this way but only for pastors or missionaries or the spiritual giants among us. Let me give you some assurance. Our communication with God has nothing to do with our merit or our level of righteousness. The basis of our assurance before God's throne is the work of Christ on the cross.
Remember Hebrews 10:19, 22:
"Therefore, brothers and sisters, since we have confidence to enter the Most Holy Place by the blood of Jesus . . . let us draw near to God with a sincere heart and with the full assurance that faith brings, having our hearts sprinkled to cleanse us from a guilty conscience and having our bodies washed with pure water."
We have access to God the Father through the Holy Spirit (Ephesians 2:17) because of the sacrifice of the Son, our Savior Jesus Christ.
The 19th century evangelist and pastor R. A. Torrey wrote, "We should never utter one syllable of prayer, either in public or in private, until we are definitely conscious that we have come into the presence of God, and we are really speaking to Him."
Next time you bow your head, turn off autopilot and turn on your imagination. Spend some time picturing the Throne of Heaven and the loving God to whom you're speaking about that tough challenge you need help with. He is listening!
To find out even more about the Power of Prayer, check out Chip Ingram's free video series, How to Experience God In Prayer.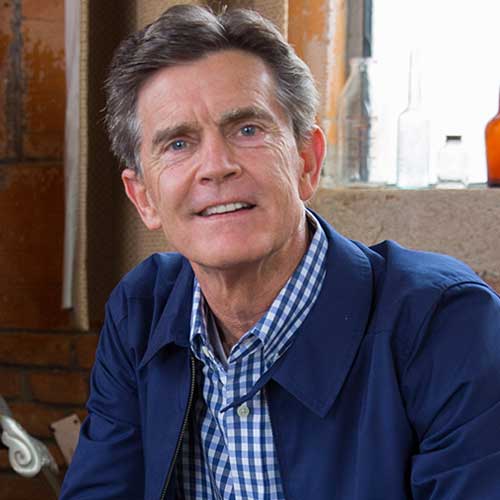 Written By
Chip Ingram
Founder & Teaching Pastor, Living on the Edge
Chip Ingram is the CEO and teaching pastor of Living on the Edge, an international teaching and discipleship ministry. A pastor for over thirty years, Chip has a unique ability to communicate truth and challenge people to live out their faith. He is the author of many books, including The Real God, Culture Shock and The Real Heaven. Chip and his wife, Theresa, have four grown children and twelve grandchildren and live in California.
More Articles by Chip