Acquiring the wisdom of God includes reverence, understanding, and trust. Let's explore those steps together. 
If you want to jump ahead to the main points, use the links below:
I love this quote by A.W. Tozer:
"Wisdom, among other things, is the ability to devise perfect ends and to achieve those ends by the most perfect means."
What if God is orchestrating a perfect situation in your life, but you're missing it? 
You can't see His wisdom because the circumstances are a mess and seem unbearable, and yet they're His perfect means to accomplish His perfect plan in you?
Imagine God's plans as a tapestry, with a knotty, messy backside and a stunning, complete picture on the front.  We can only see the back, which can plant seeds of doubt and questioning. 
What would our lives look like if we trusted that God was weaving a beautiful masterpiece with His silver thread, connecting all of the pieces of our lives and circumstances to create a story that both blesses us and honors Him?
To live with that faith requires that we trust God's perfect wisdom.
How can we demonstrate that kind of faith? How can we live wisely?
Let's look to the life of a giant from the Bible, Joseph, for insight on the subject of wisdom. In Genesis, we learn about the life of this young brother who was resented by his brothers and sold into slavery. He found himself in many unfortunate and complicated circumstances, ones that seemed like an unfair deal for a faithful man. 
But when you turn over the fabric you can see that God had an incredible plan. He wove this man into a position of respect: he was the second-highest power in the known world. With his power and influence, Joseph saved not only himself but also his family and his people. 
In His wisdom, God's plans were far beyond what anyone could have ever imagined. We can trust this wisdom.
THE WISDOM OF GOD IS BEYOND OUR UNDERSTANDING 
Consider a classical definition of wisdom, from the German theologian Berkhof, that says that it produces the best possible results by the best possible means. 
Let's apply that to a hypothetical situation, one that you might have heard of before. 
Imagine a scenario where a railroad engineer was forced to make an impossible decision. 
The engineer's small child was enjoying time near Dad's booth, playing in the grass. His father didn't notice him getting closer to the tracks when suddenly they both realized that he was stuck. His leg was wedged and he couldn't wriggle it out. 

At the same time, a train full of passengers was speeding full-force down the tracks, directly towards the son. 

Dad had the power to stop the train and save the child, but not enough time to do both. 

If he stopped the train in time to save his child, the passengers would surely perish. And yet, if he chose to save the passengers, his child would certainly die. 

What's the right decision?
If we apply the typical definition, which says the wise choice is whatever is best for the most amount of people for the longest time, then clearly we'd save the passengers. 
Although, what if that child was destined to be an incredible evangelist who tells millions about Jesus? Now we're talking about huge numbers of people being saved. 
But wait! What if someone on that train was going to find a cure for AIDS? In the long run she'd save more people, so wouldn't the wisest choice be saving her?
What's the right answer? Clearly, no human is capable of making that kind of decision.
Only God, in His perfect wisdom, knowing the beginning and the end and everything in between, can make the right decision.
How, then, can we proceed? 
Be sure to check out: God's Wisdom for Building Great Relationships
THE WISDOM OF GOD IS HUMBLING
In the same way, when we encounter mysteries that are beyond our understanding, we can concede that we're unaware of the bigger picture. We can trust that God, in His infinite wisdom, has a beautiful picture in mind, despite the view we're privy to from earth. We only see the ugly side of the tapestry and shake our heads at the messes in life. 
God is a good God who works all things according to His will.
He knows the implications.
His decisions, decrees, and will are orchestrated for people. Not just in view of His sovereignty, His power, His goodness, His love, or His compassion and desire to bless. It's filtered through His wisdom. This means He brings about the best possible ends by the best possible means for the most possible people, for the longest possible time. 
Tozer summarizes this by saying:
"All God's acts are done in perfect wisdom, first for His own glory, and then for the highest good of the greatest number for the longest time. And all His acts are as pure as they are wise." 
Not only could God's acts not be done better, but a better way to do them could not be imagined.
Not only could God's acts not be done better, but a better way to do them could not even be imagined. His wisdom is perfect.
Click To Tweet
How can we know this wisdom? After all, James says that we can have wisdom if we ask for it, and the fact that we don't have it only reveals that we haven't asked. 
How do we learn to live wisely?
4 Clear Steps To Applying The Wisdom Of God To Our Lives
1. We must REVERENCE God's ways.
Remember, as kids, when you wouldn't decline a silly dare or unsafe action because your parents "would kill" you? Of course, they weren't going to actually kill you, but it was a flippant but serious way of communicating that obedience in this area was non-negotiable. We feared our parents. 
Revering God is wanting to do life God's way. 
You're honoring God's ways when you're afraid of the consequences and of what it will do to your relationship with the heavenly Father. You understand and are concerned with what "your way" says to Him in light of all that He has done for you. It's a wholesome fear of God. 
2. We must READ and UNDERSTAND His Word. 
To live wisely, we have to familiarize ourselves with the manual. Here's Psalm 119:97-100:
Oh, how I love your law! I meditate on it all day long.
Your commands are always with me and make me wiser than my enemies.
I have more insight than all my teachers, for I meditate on your statutes.
I have more understanding than the elders, for I obey your precepts.
Understanding the word requires more than snacking on the Scriptures. I'm talking about becoming students of the Word. It means taking the promise found in the Bible, receiving them into your heart, and asking God for grace to live it out through a transformed life.
It's much more than knowing the right thing. It's putting it into practice. Knowing the Bible never changed anyone. It is applying what you know of the Bible that brings life-change.
Knowing the Bible never changed anyone. It is applying what you know of the Bible that brings about transformational change.
Click To Tweet
We think you'll like: How To Trust God Every Day In A Divided, Post-truth World
3. We must ASK for the wisdom of God. 
"If any of you lacks wisdom, you should ask God, who gives generously to all without finding fault, and it will be given to you. If any of you lacks wisdom, you should ask God, who gives generously to all without finding fault, and it will be given to you." (James 1:5)
This is an airtight promise. 
God wants us to act in His wisdom, we just have to ask. Whether it's about a tough decision, an uncertain project, a wayward child, or messy finances, He says that he will give wisdom generously! 
God says that if you pray and do not doubt, He will show you the path. 
What doubt looks like might surprise you. Keep reading.
4. We must learn to TRUST Him completely.
Not doubting means that deep in your heart, you plan to actually follow through with His wisdom. If you don't doubt and are ready and willing to move, He will show you the way. It may be through a book, or maybe a person, counselor, or pastor; it may be through a series of events where seven people who aren't acquainted give you the same advice or say the same thing to you. Or it may be a strong prompting in your spirit.
We can take comfort in the wisdom of God, trusting all that comes our way is from the hand of a good and loving God. He knows all things actual and possible and is exerting His unlimited power to execute the best possible outcomes, by the best possible means, to fulfill the highest possible purposes.
To explore more attributes of the Father and understand how it impacts our lives, be sure to watch my
Daily Discipleship Course on YouTube entitled The Real God
.
RECOMMENDED ARTICLES
The One Thing You Need To Know To Pray With Absolute Confidence
4 Beliefs That Will Catapult Your Growth As A Christian
RELATED RESOURCES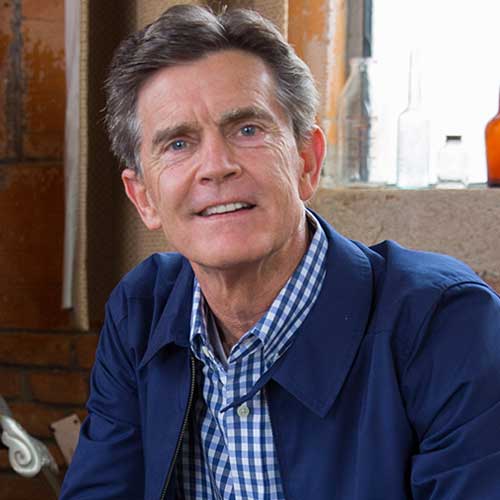 Written By
Chip Ingram
Founder & Teaching Pastor, Living on the Edge
Chip Ingram is the CEO and teaching pastor of Living on the Edge, an international teaching and discipleship ministry. A pastor for over thirty years, Chip has a unique ability to communicate truth and challenge people to live out their faith. He is the author of many books, including The Real God, Culture Shock and The Real Heaven. Chip and his wife, Theresa, have four grown children and twelve grandchildren and live in California.
More Articles by Chip