BONUS: Quick access to register for Chip's Daily Discipleship Challenge.
Responding to crisis with the right questions can move us from victim to overcomer. 
Current Series
Discover the Real Jesus of the Bible
Knowing the real Jesus is the most important relationship you will ever have.
Free MP3
Listen Now
What could make a man who went from an athlete on the football field to a paraplegic in a wheelchair say, "If I could do it all over again, I wouldn't change a thing?"
In response to crisis and tragedy, he learned to shift his questions from those of a victim to those of an overcomer. 
These questions don't remove the devastation, but they produce an internal shift. This change in perspective allows God's peace and joy to thrive, even in the most uninviting times. 
Have you been harshly impacted by the pandemic? Are you experiencing spiritual persecution or relationship difficulties? Maybe you are facing financial, health, or personal hardships. OUR RESPONSE to all of these crises that exist in the lives of those inside and outside of the church have to potential to shake our faith or to transform and mature our spiritual life.
When hardships come your way, which response will you choose?
Below, I'm going to introduce you to a friend of mine who has embodied a transformational response to crisis. Let's look at his story and learn what kind of questions overcomers ask. 
If you want to jump straight to the questions, use the links below. 
THE CRISIS ENCOUNTERED
I have a friend named Jerry whose life story is a powerful example of thriving in response to crisis. 
As a young man, Jerry was a phenomenal athlete who had an undisputed future in football. He was on the fast track to becoming a household name. 
While on a date one night with his girlfriend, they observed two men exiting a bar, yelling and fighting. It wasn't a tussle — it was a serious altercation and someone was going to get hurt. Sure enough, one man pulled out a knife and Jerry instinctively stepped in to try and break up the fight to save one of them.
And as he pulled them apart, the other man pulled out a gun. In an instant, Jerry heard two shots and then felt searing pain as two bullets lodged in his back.
Jerry was paralyzed from that moment forward. 
He explained to me that he would cry out, over and over again, "Why me? I tried to save someone's life! I don't understand!" I can understand that response!
When I met Jerry years after the incident, he was asking very different questions. He went from asking questions that position him as the victim to asking ones that shine a light on his position in the Kingdom as an overcomer.  I'd like to share them with you here. 
3 Questions That Overcomers Ask In Response to Crisis
1. What can I control when my world falls apart?
You can control your attitude. Regardless of your circumstances, your attitude is a CHOICE. In your humanity, it's normal to have an emotional reaction in response to crisis, adversity, or hardship. But overcomers do not take up residence in that place. 
Consider the advice of an imprisoned Paul talking to the people of Philippi: 
Do everything without grumbling or arguing. (Philippians 2:14)
They were living with the threat of persecution and death, and yet Paul instructed them to choose joy.
FROM VICTIM TO OVERCOMER
After the accident, Jerry struggled with utter despair. Every plan he had for his life was thwarted. 
And then he went to rehab and he watched two sets of people. He said:
"I watched people whose lives crumbled. All they did was ask why and they wallowed in self-pity and their focus was inward. They made little progress and their lives were a disaster. Then there were a few people, just a very, very few people that weren't asking, 'Why?' they were asking, 'What do I need to do in this situation to get better? What can I control? How do I make it through today? And where can there be hope? Because as of right now, my life is devastated.'"
Jerry decided to learn from their example and take up this attitude of an overcomer and not a victim. 
Enemy resistance: 12 Powerful Scriptures For Spiritual Warfare Resistance
2. What must I do to make it through today? 
God will give you the grace and strength to endure. Here's the secret ingredient: God's wisdom. 
Like Jerry's initial response to his crisis, it's normal to get stuck if you don't have His supernatural wisdom. But God promises help! 
But if any of you lacks wisdom, let him ask of God, who gives to all generously and without reproach, and it will be given to him. But he must ask in faith without any doubting, for the one who doubts is like the surf of the sea, driven and tossed by the wind. For that man ought not to expect that he will receive anything from the Lord, being a double-minded man, unstable in all his ways. (James 1:5-8)
Here's what that wisdom looks like in action. More words from Jerry: 
"Do I like sitting in this chair? No. But I thought money and fame and prosperity were my ticket to the life that is really life. I was famous, and I had a big future. But I have experienced an intimacy with Jesus Christ, a peace and a joy and a power, and God has used my life all around the world to change people's lives because I wasn't a victim, I was a survivor — because He gave me hope. He gave me the grace to endure when I didn't think I could and it changed me from a nominal, I-kind-of-believe-in-God, to a dedicated follower of Jesus."
Enduring with grace does not mean that you have to be happy every moment about your circumstances. Rather, ask for joy, wisdom, and strength for today. 
Enduring with grace does not mean that you have to be happy every moment about your circumstances. Rather, ask for joy, wisdom, and strength for today.
Click To Tweet
Register today for Chip's 10-Day Daily Discipleship Challenge.
3. What hope do I have for tomorrow? 
This is our hope:
An all-powerful, all-knowing, sovereign God who is good and promises to take our hardest, most unwanted experiences in this life and work them out for His glory. 
See the difference between hope in the desired outcome versus hope in Him? True hope means that, although we desire relief and better circumstances, we live in hope knowing that He will ultimately be glorified. 
As for Jerry, he's been able to see his tragedy used for good. He said: 
"He used my difficulty to share the love of Christ with other people whose lives will be different forever and ever."
Not all of us get to see God's purpose and plan for our circumstances, but it's encouraging and inspiring when we do. 
Be encouraged with OpenBible's list of verses that teach God's response to crisis.
AN HONEST RESPONSE TO CRISIS
Jerry's story is a testimony to God's ability to take our worst circumstances and use them for our best if we will trust Him. When we replace WHY questions with WHAT questions, we'll go from victim to overcomer, and gain God's supernatural perspective and wisdom to equip us in this life.
Learn more about responding to crisis and living joyfully in all circumstances when you listen to Chip's
sermon series entitled A.R.T. of Survival
.
RECOMMENDED ARTICLES
12 Biblical Ways to Reduce Stress in Your Life Today
Can Anger Be Righteous? 5 Steps to Get Us From Mad to Missional
How Confidently To Pray For Peace When Anxiety Is Creeping In
RELATED RESOURCES
Daily Discipleship Challenge: The A.R.T. of Survival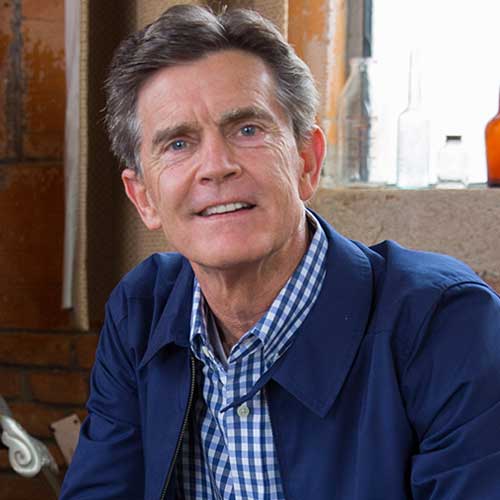 Written By
Chip Ingram
Founder & Teaching Pastor, Living on the Edge
Chip Ingram is the CEO and teaching pastor of Living on the Edge, an international teaching and discipleship ministry. A pastor for over thirty years, Chip has a unique ability to communicate truth and challenge people to live out their faith. He is the author of many books, including The Real God, Culture Shock and The Real Heaven. Chip and his wife, Theresa, have four grown children and twelve grandchildren and live in California.
More Articles by Chip