Facing hard times is clearly not unusual in a fallen world. The apostle Peter told us to not be surprised at trials—as if they are something out of the ordinary. (See 1 Peter 4:12).
However, while Jesus Himself told His followers to expect tribulation in the world, He admonished them to not fear—because He has overcome the world. (See John 16:33).
As followers of Christ, then, we know we're supposed to thrive as overcomers. It can be hard, though, can't it? Intellectually we know the gospel promises victory, not victimhood. But sometimes we don't know what steps to take toward victory. Or we don't like how long it takes, or even what victory looks like once we reach it!
Suffering has a way of either driving people away from God or driving them toward Him. It sets up critical moments in our lives. We see this throughout the Bible, in the stories of characters who chose faith and trust in their most difficult situations, versus those who let themselves be overwhelmed, compromised, or gave up.
What steps can we take to be Christians who trust? Who overcome?
Current Series
Generous Living is Joyful Living
If being generous a smart way to live, then why isn't everyone doing it?
Free MP3
Listen Now
We can start with our attitude. Fellow believers in the early Church were living in pretty desperate times, not unlike our own. James, the half-brother of Jesus who pastored the Jerusalem Church, wrote a letter encouraging them to embrace the fruit of trials.
Consider it pure joy, my brothers and sisters, whenever you face trials of many kinds, because you know that the testing of your faith produces perseverance. Let perseverance finish its work so that you may be mature and complete, not lacking anything. (James 1:2-4 NIV)
James also counseled people to turn to God's resources. God does not leave us unequipped to face life's hard times! One huge resource is His supernatural wisdom.
If any of you lacks wisdom, you should ask God, who gives generously to all without finding fault, and it will be given to you. (James 1:5 NIV)
Those who don't move beyond asking "why me," remain stuck in their pain. The opposite of a survivor is a victim, and even though our "why" questions are normal and natural, victims get stuck in them. Survivors have other resources. We just have to ask for them!
God also gives us a foundational theology—a divine perspective, a big-picture truth about life, circumstances, and our future. When this perspective really sinks in, the discouragement we might feel loses its power.
James illustrates this divine perspective with imagery of what in life passes away and what lasts.
For the sun rises with scorching heat and withers the plant; its blossom falls and its beauty is destroyed. . . . Blessed is the one who perseveres under trial because, having stood the test, that person will receive the crown of life that the Lord has promised to those who love him. (James 1:11-12 NIV)
Thus, whatever you're going through, remember that it won't last. And if you persevere in the Lord, you will be rewarded.
So, the Attitude of a victor because of Christ who overcame the world; turning to God's Resources, such as faith and wisdom; and understanding the Theology of God's big-picture perspective: these make up the A.R.T. of Survival.
Practice this divine A.R.T. when facing hard times, and you'll do more than survive, you'll thrive!
In all these things we are more than conquerors through him who loved us. (Romans 8:37 NIV)
For more on Chip's latest book and teaching series on how to face hard times with confidence in Christ, visit our ART of Survival resources.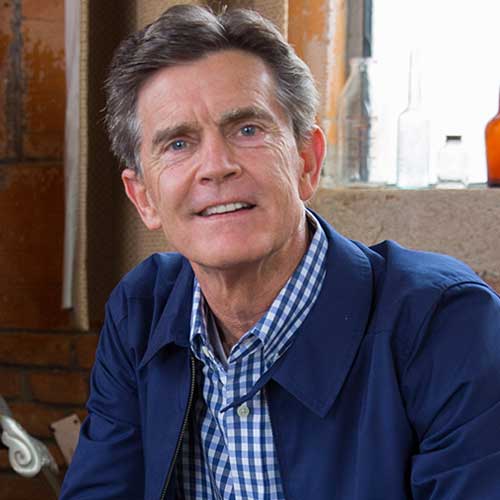 Written By
Chip Ingram
Founder & Teaching Pastor, Living on the Edge
Chip Ingram is the CEO and teaching pastor of Living on the Edge, an international teaching and discipleship ministry. A pastor for over thirty years, Chip has a unique ability to communicate truth and challenge people to live out their faith. He is the author of many books, including The Real God, Culture Shock and The Real Heaven. Chip and his wife, Theresa, have four grown children and twelve grandchildren and live in California.
More Articles by Chip